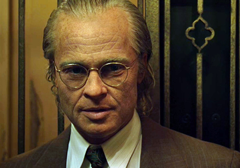 Forrest Gump meets The Way We Were in a maudlin mash-up -- that's the curious fate of The Curious Case of Benjamin Button. Touching aphorisms delivered at death's door guarantee plenty of damp hankies; prosthetics and make-up and Cate Blanchett guarantee plenty of gold statuettes. If you love Brad Pitt and rubber jowls, if you love colourful characters who face the end by suddenly switching from standard English to Greeting Card, you'll love The Curious Case of Benjamin Button. Enjoy.
Pitt and director David Fincher re-team for the third time after Se7en and Fight Club, but Benjamin Button (which opens tomorrow) finds them exploring brave new terrain: the date movie. Based very loosely on an F. Scott Fitzgerald short story that is mined only for its name and basic concept -- a man is born old and gets progressively younger -- the story is really the work of Eric Roth. I didn't know going in that this script came from the same hand that penned Forrest Gump. But after about half an hour, when characters have already said, "You never know what's coming" two or three times, the imprint of Mr. "Life-is-like-a-box-of-chocolates" Roth is unmistakable. In fact, forget about Fincher and Fight Club et al -- this movie belongs to Roth.
Pitt is young/old Benjamin, born on the last day of the First World War and left on a New Orleans staircase by his horrified father (Jason Flemyng). They say all babies look like Winston Churchill, but not this much. Thanks to the soon-to-be-Oscar-winning makeup team, he grows to become an arthritic codger in a wheelchair, which is handy since his adoptive black mother Queenie (Taraji P. Henson) lives and works in an old folks' home. All the black people in this movie are winsome and wise, including an itinerant pygmy (Rampai Mohadi) who is the absolute winsomest.
Deadly aphorisms
Benjamin learns early about life and loss and catchphrases. An old woman tells him, "We're meant to lose the people we love -- how else will we know how much they meant to us?" She's a goner, of course. That sort of aphorism is always fatal (not to mention disturbing if you think about it). Later on a boat captain (Jared Harris), shot full of holes and lying on the pitching deck of a sinking trawler, will deliver a final speech about the importance of letting go that must have been tattooed on his leg beside the chesty mermaid. He's lucky the boat stays up long enough for the whole spiel.
When Ben's love interest arrives, things get flat-out creepy. Her name is Daisy and someday she will turn into Cate Blanchett. But when we meet her she is Elle Fanning, and seven years old. Pitt's Benjamin, all wispy grey hair and wrinkled skin, looks at least 70. And yet soon the two are underneath a table late at night, telling secrets. Eeew. The audience knows that they will eventually meet in the middle as they travel in opposite chronological directions, but that makes the on-screen encounter no less icky and, from Daisy's point of view, inexplicable.
Like Gump, Benjamin is a peripatetic loner who will touch the souls of many in his wanderings. Like Gump, he will always be drawn back to the woman he loves, who has finally become Cate Blanchett and, incidentally, a rather pretentious and annoying young woman. More time will pass before their day comes. Not till the Beatles strum on a black-and-white TV will they set up house and love like the honeymooners they have become.
Daddy's going on a trip
At this point The Curious Case of Benjamin Button enters its The Way We Were phase. Perhaps Terms of Endearment is a better comparison, because incredibly the story now becomes a fairly standard tale of love-doomed-by-medical-tragedy. Instead of "Benjamin has leukemia," it's "Benjamin is getting younger." This is magical realism that forgets it's magic -- presumably there was some point to the whole backwards-aging thing beyond trying to jerk a few tears. Even within the logic of the movie, the situation doesn't make much sense. Why must a roughly 20-something Benjamin abandon his one-year-old daughter (only to send a series of plaintive "Wish-I-could-be-there" postcards from around the world)? What would be so hard about being a dad with the body of a teenager, especially when you possess the accumulated wisdom of a lifetime?
Anyway, it's poignant. And exhausting. As Ben gets younger you will definitely get older -- 167 minutes' worth. Such is the way of the awards-bound epic. Blanchett gets to narrate the whole tale from a hospital bed, loaded down with the kind of prosthetics that deliver Oscars to both maker and wearer. Everybody learns big lessons about life and loss. But then, you could probably get most of them from fortune cookies and have yourself some Young Chow fried rice while you're at it. I say do that.
Related Tyee stories: