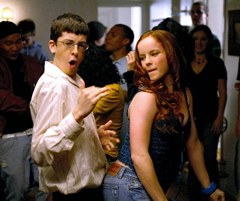 Kids these days... sexed up and dumbed down. This is the porn-generation -- gen XXX -- teenagers raised on easy and near-constant access to sex. But then doesn't every generation think the one coming from behind is the end of days? Uh-oh, that already sounded a bit porno. See what Superbad hath wrought?
Superbad, the latest from the stable of Judd Apatow, directed by Greg Mottola, stars Michael Cera and Jonah Hill as Seth and Evan, high-school friends looking to score before they head off to college. Written by two Vancouver buddies, Seth Rogen and Evan Goldberg, who didn't even bother to change the names of their characters (solipsism rules these days), the story will be familiar to anyone who ever went to high school. Seth and Evan are a pair of geek boys who've spent the last three years in each other's basements watching Internet porn and sneaking their parents' beer. With graduation day looming, they need action and they need it now. But in order to get some sexual experience under their belts, first they need access to really drunk girls. When Seth bags an invite to the party of a pretty classmate named Jules, he promises to buy liquor, and what ensues is a Homeric odyssey of cooze and booze.
To help them along the way, the boys enlist the third member of their swinging dick posse, a wheezy stick of a kid named Fogell (Christopher Mintz-Plasse), or, as his fake ID would have you believe, McLovin, the 25-year-old Hawaiian organ donor, to do the deed. In goes McLovin, into the belly of the liquor store, where he gets punched in the face by a robber, and ends up under the wing of two idiot cops (played by Rogen and Bill Hader). Seth and Evan abandon little McLovin to his fate, and skedaddle right into the path on an oncoming car. Therein their hero's journey begins: first at a hellish underworld of a party filled with scary 20-somethings who snort coke and bare-knuckle fight, and then with the long arm of the law. After much abuse, the trio reconvenes at Jules's party, where they're subjected to a few more humiliations, sexual and otherwise. The cops arrive, the party combusts and Seth and Evan stagger home, curl up together like a pair of field mice and sleep, perchance to dream of celestial vaginas.
More Disney than dirty
Superbad has been getting good press all over the place, with critics crowing that it's the film of a generation (like Porky's in the '80s, and American Pie in the '90s). But for all its cock talk and endless scatological scat, Superbad reminded me more of Walt Disney's Bambi than anything else. (It doesn't help that the actors who play Seth and Evan bear an uncanny resemblance to Bambi and Thumper -- the fawn-like Michael Cera is all trembling legs and doe-eyed stillness, while Jonah Hill is a ball of rabbity roundness and humpy energy.)
When Bambi and Thumper grow into teenagers, they must leave the warmth and security of their male-on-male world and set off with mysterious female creatures. They get twitterpated. Something very similar happens in Superbad, when Seth and Evan pair off with their respective mates and say goodbye to their childhood world of porn and video games. Both sets of friends give each other one last longing look before resignedly trotting off behind their womenfolk. In Bambi, this happens in a forest glade; in Superbad, a mall -- but the differences are negligible. Horniness endures.
The fact that one film was made in 1942, and the other some 65 years later, demonstrates how little has changed in gender relations in the interim, or maybe it changed, and then changed back again. The coy subtext of Disney isn't all that different from the modern raunch -- it's still about severing the male pair bond in order to facilitate reproduction and continue the family unit. Freud would be proud. But oddly enough sex doesn't seem the point, so much as the avoidance of sex. The truest moments of intimacy in the film take place between Seth and Evan, who cuddle, kiss and tell each other (over and over) how much they love each other. Which is all fine and lovely, but the fact that girls seem to sort of gross them out remains. "A vagina by itself, doesn't do it for me," says Seth, before launching into a lengthy remembrance of a childhood obsession with the almighty phallus. The film's endless penis patter has been praised for its honesty, but it still smacks of juvenilia, grossness for grossness's sake. You can get the same effect by chanting the c-word for two hours straight; if this doesn't thrill you, look down at your own genitalia, you might be a woman.
Real relationship is between the boys
Film critic David Denby recently wrote a feature essay about how much romantic comedies have changed since the heyday of the screwball, when women and men chased each other round and round. As Denby points out, women weren't only equally involved in this dance, more often they were the crazy wild things that loosened up the stiff straight men. Thing have changed; women are rarely idiosyncratic characters any more -- just beautiful ciphers, video game targets to be tagged and bagged, and in some way, they're not even included in the game.
In the case of Superbad, the real relationship takes place between the two boys; girls merely get in the way and emit icky fluids. In one scene, the presence of menstrual blood causes young Seth to gag so hard in disgust, it's like he's coughing up a lung. Or another sequence, where a sexually aggressive young woman announces in mid-makeout with Evan, "I'm so wet," and he responds, "They told us that would happen in health class." The encounter ends when she vomits all over him. There is a deep unease attached to the physicality of women, and when the boys discuss them, they segment them into helpful pieces (breasts, vag, poon etc). When they spy a classmate who has recently had breast reduction surgery, they argue the merits of this decision, with Seth taking the con and Evan the pro. "She can jog comfortably, she's in the best shape of her life," says Evan. This girl isn't so much a person, as an ambulatory vehicle for breasts.
'A bit of a wank job'
Geek love has long been a staple of teenage boys' movies, although they're as much a fantasy as any Harlequin Romance. In real high school, skinny, weedy boys and fat kids don't get the prom queens; that only happens in screenplays written by those same kids. (The screenwriters started their story when they were 13 years old, and the sticky reminders of that age remain, despite the Hollywood polish.) Yes, Superbad is a boy's story, so a certain perspective should be expected, and it's not the cheerful filth that bothers me, nor even the conventional morality; it's the paternalism.
Here the finger marks of producer Judd Apatow (Knocked Up, The 40-Year-Old Virgin) are most apparent. The p-word -- no, not penis, although that works too, but patriarchy -- is embodied in the personages of the two policemen who put McLovin through his paces: shooting up street signs, taking a punch like a champ, or setting a patrol car on fire. This is what men do: they act like idiots. If I was a man, I might be a little insulted. But if the packs of 20-somethings in the theatre were any indication, actual men don't feel this way: they hooted, hollered and hissed "Yessssss!" all the way through the movie. They were having a moment, with themselves that is, and that's perhaps the film's biggest problem; it's a bit of a wank job, self-amused and abused. No girls allowed (or needed).
Related Tyee stories: