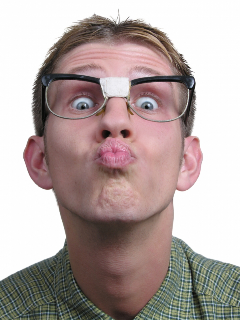 [This is the second piece in The Tyee's series on Love on the Edge.]
I have a confession to make: I love geeks. I always have. Show me a burly man in a letter jacket and I'll deke around him on my way to the water boy. Show me a square-jawed Superman and I'll long for Clark. My first serious boyfriend had hundreds of action figures and a full sized cardboard cutout of Chewbacca in his bedroom. I loved him like crazy. And suddenly, I'm not the only one. Geek worship is now more than accepted. It's super hot.
The truth is, geeks haven't been especially geeky for a while now. Back in 2003, USA Today ran a geek chic story that declared, "We used to shun them, mock them, give them wedgies and snicker when they played Dungeons & Dragons. Those loser days, however, are as over as Dumb and Dumber prequels." Geeks were transforming themselves.
Since then, some have started hailing the return of the ubermale, saying women are tired of bare-chested men. Or announcing the arrival of a new type of male called the sofcho, or the smoothy. But I think geek love is here to stay.
And it's not just me. In Hollywood, bad boys still aren't as hot as they used to be. Jocks are often portrayed as jerks. In the real world, teenaged hotties go around wearing t-shirts that proclaim, "I heart geeks" (available, along with a whole range of geek-themed products, online at places like Café Press) and magazines like Wired publish lists counting down the sexiest geeks of the year. Not geeks with obvious sex-appeal like Adam Brody of The O.C. but Paul Zak, co-chair of economics at Claremont Graduate University kind of geeks. (The web is even home to geek-love sites that declare that geeks make the best romantic partners).
Geek power brokers
While the concept of cool may seem bizarre, experts say the movement can be largely attributed to the technology/Internet revolution and the massive cultural influence of contemporary Hollywood. Geeks are smart, successful power players in a world defined by technology. Here's a good analogy: befriending, not to mention dating, a geek used to be like grabbing the third rail of the world's social scene (insta-death). It seems we've finally realized that the third rail is also where all the power is.
According to Dr. Gisele Baxter, a pop culture expert and UBC professor, thanks to the tech boom, those who "were once solitary weirdos with bad haircuts, are now the people who put cool stuff on your computer and design all those special effects in the movies…As more girls get into aspects of technological culture formerly the domain of guys -- gaming, music downloading, messaging, etc. -- geeks are useful to know." They're easier to like, as well.
"Girls now are more savvy," she continues. "Their lives are not so sheltered. They have access to a variety of information. Sex is not a grand mystery to them and marriage is not a given." Hence, the fact that what it means to be cool has changed makes sense.
Bad boy worship extinct?
Jaminie Hilton, a Vancouver-based relationship therapist and registered clinical counsellor agrees. "Some geeks are getting the girls because they're techno wizards and that trend is taking over," she says. "Girls are becoming increasingly self-sufficient in many arenas, including technology. They want to share their competence with a bright guy who appreciates it, not a bully with his smokes rolled up in the hem of his t-shirt sleeves."
Speaking of which, whatever happened to bad boy worship? The whole "Rebel Rebel," leather jacket, Elvis, James Dean, Colin Ferrell thing used to seem ingrained into our cultural psyche. "The attraction to the 'bad boy' speaks to an inner conflict, a need to work out some adolescent rebellion, and/or not feeling good about herself, " Hilton explains. "The geek chic trend indicates that women and girls are feeling better about themselves. They want loving, caring relationships with intelligent sensitive partners. They don't want to waste their energy working through old, destructive patterns and messages. It also says that boys and men are much more evolved in their own emotional development. They no longer need to prove how tough they are."
For her own part, Baxter says bad boy worship is often thought to be a regularly recurring phenomenon. Some people argue that women's taste in men is cyclical and can be defined by romantic heroes of literature, she says. "Sometimes they wanted a Heathcliff. They wanted to be howling on the heath for that bad boy in the leather jacket on the motorcycle. Sometimes they wanted a Mr. Darcy, attractive but propertied and secure." With that in mind, she says one could argue that we've moved into a Mr. Darcy phase. Bridget Jones and her army of followers would definitely agree.
Geek bandwagon
Hollywood has certainly jumped on the geek chic bandwagon in earnest, and that influence has played a major role in the proliferation of the trend. TV shows, movies and even the music scene are sending the message that geeks are where it's at. Consider Napoleon Dynamite. "This is a movie about people so deliberately, desperately uncool that in a way, they're cool," explains Baxter, adding that the film's self-aware irony might also explain the cult popularity of many phenomena, from Corner Gas to South Park.
And that phenomenon doesn't just apply to guys. On the WB's super teen drama Gilmore Girls, protagonist and former nerd girl, Rory Gilmore alienated her geek-loving fans when she stole a boat with her hot, rich boyfriend, got arrested and decided to drop out of her Ivy League college at the end of last season. Fans on the show's online bulletin boards have been up in arms about Rory's character assassination ever since. "Please! Change her back and soon," one fan wrote recently, while another posted, "I think Rory should go back to Yale." (Not to worry girls, as of January 2006, Rory has returned to school, split from her slacker boyfriend and gone back to her geeky ways.)
Then there's the Harry Potter phenomenon to consider. In the recently released fourth installation of the Potter film saga, (Harry Potter and the Goblet of Fire) Harry's a teen, and hotter than ever, despite still being a total geek. Baxter says "the whole appeal of the Harry Potter phenomenon might be pinned on its curiously nondescript protagonist, a skinny kid with bad hair and glasses, who's not a genius at school or particularly socially adept, but who's more identifiable and relatable than someone who might be more assertive or gorgeous."
Pasty-faced idols
Even musically inclined heroes have changed. "Guys in bands tend not to be the leather-clad strutting rock gods of my youth," says Baxter, "but accessible-looking figures in t-shirts and jeans." In other words, the Jon Bons have been replaced by pasty-faced (occasionally doughy, occasionally string bean) boys in collared shirts and Salvation Army tees. (Think Modest Mouse, The Killers, The Shins and BC's own Hot Hot Heat.)
"When the Lord of the Rings films became a sort of millennial cultural marker, a male friend of mine who had grown up enthusiastically reading Tolkien said that the mainstream popularity of these movies was in a way a triumph for geeks," Baxter says. And indeed, geeks are triumphing. They may well be at the height of their power. Wildly popular character Seth Cohen (played by Adam Brody) on TV's The OC is dating babe Summer Roberts (Rachel Bilson), despite being a pint-sized dork with next to no friends. And Brody and Bilson are hooked up in real life as well; their relationship testifying to the fact that geek chic isn't just a silver screen phenomenon.
Hollywood is just one factor, of course. As for why the geek chic trend has continued to advance and has taken such a strong hold on the masses, Baxter says practicality may play a part. There's "a quality of living in the moment" in the fad, she says. When it comes to geeks, "one can imagine being someone like this if one is not a sex goddess oneself, and one can more plausibly imagine meeting someone like this." However, she also says you shouldn't expect the trend to last.
"Ideally, the benefit [of the geek chic movement] might be nice guys in real life being given a chance," says Baxter. "However, pop culture is fickle …There always does seem a place for the glamorous star quality of a Johnny Depp or Jude Law or Orlando Bloom. So the geek/nice guy's day in the pop culture sun might be limited." We might as well enjoy it while it lasts.
Jennifer Selk is a Vancouver-based writer, a television addict, and the Arts and Culture Editor of ION Magazine.