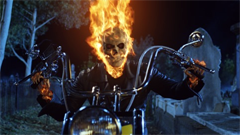 As a line in Sarah Polley's debut film, Away from Her, makes clear, we Canadians often harbour a sense of intellectual superiority over our American neighbours. In the film, a doctor asks the central character Fiona, who is in deepening stages of Alzheimer dementia, what she would do if a fire broke out in a movie theatre. Flustered and confused by the question, Fiona responds, "Oh, we don't go to the movies much, do we, Grant? All those multiplexes showing American garbage." Cue a knowing chortle from the audience. Even if we're losing our minds, we're still smarter than the Americans.
We Canadians continue to define ourselves by what we are not. Namely, that we are not American. But comparing the two countries is like comparing apples to oranges, or maybe eagles to beavers -- one eats carrion, the other chews wood. Take that as you will.
You can make your own judgment when you go to see Away from Her, which screens this weekend at the Pacific Cinematheque as part of Canada's Top Ten, The Best of the Year in Canadian Cinema. Chosen by a panel of industry professionals, writers, directors and programmers, some of the films variously take as their subjects: the loss of culture in the high Arctic (The Journals of Knud Rasmussen); the dissolution of a marriage due to dementia (Away from Her); environmental devastation in contemporary China (Manufactured Landscapes); and genocide in Africa (One Day in Kigali).
Such films stand in direct contradiction to the top-10 U.S. box office champions -- Pirates of the Caribbean: Dead Man's Chest, Cars, X-Men: The Last Stand, The Da Vinci Code, Superman Returns, Ice Age: The Meltdown, Happy Feet, Over the Hedge, Casino Royale and Talladega Nights: The Ballad of Ricky Bobby. The Cinematheque describes the contrast this way: "With prancing penguins, swashbuckling pirates and spandex-clad superheroes dominating the U.S. box office, Canada's Top Ten stands as a vivid reminder of how different Canadian films are in comparison to those of our southern neighbour." The intent is clear. We're more serious, more adult -- whereas as they wallow in fantasy, we deal with the brutal realities of the world.
Leather daddy's dream
Moneymaking American movies often seem to be largely a collection of cartoons and superheroes; the most recent U.S. box office champion, Ghost Rider, is both. In addition to a comic book hero, it's got a fiery hog, Satan, and giant boobies (and I'm not talking about Nicholas Cage). Cage plays Johnny Blaze, a motorcycle stunt rider who makes a deal with the devil for his daddy's life.
But the devil, being the devil, is a tricksy sort. He cures Johnny's dad of lung cancer, but subsequently makes him crash his motor-sickle. Having signed a contract in blood, Johnny is then forced to work as the devil's bounty hunter, the aforementioned ghost rider. At night, in the presence of evil, he becomes the rider, sprouting a giant boner in black leather, licked all over by gouts of flame. It's a leather daddy gay man's dream come true. The ghost rider's job is to round up lost souls and hand them over to Satan, or some such thing. The premise gives Nicholas Cage ample opportunity to try out his Elvis impersonation, roll his eyes like Tallulah Bankhead, and yodel. He makes a bit of a mess, tearing up the streets, burning up everything in his path: cops, windows and even poor innocent lizards. The camp factor is revved so high, it almost threatens to burn out.
Don't worry your little head with the niceties of plot; they don't matter much. The central problem is a squabble in hell between the devil and his kids. Sonny devil (Wes Bentley) is trying to take over the family business from daddy devil (played by Peter Fonda). This being an American film, you'd think it would end in litigation with a team of evil lawyers, but all we get are various baddies in long frock coats and heavy eye-makeup, like a tribe of demon dandies. Twenty-somethings with fangs simply aren't very frightening, and the devil's wayward son, a little fellow named Blackheart, is probably the least scary thing in the entire film. Far more terrifying is Nicholas Cage's toupée, which has teeth of its own.
'I love America'
Good and evil go through the motions, the devil hisses and writhes as our hero shoots him with a big gun. The oddest thing is that the film works, almost in spite of itself, by ripping off ideas from other, better movies. In the dying moments of the movie, when the ghost rider roars through the darkness of Monument Valley under an immensity of star-spangled sky, you can't help feel a little nostalgia for the American myth. Its ragged glory is long gone, perhaps it never really was there, but still the memory lingers.
The film just might become notable as a cultural artifact of current time. It might even be remembered for sheer baldness of purpose. After watching some two hours of Elvis impersonations, dialogue that sounds like it was scripted by George Bush's speech writer and Eva Mendes' poor hapless breasts, all my brother could do was laugh (a little hysterically). "I love America," he kept saying, in an awed whisper. Really, you have to admire the sheer moxy of that country; it just keeps telling the same story, writ large, Larger, LARGEST!! We're the biggest and the bravest, the story goes. We fight fire with fire, just try and take our hogs and our guns away and see what happens.
But a film like Ghost Rider is as much about the people in the theatre, as it is the movie. Pity the punters; they know not what they do, or what is being done to them. Somewhere Aldous Huxley is rolling wildly in his grave. Justine Brown's book Hollywood Utopia contains a chapter about the adventures of Huxley in Hollywood, which perhaps provided the inspiration for his famous dystopian novel Brave New World, whose inhabitants are lulled into submission by entertainment, sex and a pharmaceutical called Soma (described as having "All the advantages of Christianity and alcohol; none of their defects"). Writes Brown, "The feelies of Brave New World completely absorb the characters' attention. They leave no space for thought, so thoroughly do they engage the senses. 'Movies,' 'talkies,' -- the feelies are just the next step, Huxley knew."
According to Ms. Brown, Aldous Huxley often argued with his friend George Orwell that, "a tyranny of pleasure would be far more durable than a tyranny of fear." You can't watch a film like Ghost Rider without thinking that Huxley was onto something, since the film is all about making you feel good. The more explosions, car chases and big-breasted women, the better we feel! I'm not immune to the lust for revenge, and the lure of the open road. Even with all your critical faculties blazing, it's difficult to resist the siren call of the silver screen.
Riding into the dumb sunset
While the infantilization of the American people continues, the grown-ups in government are up to no good, according to Stephen Flynn, author of The Edge of Disaster: Rebuilding a Resilient Nation. Flynn's book charts the precipice over which the American people now hang, and it is shocking. While the American military budget continues to reach epic new heights (the U.S. currently spends more on its military than the entire rest of the world combined), the rest of the country's infrastructure is falling apart. Fighting a war to gain control of oil reserves, which are then used up by the very machines (tanks, planes, ships) needed to secure them in the first place, seems patently insane. On the home front, films like Ghost Rider maintain the fantasy that might is right, burn rubber, and pedal to the metal, as they (we) ride into Iraq (pronounced EYE-rack), and take no prisoners.
Meanwhile, back in Canada, a few of us, sometimes very few, are trying hard to be adults. But there isn't much use in bemoaning, "Oh, those terrible people down there, they're so dumb," since this weekend the entire world will be glued to the television sets to pooh-pooh or rah-rah as Oscar rolls into town. There are more of them than us, and they have guns.
Related Tyee stories: