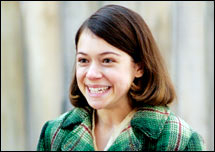 CBC? You've got a bit of egg on your face. No, not there. Over a bit. Right on the Peter Mansbridge of your nose.
Yeah, you messed up big-time this summer, and we all had a good laugh at your expense. But we're willing to put it behind us if you are. Let's see what you've got for fall. There's been a lot of talk about the public broadcaster being dumbed-down, but let's take a look at the evidence.
October 1970, an eight-hour series starting Oct. 12, sees the CBC mine the admittedly drama-rich territory of the October Crisis, involving the Front de libération du Québec and its 1970 abduction of British diplomat James Cross and Quebec Labour Minister Pierre Laporte. We've seen CBC do mini-series on this subject several times, so it's interesting that they're taking a stab at it again. What's new here is fancy in-yo-face camerawork, done in the non-stop motion manner popularized by NYPD Blue, and the fact that actors playing members of the FLQ seem like they were cast from the wrap-party of a Strokes video. The dialogue is tinny and, at some points, unintentionally comedic. You find yourself laughing at it in the same way you laugh at David Caruso every time he uses his sunglasses to convey gravitas on the campfest that is CSI: Miami. There's also the minor quibble of the FLQ terrorists conversing with each other in English. Um, yeah. We get that this is targeted at English Canada, but for a group whose primary raison d'etre was the French language, it seems a bit silly. Come on now, CBC -- your viewers can read les sous-titres.
Answered by Fire, a two-part drama that aired earlier this month, is just the kind of direction the CBC should be heading in. Surrounding the entangled lives of two UN civilian police officers monitoring the 1999 independence referendum in East Timor. Though this may sound heavy (and it is), the show was peppered with enough human drama to not get stuck in the category of "overly-worthy Ceeb show, which is the television equivalent of Bran Flakes." One of the UN'ers is an Australian hunk (who'da thunk you could use "CBC" and "hunk" in the same paragraph, except to say "Boy, The One sure was a hunk of garbage"?) and the other is a sassy French-Canadian with a budding romance with her translator. The issues and the horrors that went on in East Timor are finely drawn, to be sure, and viewers likely walked away with a more solid understanding of conflict in that region, but the show was also (gasp!) entertaining. Bravo, CBC. More like this. But less like Bravo. Capiche?
Intelligence is a new series premiering Oct. 12, which, in the interest of full disclosure, is filming outside this writer's home at this very (early) second. Surrounding the drug trade in Vancouver, and created by the same mind that brought us Da Vinci's Inquest (and Da Vinci's City Hall, and Da Vinci's Half-Eaten Ham Sandwich). It the kind of sexless drama that's fine to watch when you have no cable and CBC is all that will come in, but those of us with the big-boy channels will probably flick over to Fox to watch Cheech Marin sing "Baby I Love Your Way" with Peter Frampton on Fox's Celebrity Duets.
Rumours is an adaptation of a series from Quebec, created by none other than Chum Mastermind and man-responsible-for-Electric-Circus Moses Znaimer. The "comedy" surrounds the life of a neurotic female journalist working for a crappy women's mag in Toronto. All that's to be garnered from this show: 1) women journalists are always neurotic (see Bridget Jones for the penultimate template); 2) apparently the "lit" part of "chick lit" is entire dispensable; 3) with enough gumption and clout it is possible to make an entire television show out of a General Foods International Coffee moment.
Finally, it would just not be CBC if the lineup didn't include a coming-of-age period piece starring a plucky young girl and her wacky family. This year, it's Booky Makes Her Mark, which kicks off Oct. 22. Had I a plucky young girl of my own, I'd be more than happy with her watching this -- it's clever and sweet, and the heroine is bright as a copper penny. Though this may not be the show young girls want to watch (especially not when Tyra "Goes Undercover as a Stripper" Banks is over on UPN), it's certainly the show they should watch, holding on to their innocence before America's Next Top Maudlin gets its greasy paws on it.
Three reality shows also make their debut this season and, thankfully, none of them is the much-threatened version of The One. According to CBC Arts, we will enjoy this season Test the Nation: National IQ Test, a live quiz show that tests participants' analytical skills. Underdogs is to be a five-part series about consumers fighting back against business, hosted by Wendy Mesley. And Dragon's Den will ask entrepreneurs to negotiate the world of business financing. Partay! Actually, don't partay, CBC. It's embarrassing.
All in all, nothing too shocking from the new guard at CBC TV. We all seem to have learned our lesson from the television train-wreck that was The One. Stick to being square and reliable, Ceeb, and we'll forget that, this summer, you Stroumbouloplost the plot.
Elaine Corden is a Vancouver writer and regular contributor to The Tyee.
Related Tyee stories: