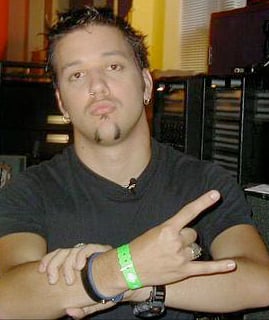 With a name far less familiar than Terry Fox or Pierre Trudeau, this week Canadians still named Tommy Douglas as the best. It could have something to do with his part in eradicating outhouses or establishing socialized medicine—or it could have to do with his charismatic advocate, George Stroumboulopoulos.
The intense and incisive Stroumboulopoulos (not to be confused with George Stephanapoulous on ABCNEWS) is a former MuchMusic VJ and host of The NewMusic. Aside from helping to garner support for Douglas, he has himself established a significant Canadian fan base (myself included).
Girls inevitably fall for the bad boys. And Stroumboulopolous has what it takes—he rides a motorcycle, regularly sports a uniform of punk rock t-shirts and wallet chains, and has dark veiled eyes.
But his authentic edge is that he just doesn' t really give a [fill in expletive here]. He is going to tell you what he thinks—with a healthy dose of sincerity and passion. A punk in the true sense of the word, he refuses to tolerate the mundane or conventional. He stated on his MuchMusic webpage that "[t]he NewMusic was the island in a sea of beer ads and middle of the road bands.
'Best' of a generation
Stroumboulopoulos, who also produces and hosts The Punk Show, LOUD and MuchNews on MuchMusic, has indeed gained heartthrob status. He has even had a stalker—the celebrity litmus test.
But unlike that other VJ heartthrob, Rick "The Temp" Campanelli, Stroumboulopoulos is quite respected outside of the teen girl demographic.
That guy from The National, Peter Mansbridge called Stroumboulopoulos "one of the best interpreters of the current generation." Good thing since the two will be colleagues when George takes his new job as host of new show on the CBC. Something "personality-driven." Go figure.
In an online discussion on rabble.ca, fans posted comments on his departure from CHUM's hip music channel. People who had had crushes on him "since, like, forever" were happy he was making a grand career change. Some hoped he would someday run for Parliament.
So Stroumbouloupolous is going the way of many others hailing from the Moses Znaimer empire. The godfather of Canadian broadcast media has produced several young protéges who grew out of MuchMusic and quickly moved up the media ladder.
'Much' success
Erica Ehm was the first female VJ and regularly got hit on by the rock stars she interviewed over the course of her ten years at Much (from the mid 80s to the early 90s). The once awkward television personality (some called Erica "Umm") went on to become a songwriter, actor, author and television host. Now a mom, she is currently hosting Nestle Baby and You on Rogers.
The brazen interviewer and former Much VJ Sook-Yin Lee is now host of Definitely Not the Opera on CBC Radio. While on Much she used to intelligently grill her interview subjects while wearing her hair in pigtails.
Some simply moved south like Rachel Perry and Bradford Howe who both took jobs at VH1, a Viacom music-video channel responsible for those melodramatic biodocumentaries on Behind the Music. Howe definitely cleaned up his act for his new gig. His four years on MuchMusic were characterized by his messy hair, shaggy sideburns, goofy t-shirts and even goofier monologues. He now uses much more shaving gel and appears to be following at least one of the latest diet trends. Oh Bradford…why??
There is still media talk that John Roberts (formerly J.D. Roberts as NewMusic host with Jeanne Beker) will take over Dan Rather's job on CBS Evening News. Roberts and Beker hosted the show when it first aired on CityTV in 1979 but he has sadly since lost the long, tousled hair.
Kelowna start
Before television, Stroumboulopoulos worked his way up in radio broadcasting from Kelowna, B.C. to Toronto alt-rock station Edge 102.1. On MuchMusic, the Humber College-grad has already stuck his toes into political reporting by interviewing Jean Chretien and covering the Quebec City Riots. Most recently, Stroumboulopoulos went to Darfur, Sudan to investigate the humanitarian crisis for a three-part documentary. And his passionate documentary on Tommy Douglas was a captivating history piece in a sea of boring profiles.
Stroumboulopoulos' qualities of tireless work ethic, thick skin and empathy are requirements for a good journalist. He took jabs at rockers for poorly planned stunts that landed them on MuchNews. But he was patient and engaging when interviewing a then-shy Avril Lavigne.
He will undoubtedly do a great job at the CBC and all his fans wish him well. But George, please don't lose the clothes, or the attitude, or even the nose ring.
Journalist Caroline Dobuzinskis is an intern at The Tyee.