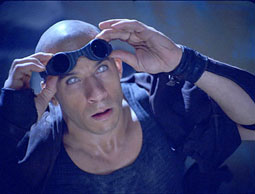 My sister might have said it best. After we watched The Chronicles of Riddick, we walked out of theatre and she said "peee-fucking-ewwww." She's got a way with words, that girl.
Yes, The Chronicles of Riddick is not a very good film. And I can't help but be a little sad about that. David Twohy's first film, Pitch Black, was a nice tight little monster movie, clever, stylish and I loved it. Vin Diesel as the anti-hero Riddick was an interesting new creation. Was he bad? Was he good? Hard to say, but he was also only one part of the film. The rest was packed with scary monsters, close escapes, surprising twists and genuine atmosphere. I've been patiently waiting for the sequel for years and now this. Disappointment is a bitch. And it can make you a bitch. Just look what it did to my sister.
The first clue that things might not be all they could be is the film's opening shot. The camera pans over a giant statue of the dread Necromongers, a dark army that leaves behind dead planets and big scary sculptures. The statue in question is supposed to strike fear and terror into onlookers, but it only seems terribly cross-eyed. This may be the first moment of unintentional hilarity but it's not the last. This film is packed stem to stern with guffaws, head-shaking moments and assorted "wha's?" and "huh's?" There are also lots of AIEEEE's ARGHHHH's and GRRR's and other grunts and groans that pass for dialogue.
It was at this point, my sister gave me 'the look.' A look freighted with years of dragging her to see bad science fiction. A look that said I want to kill you.
'Had to end sometime'
Cut to a frozen planet where a spaceship is chasing a Rob Zombie look-alike over some ice floes. But wait a moment; from beneath ten pounds of dreadlocks comes the inimitable gravelly tones of one Richard B. Riddick (Vin Diesel). Before you can say, "Holy hairdo!", Riddick has outwitted his captors and flown back to civilization where he goes to visit the nice Muslim Imam (Keith David), who he rescued from the Pitch Black monsters five years ago. The Necromongers are coming and Riddick is part of the destiny to save humanity. Like Harrison Ford before him, Riddick just wants the bounty off his head, not to be part of any grand plan to save the universe which as he quite rightly says "had to end sometime." But you can't fight destiny. Apparently Riddick is a Furyan and part of some ancient prophesy. As a man who doesn't believe in pronouns he says "Not my fight." But even while he's debating points of grammar with Judi Dench, those pesky Necromongers arrive and take over the world.
Their Nazi-esque entrance is like some Triumph of the Will, Leni Reisenthal moment, complete with epic statuary of people with things stuck in their ears, storm troopers in dark armour and some creatures in full snorkel gear that go sniffing through the streets looking for survivors to kill. Set to a score stolen from Gotterdamerung, it is meant to both terrify and awe. But mostly it hurts your ears.
The Necromonger leader, one Lord Marshal, is played by Colm (first Pierre Trudeau and now this?) Feore. The other Necro's include Vaako (Karl Urban) and his hootchie mama, Dame Vaako (Thandie Newton) all slinkified in a boobilicious dress and with lots of kohl around her eyes. Not much explanation is given for the Necro grand plan. Unlike their kissing cousins the Borg, the Necro aren't all that threatening. Their foreign policy, like that of the U.S., is "Join us or fall forever!" So everybody does. Except, of course, for Riddick, who is just too damn defiant and all.
Big steaming wiener
The plot very quickly goes all over the place, from one end of the universe to the next. And really, all the set pieces are there, a world in which the sunrise, not the sunset, brings instant death, bad guys, helpless children, scaly jaguar creatures and Dame Judi Dench, who is probably on the phone to her agent at this moment saying "How did you ever talk me into this!?"
But despite all the action, this movie is actually dull. I found myself starting to count the number of times Riddick takes off his goggles and puts them back on. On, off, on, off. There are a few bright moments; after rescuing his female protégé Kyra from 700 degree temperatures by dousing himself with a bottle of water, and swinging through the air like a Futurama Tarzana, the camera cuts to Riddick, steaming like a hotdog. It is a moment so bloated and overblown, there is nothing to do but laugh out loud. Whether it's meant to be funny is a whole other question.
No one sets out to make a bad film and the fact that films can go so terribly off-course can't be laid at any one doorstep but at many. The Chronicles of Riddick is a good example of what happens when Hollywood jumps on the epic bandwagon. After LoTR wiped the floor with everybody, you can expect many more three-parters, of which Riddick was supposed to be the first third of an epic space opera. It's also another example of why actors should never become producers. Actors, for the most part are ego-driven boobies. They should not be allowed to do much of anything. (Diesel is also one of the film's producers)
In Diesel's case, he seems to adhere to the John Wayne school of "talk low, talk slow and don't say too much." Which worked well enough for the Duke, but there can only be one Duke. And Diesel ain't it.
Alien-ated at a young age
His star power and producing credit may have helped birth this baby, but it may not be enough to save it. It also does the genre little credit. Creating an entirely alternate world in film is a feat. Peter Jackson did it, so has Ridley Scott and yes, George Lucas, although he could only sustain it for so long before it collapsed from sheer bombast. And with a little help from Jar Jar Binks.
When science fiction is done well, there's nothing quite like it in this universe or the next. I remember sitting in the Capitol Six watching Aliens in the mid-80s with a male friend who screamed like a seven year old girl throughout the entire film. I was so scared I thought my heart might stop, but it was wonderful, glorious even. I've probably seen that movie about 20 times, but even when flicking across it on TV, I still get snared. Is that too much to ask?
"Oh, dear..." That's all I could say to my sister, while she threatened my life on the bus ride home. All that money (some 200 million supposedly plus our $8 each) and all that effort equals a film full of sound and Furyans, signifying nothing.

Dorothy Woodend reviews films for The Tyee.