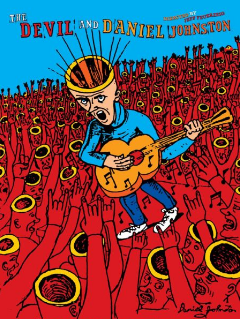 What is it about Texas and rock stars?
If you want to lead a happy, healthy and well-adjusted existence, stay the hell out of Texas. However, if you have a hankering for fame, fortune and electroshock therapy, then head on down to the Lone Star State. They don't call it that for nothing, y'all. It worked for musicians Townes Van Zandt and Roky Erickson, and it most definitely worked for Daniel Johnston, who lost his mind and still made it big in Austin.
Director Jeff Feuerzeig's film The Devil and Daniel Johnston, which captured the Director's Award for documentaries at last year's Sundance Film Festival, tells the story of a singer/songwriter/something else named Daniel Johnston.
It's a familiar tale: a young man, born into an average middle class Christian family, comes of age obsessed with music, comic books and movies. Enter insanity, and presto! The devil comes calling. The slow-motion car crash spectacle of someone descending into madness is not a pleasant sight, but it has an inherent drama, especially in the case of Johnston, whose decline is spiked with episodes that border on the Southern gothic.
During one such event, Johnston is arrested after trying to scare the demons out of an elderly woman; an exorcism that ended up with the woman in question jumping out of a two-story window and breaking both of her ankles. In between episodes of violence and madness, Johnston writes and records a vast catalogue of sweetly gentle songs about love, motorbikes, Casper the Friendly Ghost and a girl named Laurie. There is so much material, both in terms of story and visual aids (comic books, drawings and animation produced by Johnston, himself) that the film seems more like a collage than a straightforward narrative. It is to director Feuerzeig's credit that he is able to marshal so many disparate elements into a greater whole.
Soda pop reality
During college, Johnston's first serious break with reality comes courtesy the aforementioned Laurie. Pity poor Laurie; who marries an undertaker and becomes the unwilling muse for Johnston's oeuvre. After her marriage, Johnston runs away with the carnival and ends up in Austin (after being beaten up for using a porta-potty too long). Soon enough, he becomes a part of the underground Austin music scene. He works at the local McDonalds and peddles his homemade tapes to the local music critics who champion his cause. A performance on MTV secures him some measure of fame, but just as things seem to be going swimmingly, all hell breaks loose. At a Butthole Surfers' concert, Johnston spirals into pure gibbering insanity with the help of a hit of acid. An interview in the film with the lead singer of the Surfer's, Gibby Hayes, (while he's at the dentist of all places,) keeps the tone of gonzo strangeness going full-tilt. "Did you give Daniel the acid?" asks the director off-camera, which Hayes laughingly denies.
The thin line between insane genius and just plain old insane gets crossed and recrossed as Johnston goes in and out of mental institutions. In one sequence, Johnston's manager fields his requests, made from the asylum. As a cassette tape rolls, Johnston's weedy androgynous voice asks if the Beatles would consider reuniting to be his backing band, then asks whether he's the spokesperson for Mountain Dew. What follows is the most singularly frightening soda pop jingle you have ever heard about demons with a thirst for pop, ending on a long drawn out howl of DEWWWWWWWWWW.
An aficionado of the Beatles and, later, The Beach Boys, Johnston's songs have been covered by everyone from Pearl Jam to Tom Waits. But there is still something here of the cool kids laughing at the geek, especially during a trip to New York City organized by the members of Sonic Youth. After some recording sessions go horribly awry, Johnston is arrested for drawing Christian fish symbols on the Statue of Liberty, and ends up in a men's shelter. Every person who tries to help Johnston ends up helpless in the face of his seemingly endless talent for self-destruction -- a quality that perhaps attracted the attention of another disaffected outcast -- Kurt Cobain. (Cobain brought Johnston to worldwide attention simply by wearing a t-shirt with one of his drawings on it.)
Normal insanity
A bidding war between record labels erupts even while Johnston is still institutionalized. More madness ensues -- a triumphant concert, a plane crash, a veritable roller-coaster ride of ups and way far downs that always ends with his parents coming and taking him home. You can only be a crazy genius if there is someone willing to help you. In the case of Daniel Johnston, it is his tiny wizened parents who do their best to help their son survive. You can't help but feel sorry for them, even more than you do for their son, who seems oddly vacant or maybe just medicated to the eyeballs. Bewildered, and increasingly strained to the point of tears, they recount the high cost of coping with someone as deeply troubled as Daniel.
This film is a bit of a different beast from the recent run of rock star documentaries (Bob Dylan, The New York Dolls, the Beastie Boys and the Pixies). Although it is a bit of a stretch to call Johnston a rock star, just exactly what you should call him is hard to say. Outsider artist is the term most often applied, as a catchall label for people who don't fit any other category, but it also seems a way of placing someone as separate from (supposedly) normal society.
The thing that strikes you about Daniel Johnston is the normalcy of his madness. Whether it's working in McDonalds or Casper the Friendly Ghost -- the stuff of his obsessions is the ordinary, everyday culture of middle-class American culture -- as familiar as your own skin. The filmmaker is careful to present a clear-eyed view of the high cost of mental illness on a family; Johnston's obsessions are the food of his music and art making, but they are also the source of his destructive tendencies. The question is always, it is worth it? Does art trump the high costs of human suffering? If you have an answer, I'd be glad to hear it.
Rock star life-less?
The Devil and Daniel Johnston is the first of an onslaught of rock brought to you courtesy of the Big Smash Music-On-Film Festival running April 20-25 at the Pacific Cinematheque in Vancouver. The line-up of films includes documentaries about Nina Simone, The Minute Men (which is excellent, by the way), Jeff Buckley, Joe Strummer, Ronnie Lane and Albert Ayler, as well as some rarely screened features about the vagaries of the rock star life, and special guests Wreckless Eric and Paul Williams -- all brought to you by organizer Kier-La Janisse. God bless her, she is some kind of force of nature.
Big Smash's closing film is about another musician from Texas with outsized mental health issues. You're Gonna Miss Me, tells the story of Roky Erickson of the 13th Floor Elevators. Cited as one of the originators of the psychedelic rock, Erickson spent many years in a Texas mental institution. It's another story similar to that of Johnston -- early fame, ferocious talent, break from reality, many dark years spent in institutions. Or in the case of Erickson, a state-funded apartment, piled high with junk. Old, crazy and largely unremembered, Erickson was a lost rock god slowly withering into old age until one day, a documentary filmmaker came calling, and not long after that, so did the world. But after the film is over, the house lights come up, and the audience goes home, what happened to the rediscovered rock star? In the case of Roky Erickson, it appears, to be a happy ending, of all strange things. For now, anyway.
Things are less clear in the story of Daniel Johnston, who has survived merely as a ghost of his former self. As the end credits roll in the documentary about his life and work, Johnston in a Casper the Friendly Ghost costume, raises his hands to the sky and gently sways back and forth. With his enormous belly, he looks rather like a pregnant angel. What he has given birth to is part devil, part divine and part sad spook all combined. What else could you call it but art.
Dorothy Woodend reviews films for The Tyee every Friday.