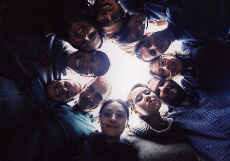 Nicole Hancock has been hanged, hit with a wrench in the face and sliced up. She seems to like it, though. "When it's my turn to get out the bucket of blood, I'm as giddy as a kid in a candy store." Of course, all of this occurs on camera and it's all in a day's work for Hancock, whose horror film jobs also include script editing, acting and creating ready-to-eat-on-screen brains out of tofu.
And as much as Hancock enjoys the murder and mayhem of horror films, she's also sensitive to the plight of monsters. She felt so bad about the fate of one zombie in the 1978 classic Dawn of the Dead that she cried out of pity. "Just because it's a zombie, it doesn't mean it doesn't have feelings," she explains.
Talk to people in the horror business and a lot of them will tell you they're in it because of the deep affection they feel towards ghouls, vampires and demons.
High gory, high glory
It's a genre where emerging directors can make films that draw audiences. A powerful direct-to-video market, the Internet and cheap digital cameras are helping more zombies and vampires become film stars. Armed mostly with bravado and corn syrup substituting for blood, Vancouver horror movie makers are low budget and gory and they are ready to chew off a bit of the movie market for themselves.
Low budget horror movies aren't new: Roger Corman mastered the art of churning out numerous cheap and efficient flicks and Ed Wood managed to get himself the title of worst director in the history of cinema with his thrifty masterpieces. The studios in Vancouver digging at the horror niche are merely following in the tradition of making monsters out of peanuts. But with modern tools available to them, shooting B-movies is definitely becoming leaner and easier for indy production companies.
Hancock's Vancouver-based Creepy Six Films, is just one of them. They've produced three horror feature films and two shorts and recently spent three weeks shooting their $100,000 feature Zombies vs. Vampires, which is a loosely based adaptation of a Sheridan LeFanu short story about 19th century lesbian vampires.
The Creepy Six gang has become an experienced bunch and they have devised methods to keep churning out their movies: they have quick turnovers, small budgets and help from Cineworks Independent Filmmakers Society, which provides cheap equipment and studio space. The crew doesn't get paid until after the picture is finished and everyone has far more than one role.
Ryan Nicholson
Not all productions are so bare bones. Ryan Nicholson's company just finished a million-dollar movie called Live Feed. But even he started small. And of course, he has a story about how he fell in love with horror.
He first raised the dead using a common oven and some foam latex, causing neighbors to complain about the stench produced by his teenage makeup experiments. "My parents thought there was something wrong with me because I was absolutely obsessed with horror movies," he confesses.
"When video first came out, I would go and rent horror movies and I'd just skip school and watch them all day and all night." During lunchtime, he read the horror magazine Fangoria and drew pictures of severed heads, dreaming of monsters and makeup. He used his friends as guinea pigs to create special effects and eventually quit high school entirely to dedicate himself to his true passion.
Nicholson started his own special effects company Flesh and Fantasy Inc. Then he tired of being "part of the machine" and started his own horror production company, Plotdigger Films.
Viral horror
Live Feed is his first feature-length directorial and writing effort and he aimed it at the avid, niche market looking for indy horror B-movies. Word travels quickly in horror movie land. Fans get their news from specialized magazines like Fangoria or Rue Morgue. They visit websites and chat between themselves, creating momentum.
His film went on to get good reviews at the New Jersey Fangoria film festival and both a sequel and a prequel to the million-dollar movie are already in the works -- even though Live Feed is still technically in post-production. And with a newly acquired studio in Burnaby, Plotdigger plans to produce three horror movies each year. They too will be cost-effective productions made in a short period of time, just like Live Feed, which had a three-week shooting schedule.
His budget is tiny compared to Hollywood films, but big for the local scene. Most are smaller like Hancock, or Ed Fizz. Many, like Fizz, don't even want to make money from it. The hook for them is the next film.
Ed Fizz
Fizz got addicted early. As a child of seven looking out his bedroom window, he slipped into another world. With the help of a pair of binoculars, he met the monsters that inhabited a Canadian drive-in movie theatre. By the time he turned 16, Fizz had exhausted the horror section at every video store he had found.
It didn't stop there. Ed didn't want to just watch monsters, he wanted to write his own tales of terror. And so in early 2002, he decided to film a video short titled Living with the Dead and followed it with another short called Graveyard. Living with the Dead was based on experiences with some bad roommates and Graveyard was a reflection on a lousy fast food job in Kelowna.
In the 1980's, Fizz's two shorts would have been almost impossible to make. Shorts were the product of graduating filmmakers who had a difficult time finding backing for their projects. Few backers wanted to invest $30,000 in a 30-minute flick that would, with some luck, make it through the festival circuit and then disappear forever.
Cheap thrills
But Fizz's two black comedy shorts cost him a grand total of $2,200 and were shot on digital video in less than a week. "I used to have a huge video collection, well over a thousand videos and I sold off a huge chunk on eBay and that paid for Living with the Dead," he says. "Graveyard, I actually made, I probably shouldn't say this, but I made it with my student loan money that I got that semester. I was at school at the time and used my student loan and just ate beans and rice for the next four months."
Fizz marketed the final product through his website and other sites showcasing small, independent movies. Up until now, he has managed to sell more than 600 of the 1000 DVDs he originally made.
Nowadays, Fizz seems more invested in alternative comics than shorts, busy with the release of his first book through his little publishing company New Reliable Press. But he's still working on some movies and hopes to shoot another project, this one a crime story titled The Orchard. "I'm not concerned about making a lot of money," he says. "I would hate it [making movies] as a full time job, not knowing when and if you're going to work. I'd like to break even or make a little bit of profit. Make enough to finance the next project."
Silvia Moreno-Garcia is a freelance writer based in Vancouver.