[Editor's note: 'Bleed' is a deeply reported and simultaneously personal investigation into endometriosis. Author Tracey Lindeman, an endometriosis sufferer herself, tracks how misogyny, racism, anti-fat bias and transphobia in the medical system have created a situation that often leaves sufferers without proper diagnosis and pain for years. This excerpt zeroes in on how racism in the medical system has impacted Black patients seeking endometriosis diagnosis and care.]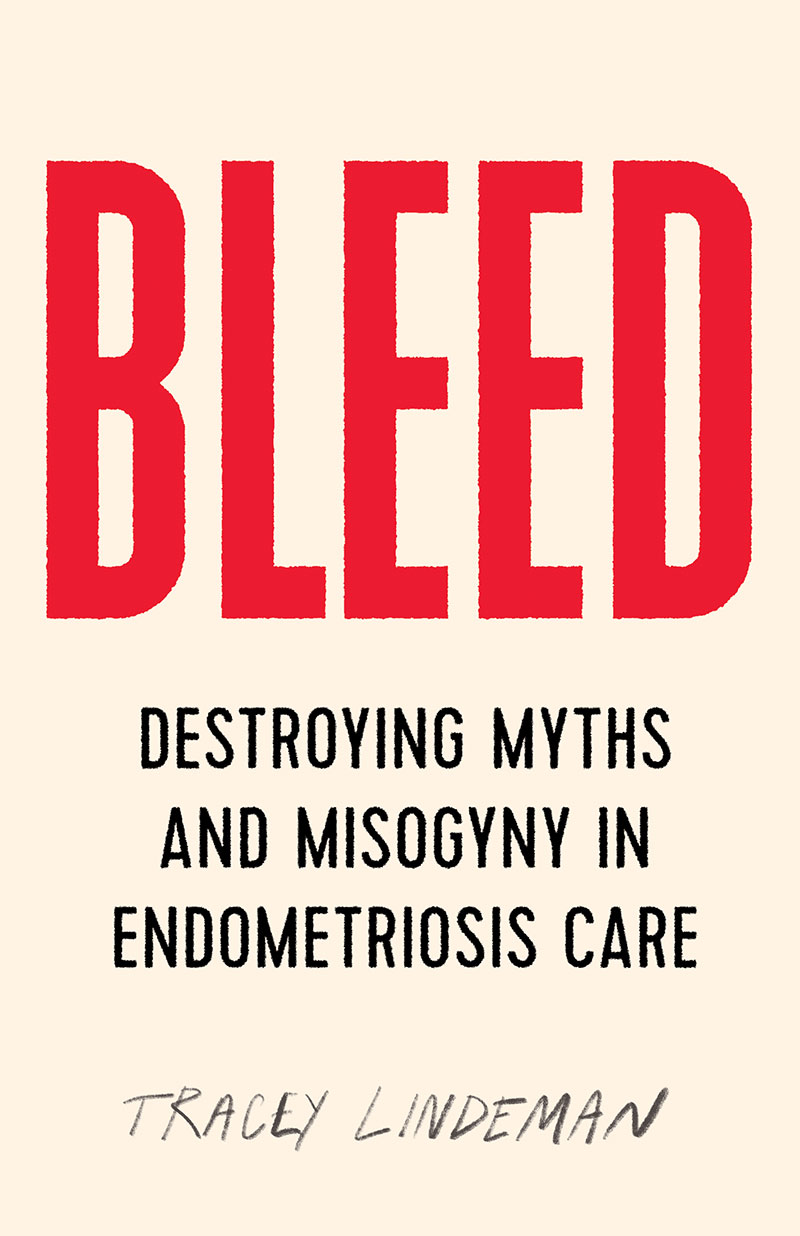 When you think of a typical endometriosis sufferer, who do you envision?
If you imagine a white cis woman, you're not alone. Endometriosis has been called the career woman's disease, the scourge of the private patient and has been closely associated with white, middle- and upper-class women since it was first named in the 1920s. For the longest time, it was believed that only white women got the disease. In 1948, Joe Vincent Meigs, one of the most influential — and notorious — figures in endometriosis, told the American College of Surgeons that endometriosis would lead to the decline of the white race.
The New York Times ran an article the night of his eugenics-tinged Oct. 20 speech, its headline blaring "SOCIAL ILL IS LAID TO ENDOMETRIOSIS: Women's ailment restricting the propagation of intelligent class." The article explained Meigs's view that because the disease was so prevalent among educated white women who delayed marriage and childbearing until they became totally infertile, it was only a matter of time before civilization declined.
Meigs, wrote the article's author, "said that, unless checked, the ailment pointed to the eventual displacement in social dominance of healthy and intelligent people by the weak and unintelligent but fecund class which had produced history's leading dictators." To counter this phenomenon, Meigs proposed restrictions on birth control and subsidies to encourage white women to marry and reproduce as young as possible.
Endometriosis is so deeply aligned with whiteness that Black women with pelvic pain have for decades been consistently misdiagnosed as having pelvic inflammatory disease, often referred to as PID, which is caused by sexually transmitted infections. The emergence of PID as a catchall for Black gynecological problems confirmed a bias that society had held since the antebellum era: that Black women were sex-crazed "jezebels" (a bias has also been used to justify sexual violence against Black women).
We haven't escaped the racism sown into Black women's gynecological care. In fact, PID misdiagnosis in Black women is still prevalent today, more than 45 years after Chicago OB/GYN Dr. Donald Chatman's discovery that at least one-fifth of those diagnosed with PID actually had endometriosis.
There's little wonder why, as a Black gynecologist, Dr. Melvin Thornton often finds Black patients in his office after years of systemic denial elsewhere. "It's hard to get it resolved," Thornton tells me over Zoom on a break between patients. He explains that the modern experience of medicine, particularly for working-class and low-income people, looks a lot like 10 minutes at a walk-in clinic office, endless waits in urgent care and no followups. In these scenarios of transient health care, people's files follow them wherever they go. If their chart says they have PID, getting another doctor to challenge that diagnosis is very difficult. Thornton saw it himself while working in a Los Angeles county hospital.
"They keep getting labelled and labelled and labelled. And you look at your records and they've never had a positive culture for gonorrhea, chlamydia. Never, y'know?" he tells me. The first doctor makes an initial assessment, diagnoses PID, prescribes antibiotics to take care of it and sends the patient away. When the STI tests come back negative, the patient often isn't informed of the results — that whole "no news is good news" thing.
Meanwhile, Thornton says, the diagnosis code in their file stays the same: PID. Of course, with a chronic condition like endometriosis, it's only a matter of time before a patient seeks medical attention again. When the next doctor sees the PID code in their chart, a whole new cycle begins: wrong diagnosis, ineffective treatments, no followups. Thornton sees this playing out almost exclusively in lower-income communities of colour. There, a doctor might look at your race and class and fill in the blanks — a judgment call based on bias, not medicine.
To untangle all the various layers of discrimination in medicine requires looking at its systems with an intersectional lens.
In 1989, lawyer Kimberlé Crenshaw coined the term intersectionality, arguing that Black women face racism and sexism, and that the sum of these two isms is not simply 1+1=2, but that it creates a whole new form of discrimination specific to Black women. As such, Crenshaw explained, Black women experience violence and discrimination in ways that Black men and white women do not. If maleness and whiteness are the defaults, Crenshaw wrote, "Black women are protected only to the extent that their experiences coincide with those of either of the two groups." They may find solidarity with other Black people or among women, but neither group really speaks to the full experience of being a Black woman.
Of course, discrimination isn't only about race and sex, especially not in a medical system defined by power imbalances. Discrimination is rampant throughout the entire ocean of the medical experience, and we are all swimming in it to some degree.
Ethnicity, gender, sexual orientation, age, socioeconomic status, disability and body size are some of the things that push us away from the coast. Some people are further out than others. A slender, well-adjusted, straight, middle-class white woman might be ankles-deep in the water. A fat Black queer woman or a white teen mom on welfare might be a few miles from shore. Meanwhile, an Indigenous trans person with treatment-resistant depression and a hereditary heart condition may find themselves struggling to tread water in the deepest depths of the sea. Yes, we are all at risk of drowning — but some people are more likely to go under than others.
So many people within medicine fail to see that some people need more help coming to shore, that a life preserver tied to the end of a 20-foot rope only helps people up to 20 feet away. A lot of privilege and a bit of luck help you get hold of this floatation device. As for the people who drown, well, they just couldn't be saved.
Endometriosis patients are already disadvantaged by the fact that we have a feminized chronic illness in a misogynistic world. All the other things that compromise our ability to get fair treatment are an undertow, dragging us further into the ocean. "What's that saying? We're all in the same storm, but we're not in the same ship?" Heather Guidone asks me. She's been a patient advocate for 30 years and works as the program director of Center for Endometriosis Care, the Atlanta, Georgia, home base of renowned surgeons Dr. Ken Sinervo and, until recently, Dr. Jeff Arrington.
Endo sufferers come from around the continent, and even the world, to seek care inside of this squat rectangular medical building north of downtown Atlanta. More often than not, they arrive at their wits' end and a lot sicker than they need to be. Guidone tells me these patients regularly need four or five hours of surgical excision work because of how extensive their disease has become after years of neglect. Many have been forced out of jobs or school. They've usually tried hormonal birth control and other hormone-suppressing medications, only to find they delivered more harm than good.
"The average person [coming] through our doors has had at least two hormonal therapies and two surgeries," she says. Now they're at the point of despondency, almost afraid to ask for help one more time because they've been burned so many times previously. Guidone tells me it's gut-wrenching. "I don't want to say it's a travesty of women's health because I want to be inclusive in that messaging, but there's definitely a gender component," she tells me.
Guidone routinely meets patients whose primary care providers have spent years ignoring or trivializing their feelings and concerns about their disease and how it's affecting their lives. Guidone and I joke sarcastically about what those doctors must tell patients: "So what if you can't have pleasurable sex? I don't care," she mocks. "That's not your lot in life. You're not supposed to be feeling good about it; you're supposed to have a baby and shut your mouth."
Discrimination can be this painfully obvious. Often, though, it's small acts of laziness or slips of coded language that pile up over time, says Donna, a Canadian anti-racism consultant who has dysmenorrhea, an umbrella term for painful periods. "I think sometimes when we think about discrimination, we think about these big overt acts where you were made to feel small. And I don't think that that is often what discrimination [in health care] looks like. It can be those big things, but I think you can still get a base level of care that's not great, but it's not terrible," she explains.
"And so it's not necessarily that, you know, someone called me a name or said, 'You're too fat or you're too Black' or whatever. It's that when you have a system where doctors inherently feel that they are doing right just by being doctors, [they tend to say], 'Okay, I'm going to treat you for what I see,' as opposed to listening to what you say."
I ask her why she thinks she got such subpar care for so long. Was it obvious to her that she was being discriminated against? And if it wasn't overt, how could she tell?
"I didn't realize that the level of care I was getting was basic and just ho-hum until I [got my current doctor] and I realized what good care looks like," she answers. "It's not to say that all the other doctors before were mean or harsh — but they were just doing the minimum. And I think the only reason I was able to get resolution in a place where I'm happy now is because my doctor had empathy; she asked the right questions, and it turns out that she had the exact same experience with the exact same condition."
Because the doctor understood what Donna was experiencing, she was able to refer her to the same professionals she had personally seen to help address her own pain.
Most people with endometriosis (or polycystic ovary syndrome, or other poorly understood chronic diseases) would consider that a lucky break. We know, perhaps better than anyone, that caring for women remains a radical concept in medicine. Even more radical is caring for people even if they're trans, non-binary, Black, Indigenous, disabled, fat, mentally ill, poor, queer. Even if they don't ever want kids.
All of us deserve good, compassionate, individualized medical care regardless of how we move through this world and regardless of what or how we contribute to society. Presently, though, it feels like the only thing intersectional about endometriosis care is the discrimination with which it is delivered.
Read yesterday's interview with Tracey Lindeman by our health reporter Moira Wyton.
---
Excerpted and adapted from 'Bleed: Destroying Myths and Misogyny in Endometriosis Care' by Tracey Lindeman. © 2023 by Tracey Lindeman. All rights reserved. Published by ECW Press Ltd.