The Shepherd's Life: Modern Dispatches from an Ancient Landscape
James Rebanks
Doubleday Canada (2015)
Pastoral Song: A Farmer's Journey
James Rebanks
Custom House (2020)
The "pastoral" is a literary genre going back to the ancient Greeks: poetry that deals with shepherds, their sheep and the simple life led in an idealized countryside often called Arcadia. The shepherds talk about life, love, death — almost anything the poet wants them to.
The one thing the shepherds don't do is write their own pastoral, but James Rebanks is a shepherd who has done just that. His countryside is far from ideal, but it supported his ancestors; he and his descendants will try to support themselves on it amid a changing climate and the turbulent politics of feeding eight billion people.
Rebanks, born in 1974, grew up in a family that had worked the land for centuries in the Lake District of northwest England. "We shaped this landscape," he writes, "And were shaped by it in return…. It is, above all, a peopled landscape." This is a key theme in both books: we have made this world, and we cannot "rewild" it. We can only remake it into a richer, more complex world, or into a wasteland.
The pastoral shows us rural people who live at the mercy of nature, and work within its limits. Rebanks structures The Shepherd's Life around the seasons, from summer to spring. In each season, he and his family must do what the season demands.
So one summer day he rises at 4 o'clock in the morning to help gather the sheep in from the fell — a mountain whose meadows are used by local farmers. The farmers must go early, because by midday it will be too hot for the sheep and for the dogs who can bring them down the fell from places where people can't go.
The task is made easier, Rebanks explains, because each herd has its place on the fell: "They are 'hefted' — taught their sense of belonging by their mothers as lambs — an unbroken chain of learning that goes back thousands of years."
Anything but simple
The pastoral is an urban vision of a simple life. But for Rebanks, life is anything but simple. It is one job after another, from maintaining stone walls to shearing sheep to training the dogs: "Farming the fells is only possible because of the bond between men and sheepdogs."
And it is one year after another, doing what needs to be done each season to keep the sheep safe and healthy. "You could bring a Viking man to stand on our fell with me," Rebanks says, "and he would understand what we are doing and the basic pattern of our farming year."
Within each season Rebanks moves back and forth in time, from being a boy trapped at school, yearning to be doing chores at home, to a fractious young man always battling his father but learning from his grandfather, to being a middle-aged man who keeps the farm going today with the help of outside work for pay.
It is no chronological memoir, but Rebanks is a superb writer and maintains an intense narrative drive. We see him resist school, which is designed to equip him and his classmates to leave the Lake District for urban jobs. They are supposed to be "more than just farm workers, joiners, brickies, electricians and hairdressers." But even at 13, Rebanks is too much in love with the land to want to leave it, and we completely sympathize. He is as "hefted" to his land as his sheep are to their particular meadows.
Producing sustainably
"Our farming system," Rebanks explains, "is not about maximizing productivity, but producing what we can sustainably from the landscape." He goes on: "It took traditional communities often thousands of years to learn by trial and error how to live within the constraints of tough environments like ours. It would be foolish to forget these lessons or allow the knowledge to fall out of use. In a future without fossil fuels, and with a changing climate, we may need these things again."
With that short paragraph, Rebanks pulls us away from the immediate demands of a small farm to the demands of the whole world, foreshadowing his second book, published in 2020.
In Pastoral Song, Rebanks begins with the death of his father. In a solicitor's office surrounded by ancient deeds, he takes ownership of the farm. "Ever since I was a teenager," he reflects, "I have worked on our farm, and been the shepherd of a flock of sheep, but this is different. When we walk back down those worn sandstone steps of the solicitors, I know that I am now the 'farmer.'"
But Rebanks is a farmer in difficult times, when tourism, not farming, is the chief support of the Lake District.
And farming itself has changed.
"It is profoundly different from even a generation ago," he writes. "The old working landscapes and the wildlife that lived in them have mostly disappeared, replaced by an industrial farming system that in its scale, speed and power is quite unlike anything that preceded it. This new farming has proved to be both productively brilliant and, we now know, ecologically disastrous. The more we learn about this change, the more unease and anger we feel about what farming has become."
Rebanks describes growing up in a transition already underway, with some farms already far larger and more prosperous than his family's. His father saw it a competition he was unlikely to win: "We were never going to have the money for all this."
Nor the hands. Farm workers were disappearing into the towns and cities, leaving Rebanks and his father to do more and more. The work included digging out ancient hedgerows to make larger, more efficient fields — and to destroy the habitat of countless birds, insects and animals. The family was modernizing, but not enjoying it.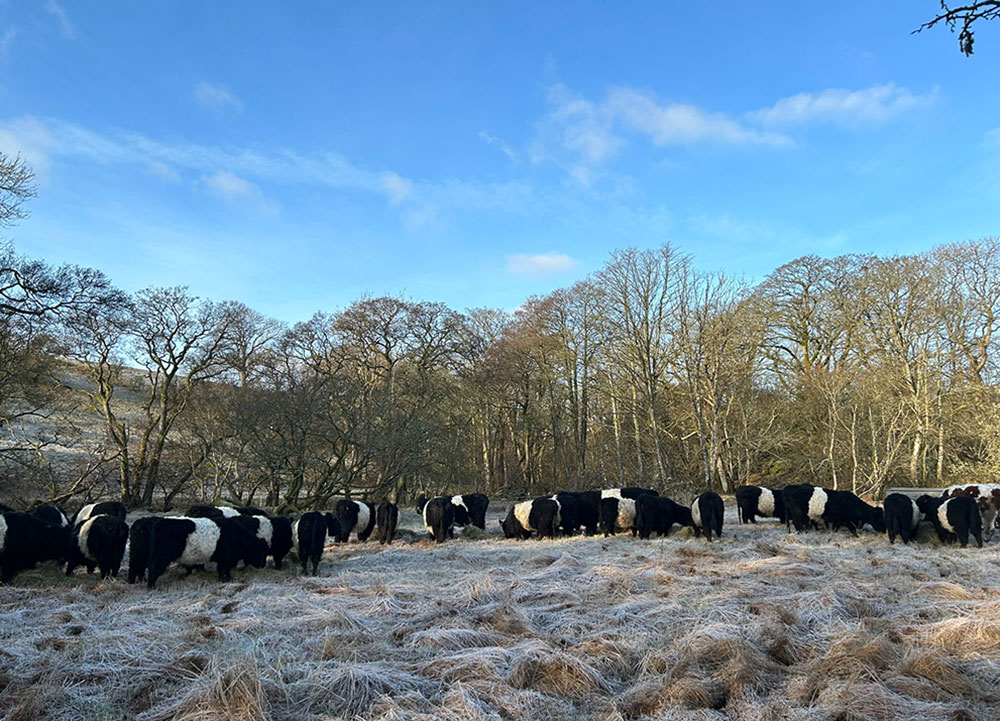 When traditional beats modern
Two incidents had a powerful effect on Rebanks. He describes an old farmer named Henry who was considered something of a joke because he didn't modernize at all. When Henry died, his farm was sold off in parcels. Another farmer bought a parcel and sent a soil sample off to see what he would need to add to the soil.
"But the analyst reported back that the soil was some of the best he had ever tested," Rebanks tells us. "Henry's soil was healthy. It needed nothing. It was full of earthworms — rich and fertile. My father found this news a revelation. It shook him, because it said something about what the new farming was doing to the land. The most traditional farmer in the district had the healthiest soil."
Meanwhile, the new farming had separated animals and plants: "The farms with thousands of animals had more muck than the land could possibly accommodate, while the crop farms now had no animals, and thus not much to fertilize plants." Now, when farmers plowed their fields, no birds swooped down to feast on worms and insects; the soil was effectively dead.
When Rebanks reads Rachel Carson's 1962 book Silent Spring, it confirms his suspicions: "The new farming technologies and practices weren't benign tools of progress. They were an arsenal of chemical and mechanical weapons that had profoundly altered the natural farmed environment by overturning its biological rules."
So Rebanks decided to turn his farm into something like what it had been when his grandfather ran it. Using regenerative agriculture, he has planted thousands of trees and rebuilt the streams to create more bogs and support more salmon and trout. He's seen the results: "an explosion of voles," followed by barn owls to eat them, and then wildflowers "and a golden haze of insects, butterflies and bees."
"We can build a new English pastoral," Rebanks writes. "Not a utopia, but somewhere decent for us all."
But small farms can never feed the United Kingdom's 67 million people. Farmers like Rebanks can barely survive as it is. But farms like his can be refugia for countless species, and even the big industrial farms may adopt regenerative practices, if only to greenwash themselves.
Expensive food is back
Meanwhile, we seem to be returning to the age of expensive food. Rebanks observes that people of the U.K. once spent 35 per cent of their income on food, but it had fallen to about 10 per cent. Rising prices are likely to mean the number will rise again.
The UN Food and Agriculture Organization publishes a yearly report titled "The State of Food Security and Nutrition in the World." The 2022 edition reports that "Between 702 and 828 million people were affected by hunger in 2021. The number has grown by about 150 million since the outbreak of the COVID-19 pandemic — 103 million more people between 2019 and 2020 and 46 million more in 2021.
"Projections are that nearly 670 million people will still be facing hunger in 2030 — eight per cent of the world population, which is the same as in 2015."
Between climate disasters and the pandemic, it becomes harder and harder to grow enough food. If megafarms destroy the soil, and regenerative farms can't produce food except at a high price, how will we prevent, or at least mitigate, malnutrition and outright famine in the next decade?
Is 'agtech' farming?
Here in the Lower Mainland, at least one company, QuantoTech, is developing a form of vertical farming using hydroponics and LED lighting. But is it really farming, or just "agtech"?
In Finland, a startup called Solar Foods is brewing protein like beer, using bacteria, carbon dioxide, water and electricity. It uses a small fraction of the land and water needed by farming.
Such technologies could go a long way to feeding at least some of the eight billion people on the planet. But they will do essentially nothing to encourage the growth of the worms and voles and barn owls and oaks now flourishing on farms like James Rebanks's. Without them, we will find ourselves in a very grim pastoral, trying to live on bread alone.