An art gallery is perhaps the ideal place to contemplate the power of silence. As long as there aren't a great many people about, swilling wine and opinions, one can take in different pieces of work, allowing them to coalesce, quietly, almost unobtrusively, into a greater whole.
Richmond Art Gallery curator Zoë Chan has placed a gentle finger on how quiet can speak volumes. She shows how silence carries the weight of inchoate emotions, allowing ideas to slowly unfurl, creating space for curiosity and understanding to flower.
The connective tissue between the different works in Chan's Codes of silence exhibition (the letter "s" is lowercase on purpose) might not seem immediately obvious. Separated by time, location and culture, what do contemporary video installations and older paintings have in common? Just this: each of the works carries quiet, the often radically underappreciated aspect of art making.
As the show's description makes clear, "the elimination of the voice is often associated with censorship or suppression." But the artists in Codes of silence have employed silence in unexpected ways. They use it to refute the dominant paradigm, and to offer a different way of being in the world. The critical element at the heart of all of this is, of course, choice.
The concept for the exhibition emerged from Chan's research on artists making documentary-inspired video works. "These works often had a pedagogical thrust, and featured, for example, talking head interviews or show-and-tell sessions where the artists' collaborator-subjects explained how to do something," says Chan. "At the same time, I became also interested in the moments of silence where voices weren't speaking, but something still seemed to be communicated subtly."
The depths of silent connection
Scholar Kevin Quashie, who uses quiet as "a metaphor for the full range of one's inner life," was another source of inspiration. But this quality of holistic experience is often denied of marginalized people. Quashie argues that quiet, unlike other more active and outward forms of communication, lends itself in a different way to the creation of community, founded in intimate, non-verbal forms of solidarity and communion.
Caroline Monnet's video installation Creatura Dada provides a bravura example of this. The four-minute film takes as its informing idea a lavish dinner party with a group of Indigenous women. At its centre is the legendary Abenaki filmmaker Alanis Obomsawin. She is joined by a group of other women, including Monnet and her sister Emilie, Swaneige Bertrand, Nahka Bertrand and Nadia Myre. The film, originally commissioned by the Festival du Nouveau Cinéma in Montreal, presents the six feasting like queens.
As the women eat, drink, talk and carry on, it's natural to wonder what the conversations are about, but Monnet denies audiences this aspect, choosing to present the festivities without audio. We, the onlookers, are stranded on the outside of the action, wondering, curious and maybe a little despondent.
It certainly looks like the women are having a blast, ripping apart entire lobsters, sucking down oysters from the half-shell and tippling champagne. Certain details snag one's attention, things like sleek shoes and lacy stockings, coppery eyeshadow and bright lipstick. But it's the atmosphere of laughter and intense discussion that is ultimately most compelling. What are these women up to? Plotting revolution, telling dirty jokes?
The action takes a decided shift at the end of the film, when the women rise as one, facing down the camera, swaying gently from side to side like a group of cobras getting ready to strike. It's a powerful image that speaks of the collective strength and resolve that emerges from deep, silent connection.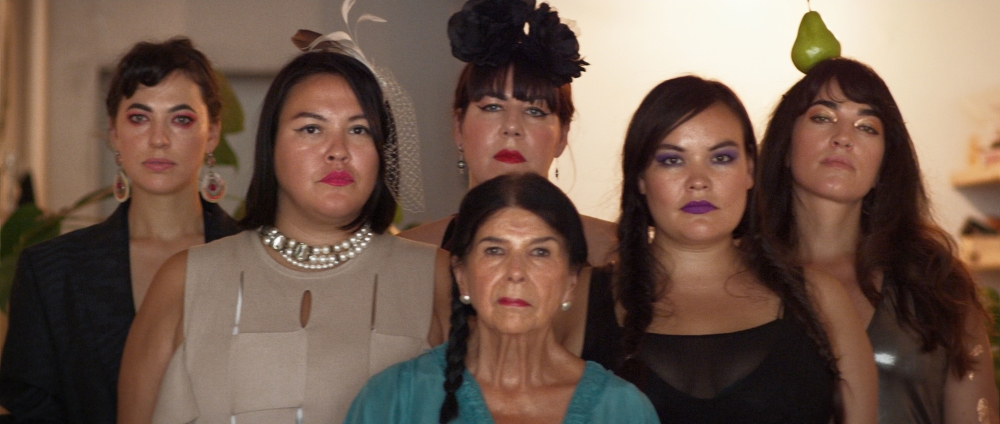 A silent story
Like Monnet's work, Cauleen Smith's Black and Blue Over You (After Bas Jan Ader for Isan) has a silent story to tell. Inspired by Bas Jan Ader's 1974 film Primary Time that featured the Dutch artist arranging bouquets of flowers in primary colours, Smith's work departs from the earlier film not only with palette but also in intent.
Whereas Ader used colours like blue, yellow and red, drawn from painter Piet Mondrian's precisely constructed paintings, Smith's flower arrangements seem, at first glance, haphazard and chaotic. Cala lilies are broken and bent, poufs of blue/grey hydrangea hang out of the vase, like they were caught in the midst of trying to escape.
The use of flowers as traditional symbols of grief and mourning is implicit, but the undertone of violence and suffering comes as something of a shock. The death of a close friend's young nephew prompted the work, but it speaks to the violent deaths of other people of colour, the blossoms echoing the purples and blues of bruised skin.
In contrast to the video work, the paintings in the show, from artists Toni Onley, Leslie Poole and Harry Stanbridge seem to come from a slightly different place. That these artists are all older, male and white, which makes for an interesting dialectic with the video works. "I first chose them from the collection primarily as a way of creating a kind of atmosphere of quiet, listening and reflection in the gallery," says Chan. "I think they also create breathing room between the videos but also unexpectedly weave them together. In a way, I've come to think of them as 'supporting' the videos."
The connections between the two mediums can take time to reveal themselves. Such is the case with Shirley Bruno's film Tezen that retells a Haitian folktale about a young woman, a magical fish and a brutal coming of age with clarity and pellucid openness. The pairing of Bruno's work with B.C. landscape artist Toni Onley is, at first, a curious one.
"I chose the Toni Onleys for his abstract landscapes — I thought it was intriguing how the paintings are pared down to mere figures.... Onely describes his landscapes as archetypal, and I found it interesting to juxtapose with Shirley Bruno's work as she works through a Kreyòl folktale with its links to archetypal narratives and characters — despite being deeply rooted within Haitian traditions."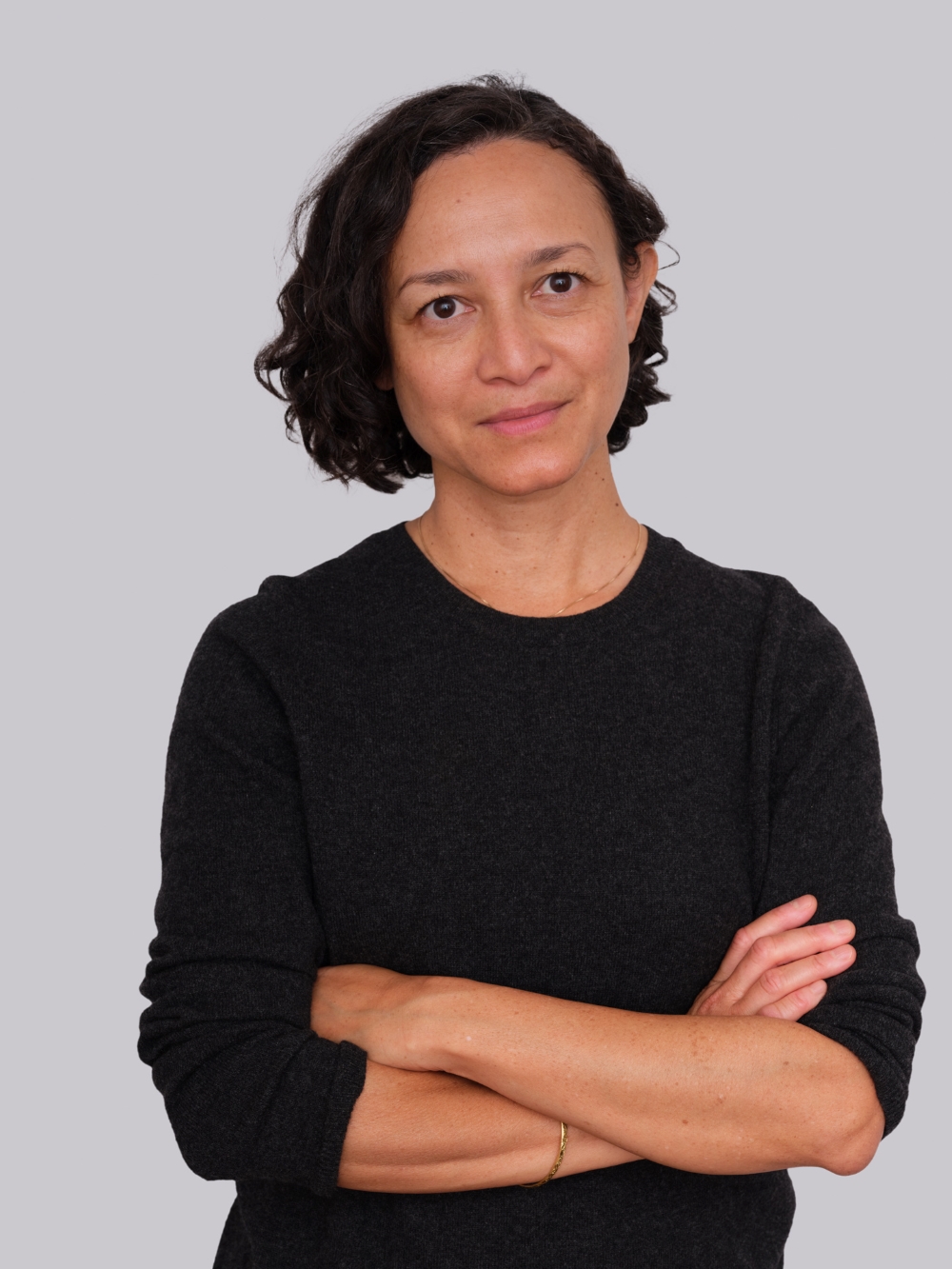 Silent portals
In other parts of the exhibition, the conjunctions are more direct. Harry Stanbridge's ovoid paintings that hum and crackle with electric energy function as silent portals to some other place. As Chan explains, the connection came in part because of the colours of the work, but also the content. "In researching him [Stanbridge] more, I read that he was interested in entries and exits into different states of being in a spiritual sense, and I thought that resonated with Smith's mourning ritual after the death of a friend's nephew — and thinking of his passing from life to death."
Picking up this same thread is Leslie Poole's painting that took inspiration from the work of French modernist Édouard Manet. After having one his legs amputated due to complications from syphilis, Manet spent the last few months of his life painting flowers. Poole recreates this period of quiet with his own floral still life.
While the flower motif loops in Cauleen Smith's video work, as well as the abundant bouquets prominent in Monnet's gorgeous dinner party, Poole's painting with its fading blossom incorporates different symbolic aspects. "The link to death in Poole's work emerged for me as I read about how Poole was pastiching Manet's paintings of bouquets made from his sickbed in the last months of his life. It struck me that Poole's flowers highlighted how bouquets can be both celebratory and elegiac."
Chan explains that incorporating the physical layout of the gallery in the exhibition allows for periods of debrief. The spaces between the artwork create necessary moments to let something settle before moving onto the next experience.
Aleesa Cohene's video installation Kathy uses the figure of actress Kathy Bates to offer a different perspective about how women are presented, perceived, packaged in conventional film. Alongside the video work, a detailed filmography of Bates's career lays out the different characters the actress has played. It's alternately depressing, funny and a wee bit horrific. Cohene has taken sone of these personae and fashioned a Frankenstein creation, part bearded lady, part grand dame, with a heap of matriarch thrown in.
Part of the complexity of bringing together a collection of different pieces from different artists, working in different periods and in wide array of media, is that the underlying thematic concept has to be clear and strong enough for people attending the show to understand what brings them all together.
It's no mean feat to pin the ephemeral forces that underride different expressions in place so that these connections become apparent. Chan has fashioned an emotional tour de force that moves you from varied, individual experiences into something more cohesive. Quiet choral voices come together to express the ineffable, the unbearable, the silent secret current of life that runs underneath us all.
'Codes of Silence' is on view at the Richmond Art Gallery until April 2.