When James R. Anderson, a colonial statistician, set out in 1891 to complete the first survey of British Columbia's agricultural products, there were good reasons to doubt that craft beer made from local ingredients would be among them.
Though the landscape had fed large Indigenous communities for millennia, many outside observers dismissed it as a "Sea of Mountains." Already, most of what went into settlers' food and drink was imported, including, that year, many bushels of barley and five tonnes of hops. Anderson complained that farmers and ranchers seemed more disposed "to acquire large tracts of land, and keep them locked up" than to produce food on them.
Yet the evidence of local beer-making was strong. Barley, the principal ingredient in most beer, was growing nearly everywhere, and among the varieties identified by name was Chevallier — then the favourite brewing barley of England. A farmer in what is now Surrey declared B.C. hops better than any raised in Britain. When Anderson heard from James Baker, a British colonel living on Ktunaxa Nation land that he would later subdivide to found the town of Cranbrook, there wasn't much question what he was up to. "Barley is, perhaps, the best crop," Baker wrote. "Hops grow remarkably well."
Nearly 115 years later, Alisa Smith and I explored the limits of local food resilience with our 100-mile diet experiment, in which everything we ate and drank for a year came from within that radius. By then, times had certainly changed. After searching high and low for totally local B.C. beer, we sadly concluded there wasn't any. It would be, for us, a year without beer.
Fast forward another 15 years to this summer, when The Tyee put out a call for "100-mile beer." Once again, there was cause to keep expectations low. Although craft beer abounds in B.C., and interest in locally grown food has exploded, craft beer made with local ingredients has remained more rumour than reality. Craft brewing remains largely a world — or more precisely, a global supply chain — of Canadian Prairie grains, European malts, Australian hops and so on.
As with the 1891 report, though, the 100-mile beer challenge found more going on in the sea of mountains than almost anyone imagined — including signs that truly local beer could take craft brewing in a whole new direction.
So who rose to the challenge and how do their 100-Mile-Beer efforts taste? To read about brewers of 10 delicious locally-sourced beers in B.C., read this companion article in The Tyee.
It's all about the barley
Five years ago, says Harley Smith, "the barley just walked in our front door."
Smith is brewmaster and co-owner of Longwood Brewery in Nanaimo. The barley, half a sackful, had arrived in the hands of Jeremy White, who had discovered that one of his neighbours was growing the grain. White, meanwhile, had set himself up for craft-scale malting, which is the steeping, sprouting and roasting process that releases barley's sugars for brewing.
"It started to become clear that we could have a real terroir of central Vancouver Island in our beer," Smith says. "Once the pieces fell into place, we said let's just do this as hard as we can."
Longwood is now the standout in 100-mile (and even 100-kilometre) brewing in B.C. While some of their brews feature imported products, three-quarters of the barley they use is grown nearby, and they offer a range of beers made strictly with local ingredients, right down to the yeasts they have been propagating for 20 years.
Finding locally grown and malted barley is currently the biggest challenge in what we might call, in a nod to the pandemic, "brewing in place." As a result, farm breweries — Barnside Brewing in Delta, the Beer Farmers in Pemberton, and Locality Brewing in Langley — make up half the short list of brewers we know of who are making truly local beer.
"We had people saying, 'You can't grow malting barley in Langley,'" says Melanie MacInnes, co-founder of Locality, which will open in the spring next year. Not only did their barley grow well, but they built their own malthouse to keep from having to ship their barley for processing or import the specialty malts that give different beer styles their distinctive colours and flavours. Already, Locality has done malting for other local breweries. "We've had brewers come out here and say, 'I've never seen barley malting, I've never even seen barley growing,'" she says.
Farming your own barley and hops is much more expensive than buying from industrial suppliers, and more complicated, too. The 100-acre MacInnes family property was formerly a dairy farm and feedlot; they weren't equipped for raising grain. Locality solved the problem by working with the B.C. Farm Museum in Fort Langley to harvest their barley using a Depression-era threshing machine. They also invite the public to an annual hops-picking event.

"We want people to connect to the land and to the farmers," MacInnes says. "I grew up on this farm, so I'm super attached to it — and to keep a farm is not easy."
What makes local beer worth the effort, MacInnes says, are the same issues that have driven the revival of local eating: reducing the environmental impact of shipping, supporting family farms and sustainable agriculture practices, keeping money in the local economy, and saving agricultural land from suburban sprawl.
"We have one life that we know of," she says. "Why not live it to your values?"
Craft brewing, but different
Curiously, one of the biggest barriers to the development of fully local beer is craft beer as we know it today: we have our favourites, and we don't want them to change.
Many craft brewers order similar ingredients from similar corporations, then produce unique recipes that, if they find a profitable following, they want to repeat again and again. For that to happen, they need ingredients with reliable quality and characteristics. Big brewing supply companies achieve this through strategies such as using many sources of barley or hops to blend out inconsistencies.
Local beer, on the other hand, embraces variability. "You do have flavour differences that change year to year, something like vintages with grapes," says Will Miller, co-owner of the Beer Farmers, which grows its own organic barley on a 125-year-old family farm. "You have good years and bad years and desirable years. You've got your barley for the year, and that's the tool you have to work with."
The flavour of hops is even more dependent on factors like the soil they're grown in and the vagaries of the weather — so much so that a variety like Chinook, raised locally, can taste dramatically different than commercial Chinook hops. Brewing with local ingredients demands an approach more driven by the brewers' skill in recognizing how each year's unique flavours can be turned into good beer.
"It's fascinating. It's just a different thing," says Iain Hill, brewmaster and principal owner of Strange Fellows Brewing. The brewery had already been planning to brew using malted barley from Locality when they heard The Tyee's call for 100-mile beer. Taking up the challenge, they committed to making an entirely local beer, using hops from Bredenhof Hops Farms in Abbotsford and yeast bred by Bright Brewers Yeast, based at the University of British Columbia. The result was less predictable than with industrial-scale ingredients, said Hill. They set out to make an IPA; they ended with what they're calling their 100-Mile Pale Ale.
"In the craft industry years ago, we didn't really have a lot of information about ingredients anyway," says Hill. "It's a bit like going back to it."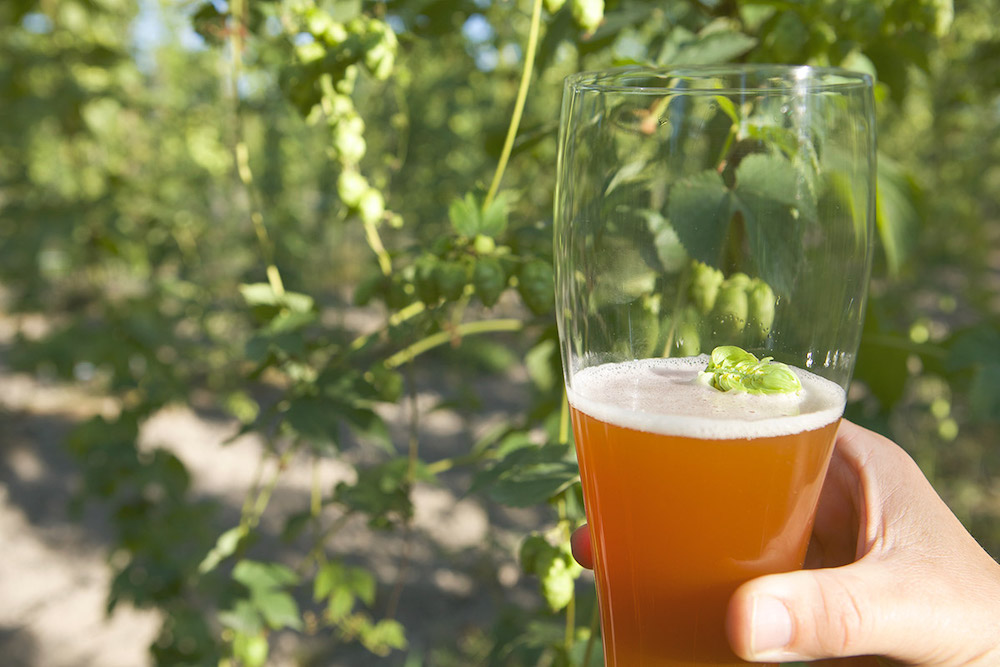 Hill says the ecological arguments in favour of local beer are compelling — Strange Fellows opted not even to bottle or can the first batch of the new beer, which is currently available only on tap at the brewery. The pandemic was a wake-up, too, as the public learned that a few hiccups in the global supply chain could potentially mean: no beer. Still, Hill doubts we can grow enough local barley to sustain wholly local brewing, at least for B.C.'s larger cities.
Instead, we might see craft brewing move in two directions: highly local, terroir-based beers, and the more quality-controlled styles that we know today.
The future of local beer
Where 100-mile beer could eventually take us is hinted at in homebrew-scale experiments such as those of François Dyment. Author of the Brewing Beer the Hard Way blog and the book Malting at Home. Dyment has been growing his own hops and heritage barley varieties, doing his own malting, and making seriously local beer (other than the yeast) since 2011. When Locality Brewing reached out for advice, it turned out he and the brewery were practically neighbours.
For now, Locality is planting Copeland barley, a popular commercial breed. This past growing season, though, Dyment tested other varieties on their property. The most successful, he says, was one called Bere (ironically, it's pronounced "bear"), an ancient barley that has been traced back more than 1,200 years in Europe. Just 10 kilometres away from Locality, in Dyment's garden, a different barley has been best: Chevallier, the breed mentioned in B.C.'s 1891 agricultural survey.
Homing in on the best barley for a particular place, the best malting and roasting processes for that barley, the best hops to pair with those malts, all combined with local water and yeasts, is what gave preindustrial beers their uniqueness, Dyment says. Over time, distinct styles can emerge, and beer transcends from a quaffable beverage to become a marker of local identity and culture.
We're not there, not yet. Having sampled a lineup of 100-mile beers in the past week, however, I do detect one clear difference between truly local beers and brews locally crafted of non-local ingredients. They taste… fresher. Alisa Smith, my co-author on The 100-Mile Diet, said it best when she described the local beers as "barley juice." They have a fresh-squeezed quality, an underlying refreshment that is lacking from even my favourite craft-brewed concoctions made from global ingredients.
Like tomatoes or corn on the cob, like seafood or a head of lettuce, beer turns out to be better when it's fresh from the farm.
Thirsty yet? Click here to read up on 10 B.C. beers made from super local ingredients.