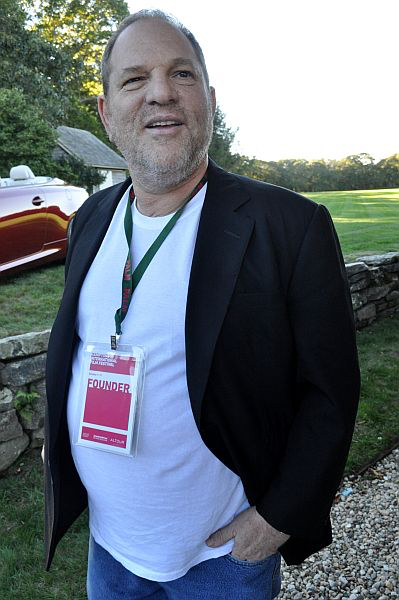 As the tales from Harvey Weinstein's casting couch multiply, the sordid story also serves as a glimpse into the backstage world of news media.
While it was the New York Times that broke the scandal of the Hollywood heavyweight's long history of sexually assaulting women and buying their silence, the Times is also accused of helping to cover up the rumours of abuse.
A former Times staffer reports that she uncovered one aspect of the Weinstein whispers more than a decade ago, and had her story spiked.
Sharon Waxman, who went on to launch the Hollywood news site The Wrap in 2009, investigated a Weinstein story in 2004. He was still working for Miramax, the company he and his brother Bob launched and sold to Disney in 1993, which was the source of their power. Being a Disney company meant they were big players in TV and on Broadway too, which is a major source of advertising for New York media.
Waxman writes that the story she was chasing at the time involved a senior exec in Miramax's Italian bureau, who was allegedly paid $400,000 for less than year's work to procure women for Weinstein. The reporter tracked down one of Weinstein's victims who had signed a non-disclosure agreement.
Waxman claims she received calls from actors Matt Damon and Russell Crowe pressuring her to back off. Damon recalls the phone call but denies he was trying to protect Weinstein. As he understood it, Weinstein was defending the Italian employee and asked Damon to testify to the guy's "perfectly professional" behaviour — which he did.
Ultimately, the newspaper "gutted" Waxman's story, she says, cutting the Weinstein-the-abuser details and burying it in the back pages as a story about Miramax firing an Italian employee.
The writer remembers being told a number of things by her editors to explain the curious news judgment. A deputy managing editor told her Weinstein wasn't a news story because, she says, "He's not a publicly elected official."
She also heard that Weinstein had made a personal visit to the Times newsroom to complain about her reporting. And she was reminded that Weinstein's companies bought a lot of advertising, which was undeniably true in 2004.
I'm inclined to believe Waxman. The power the film companies had over newspapers from the 1980s through to the early 2000s was so great that they could demand every daily in North America run movie reviews on Friday. In that era, studios still ran daily movie listings and full-page ads — a huge source of revenue — and it was common for studio reps to pressure newspaper managers and film critics to run positive reviews. Plenty caved.
In a 1996, a newspaper film critic did a research study, "Caught in the Machinery: How Hollywood Subverts the Media," for the National Arts Journalism Program, documenting the stories of film studios bullying critics and their news outlets.
He found multiple incidents of studios pulling advertising and blacklisting critics from press screenings if they wouldn't give them flattering reviews and features. Some studios even managed to get critics fired. In a survey of 100 entertainment writers he asked them to rank the most manipulative studios: Disney won the gold. And Weinstein's Miramax took the bronze.
The studios also funded the editorial content itself via press junkets. Alt weeklies, in particular, would run stock photos of movie stars on the cover and print puffy Q&A interviews recorded at the pressers. Most studios put restrictions on what reporters could ask or if they could ask questions at all.
Even some daily newspapers-of-record ran the promotional interviews coming out of those staged PR sessions, without explaining how everyone came to be in luxury hotels, wined and dined at the studios' expense.
Charles Campbell, editor-in-chief of the Georgia Straight from 1986 to 1997, recalls that when he took the helm about three-quarters of the covers were devoted to Hollywood actors. Owner Dan McLeod often did the junkets himself, Campbell said.
Campbell, who now teaches arts journalism at Capilano University, says there was persistent pressure from film companies and other big advertisers. But he recalls only one incident where a film company made good on a threat. The producers of the 1991 film Black Robe pulled a month's worth of advertising after an unflattering review, which Campbell also recalls as sharply written and funny.
"It cost the paper between $20,000 and $30,000 at the time," Campbell recalls. But they didn't back down, and the advertiser returned.
But by 2004, newspaper revenues were tanking and it was much harder to say no to big advertisers.
Which is why Waxman's version of events is so plausible. Anyone who has seen the inside of a newsroom for more than 15 minutes has seen how the rich and powerful try to turn newspapers (and other media) into their publicists.
In 2006, I wrote a piece for The Tyee about an incident at the Victoria Times Colonist, then owned by Canwest Mediaworks. A freelance journalist was fired for offending advertisers and then rehired after independent journalist Sean Holman persuaded one of those advertisers to confirm that they had pressured the paper.
So when the Times editor-in-chief Dean Baquet, who wasn't at the paper in 2004, responded to Waxman's claim with a statement saying that editors of that era don't recall her story or the incidents she describes, call me skeptical.
"It is unimaginable to me that the Times killed a story because of pressure from Harvey Weinstein…," Baquet begins, adding that while he's "sure Ms. Waxman believes she had a story," her editor at the time, Jon Landman, said "she didn't have it nailed."
Perhaps. But it makes you wonder why Weinstein urged Damon to call her, doesn't it?
Speaking of publicity, Weinstein is alleged to have threatened to use his media contacts to smear the names of his victims, and it appears he was making good on those threats. The Washington Post's media columnist, Margaret Sullivan, notes that the week before the Times story appeared on Oct. 5, a Post reporter was offered a tip about some dirt on one of Weinstein's accusers. The scribe was still checking out the tip when the scandal broke and the savvy reporter put two-and-two together.
As a number of reporters have documented, it was also common for Weinstein to buy journalists directly by hiring them as scriptwriters or consultants.
Weinstein even joked about this as the Times story was breaking: "The story sounds so good I want to buy the movie rights," he said in a statement issued by Weinstein and Co., which would fire him a week later.
As to why Weinstein finally got his comeuppance, I think the answer is pretty obvious: he no longer has the connections that once made him so powerful.
In 2005, the Weinstein brothers parted company with Miramax/Disney. According to Michael Eisner, then the chairman at the Mouse's House, he knew nothing about Harvey's sexual proclivities. "Fired Weinsteins because they were irresponsible, and Harvey was an incorrigible bully," he tweeted.
Translation: they had lost the Midas touch and, worse, Harvey was pissing off the wrong people.
And did Weinstein's legendary story-planting technique backfire on him? The gossip site TMZ reports that it's rumoured that Weinstein's own brother Bob leaked the file detailing Harvey's wrongdoing to the New York Times to get his troublesome bro out of the business before he destroyed it.
Is it true? Who knows: it's TMZ. But if I were the betting sort, I'd lay a few bucks on it being true. That whisper gets at the crux of the articles and social media outpourings that followed the Times and the New Yorker's revelations — which is that all of Hollywood has had enough of Harvey.
And it's fair to say that Weinstein wasn't wrong when he said his story would make a great movie.
I wonder if anyone has optioned that Times article yet?
© Shannon Rupp. For permission to reprint this article please contact the author: shannon(at)shannonrupp.com.