Meet Trevor Mack, award-winning Tsilhqot'in filmmaker from Tl'etinqox reserve. His films are raw, intense and poetic and challenge stereotypes of Indigenous people on screen.
Most known for his first two works, The Blanketing and Clouds of Autumn, Mack's back in the spotlight with his latest film, which debuts at coming international film festivals.
Etsu (Grandmother) premieres at this year's Toronto International Film Festival (TIFF) on Sept. 7 and the Vancouver International Film Festival (VIFF) on Sept. 28. Another recent project, Anna Marina, debuts at imagineNATIVE Film + Media Arts Festival, the biggest Indigenous film festival in the world, on Oct. 18.
It's a huge leap for him.
Sitting in a colourful alleyway in downtown Vancouver, Mack, 25, reflects on his journey so far. He has lived in the city since Grade 4 when his mom moved for a job. As a protective single parent, she saw drugs and alcohol in the community, he says, and didn't want him to go "that way."
Before that he grew up on the Tl'etinqox reserve, surrounded by family.
In high school, Mack taught himself video editing programs like Sony Vegas. At lunch he ran home to cook for his grandmother and spend hours crafting montages of the video game HALO, under the name TM22. The videos got so popular that interested buyers spent up to $500 a pop.
"They had no idea they were talking to a 15-year-old," he says with a full-faced smile.
After high school, Mack worked on a diamond-mining exploration camp as an environmental monitor. He says this experience shows him how ordinary people, working to make a living, contrast with the big companies that run the sites.
"It seems like even there, people do care about the environment," he says, looking back on a job he'll never return to. Seeing "the other side" of things, from within the mining industry, helped Mack realize nothing is black and white and challenging prejudice is possible. "It just takes a change of perspective for people to do the right thing."
Mack knew he wanted to take film more seriously, challenging stereotypes, sharing intimate and raw human-centred narratives. He went to Capilano University for film, but failed, too busy with his own projects. At the time he didn't see many Indigenous films or directors to look to for inspiration.
I thought, "How do I represent myself?" he says, at the peak of an early-twenties identity crisis. He felt he needed to go back to his roots to know how to move forward in film. "I decided I wanted to make a film about my people and who we are."
Mack went back to his community where he met with elders who had stories of first contact, smallpox and cultural strength on their minds and lips. He wanted to honour their stories and used his HALO montage money, crowdfunding and help from family to make it possible.
In 2013, at 21, Mack shared his film The Blanketing, first in a private community screening in Williams Lake and later in TIFF, VIFF and imagineNATIVE.
The Blanketing changed his life, Mack says. While making the film, Mack says he learned more about himself, his people, culture and community. He realized these were the kinds of films he wanted to be a part of, the stories that Hollywood couldn't recreate if they tried.
In 2015 Mack applied for a grant with Canada Council for the Arts and received $16,000 for a film about a family torn by residential school. He asked cousins and friends of friends if they wanted to act.
He debuted his second short, Clouds of Autumn, at TIFF. The film won Best Canadian Short Drama at the imagineNATIVE Film + Media Arts Festival; Prix Jeunesse at the Festival Cine Alter'Natif; and Best Cinematography at the 2016 Air Canada enRoute Film Festival.
"The Blanketing was an introduction into the film world," Mack reflects, "but Clouds of Autumn was like, holy shit, people are paying attention now."
Six of Mack's uncles and five aunts were taken to residential school. Residential school is a part of his family's story, his community's survival and his own life, in ways he hasn't always understood. Writing and directing this film brought him closer to his family, he says, and wouldn't have been possible without the consent and support of the entire community.
The award for best cinematography from the Air Canada enRoute Film Festival was a ticket to the 2016 Berlin International Film Festival. On the flight to Berlin, Mack walked through the aisles telling everyone to watch his film, he says.
At the festival, he met Indigenous filmmakers from around the world. He saw their dedication to their culture and he knew he was on the right path. Indigenous film, in the hands of Indigenous filmmakers, is on the rise, he says.
After the Berlin trip, Mack had eight days off, the perfect time for a classic boy-meets-girl film.
He wanted to do something different with this short playful piece, something that didn't represent some typical trope of an Indigenous person. He stars in the film as himself, a native guy travelling through a world that doesn't know a thing about you, he says.
Traveling in Europe, Mack would tell people where he was from and have to resort to Hollywood's stereotypical image of an "Indian" with bows and arrows, to get any understanding.
To make the short possible, he rented equipment and found a Spanish actress, but she cancelled at the last minute. In a panic he strolled through stores, starting conversations, but ended up resorting to Tinder to find the perfect match, Anna Marina.
The film wasn't hard to act in, he says, since the two were just getting to know one another. In it, Anna Marina asks him about his heritage and why he's "so white" if he's Native. Though they barely speak at first, the two learn to converse and share their stories, dreams, and an intimacy that only strangers share.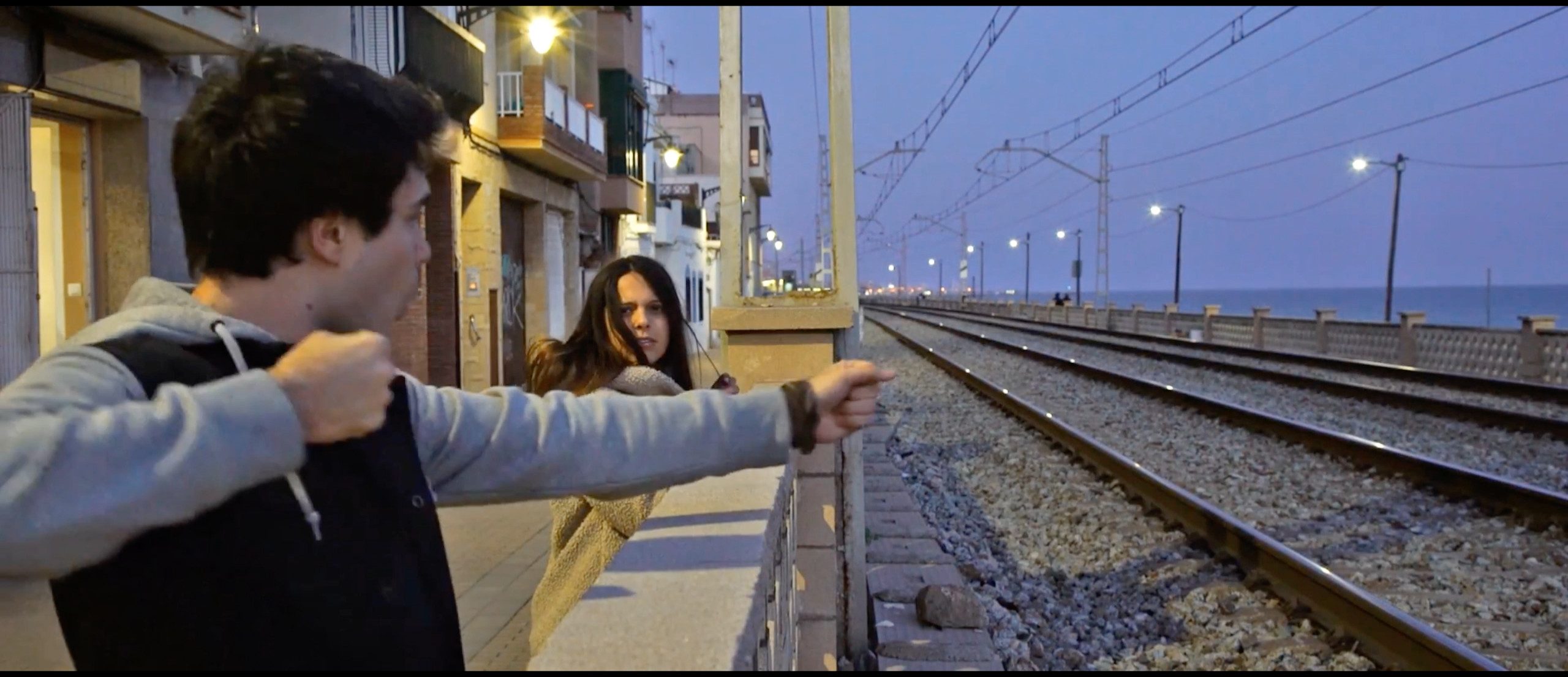 His newest film, Etsu (Grandmother), features a young boy growing up on the rez with nothing but a camcorder. It's "about a boy on the rez trying to connect with his grandmother through a VHS camcorder," says Mack.
It is dark, slow and intentional. Mack says his rez is full of people "getting through life" and he wanted to represent home, the good and the bad.
To make the film Mack worked with the Provincial Health Services Authority, giving media workshops to kids in nine different communities in B.C., as a part of the Cuystwi pilot program. Led by filmmakers Damien Bouchard and Amanda Spotted Fawn, they provided cameras, gave lessons on how to work them and explored themes of self-expression and storytelling. Kids have stories, he says, and they want to share these stories.
"Their stories are there. The people are there. Our people are natural storytellers and filmmaking is another way to share them," he says. When he met young actor Elias Louie, with his bright and intense eyes, he knew he had to put him in a movie.
"He's an inspiration. His effort, his energy, it makes me want to make more with him," he says.
Mack disturbs traditional storytelling structure, inspired from personal reflections about loneliness, pain, life, love, all of it. Once Mack realized he couldn't recreate anyone else's movie, he embraced his unique perspective.
"I'm a young filmmaker who grew up on the rez hanging out with my cousins," he says. "I realized our stories are engaging and tell a narrative that isn't in the Canadian sphere of Indigenous stories."
Mack says he sees many films about Indigenous people and cultures that are not told or directed by Indigenous people. He recognizes the influence that film has on ideas and opinion. He says he has had many mentors humble him, reminding him that there are consequences to stories shared.
The world is a scary place right now, Mack says, referring to Donald Trump, violence in the southern United States and struggles for Indigenous communities in Canada. Whether it's fish farms, pipeline resistance, or everyday racism, he says, film is a place where he can tackle these bigger issues.
Whether in front or behind the camera, film is a place for him to deal with black and white ideas in colour, fleshing out the nuance, searching for truth. As far as he's concerned, this is just the beginning, for him and Indigenous media worldwide.