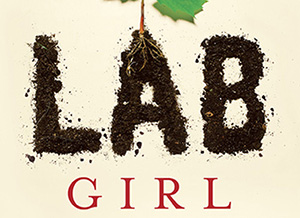 Lab Girl
Hope Jahren
Knopf (2016)
This book is both engaging and enraging: engaging because it introduces us to a very good writer and scientist, and enraging because it shows us how male-dominated science is, how politically it's driven, and what a waste of talent that means.
Author Hope Jahren grew up in Minnesota, where her father taught physics and earth sciences in a community college. Her mother, though she'd won an honourable mention for her scientific talent while still in high school, couldn't get a scholarship to college. Trying to study chemistry on the income from babysitting was impossible, so she'd given up, gone home and become a wife and mother — as women in the 1950s were expected to do anyway.
Jahren grew up in her father's lab, absorbing his interest in science and her mother's interest in English literature (with the children grown, she'd started taking university correspondence courses in English literature). Jahren was herself offered a scholarship to the University of Minnesota, and left high school a year early to take it:
"In science classes we did things instead of just sitting around talking about things. We worked with our hands and there were concrete and almost daily payoffs… I chose science because science gave me what I needed — a home as defined in the most literal sense: a safe place to be."
Jahren as a scientist has been a literal homemaker, setting up laboratories in three American universities plus a new one in Norway. She always puts her name on it, "no matter where it is located. It bears my name because it is my home." Much of her book deals with the adventures of doing so — wrangling some space, scrambling to find cheap lab equipment, and sending out endless research proposals to find the money to keep things going.
No funding means no research
Agencies of the U.S. federal government are almost the only patrons of modern American research, and the budget seems to shrink every year. Without the funding to buy equipment and hire staff, nothing gets done.
"Based on a rough cost-benefit analysis," Jahren writes, "I need to do about four wonderful and previously impossible things every single year until I fall into the grave for the university to break even on me. This is complicated by the fact that the money for every single other thing — chemicals, beakers, Post-it notes, a rag to polish the mass spectrometer — all has to be raised by me through written or verbal application for federal or private funding, which is diminishing rapidly on a national level."
Connections become crucial. Jahren describes how she salvaged essentially all the equipment in the lab of a retiring professor and hauled it to her own lab — thanks to having known him.
But it's much harder for women to form such connections than men. Too many male scientists just don't take their female colleagues very seriously, so they network with other males.
One male she networks with is her colleague Bill Hagopian, who's worked for her and with her since she was in graduate school. Bill is the Sancho Panza to her Don Quixote, profanely blunt and no-nonsense. But he's also willing to sleep in a van, or in the lab, and to wait far too long for his salary. It may be one of the few true male-female friendships, but Jahren describes it as the relationship of "12-year-old fraternal twins."
'The other side of death'
Hagopian not only keeps her lab running, he copes with Jahren's bipolarity. Canadians are familiar with the bipolarity of Margaret Trudeau, but Jahren's description throws a startling light on the condition:
"Full-blown mania lets you see the other side of death. Its onset is profoundly visceral and unexpected, no matter how many times you've been through it. It is your body that first senses the urgency of a new world about to bloom. Your vertebrae seem to detach from one another and you elongate as if toward the sun's light. You can't hear above the sloshing roar of blood pushed through your head by some impossibly sustained orgasm within your beating heart."
That mania leads to a van journey across the U.S. in winter to a conference in San Francisco, with Jahren, Hagopian and some students. The van ends in a ditch — no one is hurt, but it's a sour comment on the American myth of the redeeming road trip.
Structurally, the book is lovely. It is not just straight autobiography; Jahren pauses for mini-essays that should be required reading in high school English classes. They deal with her subject, trees, and no one reading them will ever look at a tree the same way:
"No risk is more terrifying than that taken by the first root. A lucky root will eventually find water, but its first job is to anchor — to anchor an embryo and forever end its mobile phase, however passive that mobility was. Once the first root is extended, the plant will never again enjoy any hope (however feeble) of relocating to a place less cold, less dry, less dangerous. Indeed, it will face frost, drought and greedy jaws without any possibility of flight. The tiny rootlet has only one chance to guess what the future years, decades — even centuries — will bring to the patch of soil where it sits."
These mini-essays do more than tell us factoids; they tell us what's at stake for the plant or tree, and for the ecosystem it forms a part of. That makes them stories as well as essays. And each essay-story foreshadows the next stage of Jahren's life and career, so we see her (and ourselves) as surprisingly close to the trees she studies.
Jahren points out that at our current rate we will cut down the last tree within 600 years — ending a 400-million-year epoch when they made the planet not just green but inhabitable for countless species. But she doesn't moan about it; after learning so much from her, we can draw our own conclusions from her facts.
Equally dispassionately, Jahren's account of her funding troubles throws light on the general plight of modern science. A recent article in the British science journal Nature reports that almost two-thirds of its readers have considered quitting research and that two out of five work more than 60 hours a week in a grim search for funding.
If your field isn't politically interesting, in other words, you're in trouble. And if it's politically unwelcome, as Canadian scientists learned in the Harper years, you're in even worse trouble.
If that weren't bad enough, the election of Donald Trump has thrown a pall over the world scientific community. Given what he's said about climate change as a Chinese hoax, Trump is not likely to support research in that or other fields. Another Nature article makes that clear.
Trump's know-nothing attitude has an upside. It could be a windfall for smarter countries that welcome and support scientists driven out of the U.S.
Hope Jahren is based in Hawaii but currently running a lab in Norway. If she's ever looking for another base, a country as forested as Canada should offer her whatever it takes to get her here.