Left on Purpose is an unsettling documentary. It's compelling from start to finish, with a charismatic, quirky protagonist and a fascinating look back at the '60s counterculture and the disenchantment of young Americans during the Vietnam War.
It's also deeply frustrating and uncomfortable to watch. I frequently felt complicit in a highly invasive bit of exploitation.
The film opens with the director Justin Schein talking to Mayer Vishner. Vishner was a founding member of the American Yippie movement, activist pranksters who mobilized against the war with absurd stunts like ''levitating'' the Pentagon. Now an old man, Vishner looks back on his life and bleak, lonely future in his tiny mess of an apartment in Greenwich Village.
In the opening scene, Schein worries that he is enabling Vishner's unhealthy habits and affecting his life negatively simply by documenting it. Having just dropped off some beer, he also wonders about Vishner's ability to give his consent to being filmed when he's black-out drunk.
This introduction to Vishner is destabilizing. We immediately begin to question the ethical implications of the film before even learning who either of these men are. And, to his credit, Schein constantly reminds us to wonder at the lines he might be crossing.
''I've been making documentaries for 20 years and I've never been so captivated or troubled by a film subject as much as Mayer Vishner,'' Schein tells us at the outset.
What starts as a look at Vishner's life and political activism soon turns into his last public act of protest: with Schein's help, he wishes to document his own suicide, leaving the world on his own terms.
Giant past
Vishner is a very willing participant in the project. He strongly opposes Schein every time the director proposes halting the project to consider alternatives to his suicide. But there are moments that give us pause. Schein does film scenes of extreme inebriation, wherein Vishner can barely get a sentence out or even stand up straight. And there's an odd voyeurism in following Vishner through his run-down home, reminiscent of Albert and David Maysles' hugely influential 1975 classic Grey Gardens. Like in Grey Gardens, it's impossible not to wonder at whether the subject's participation really permits or excuses our intrusion.
Other questions come up. Is Vishner's plan a cry for help? His renewed feeling of relevance seems to energize him like nothing else, but then his resolve to die peaks when he realizes that the then-developing Occupy movement has little to gain from him. Schein isn't just a lifeline, he's Vishner's chance to matter again. Vishner needs to be important, and he once was. He compares himself to Forrest Gump, present for so many pivotal moments in U.S. history but with an important difference: ''I wasn't just hanging out with giants -- I was helping them be giants,'' he says.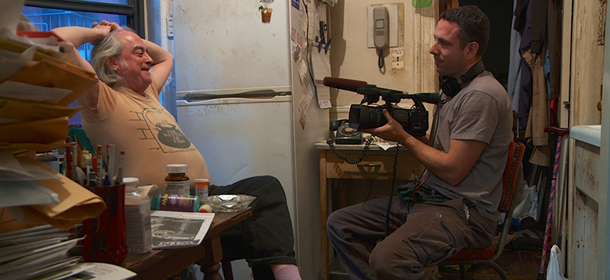 Vishner certainly was in the thick of it, organizing marches and sit-ins while hanging out with Jimmy Hendrix and John Lennon. And his home is filled with mementos from his heyday. He has a signed copy of Allen Ginsberg's Howl, bootleg records of Joan Baez performances, and even a lock of Lennon's hair.
Caught up
It's not always clear how important Schein's role really is outside of documenting. The director is convinced that if he walks away, he might be sealing Vishner's fate. He leaves his wife and newborn during hectic times when Vishner calls, even filming the discord in his own home as he heads out. He assures us that Vishner needs him -- but does he? Vishner actually calls out the director on camera, challenging his sense of self-importance.
Things get complicated when Schein becomes such a central character in Vishner's story, acting as a friend and confidant as well as an outside observer. How are we to interpret his role in documenting and advising on Vishner's suicide?
No one tells Vishner he can't kill himself, and some of his friends are understanding. They fought for freedom their entire lives and can't deny their old friend such a basic right. But issues like the medicalization of suicide come up. Vishner's physician explains that killing someone isn't a medical procedure in and of itself. ''If you choose to end your life prematurely, that's evidence of an illness that medicine is supposed to treat,'' he says.
This double bind is understandably frustrating for Vishner, who really isn't asking for permission but for help.
Left On Purpose asks far more questions than it answers, which is for the best. The discomfort we feel is necessary. What is the relationship between filmmakers and their subjects? What should it be? What can it be? How observational can any documentary be? When does it cross the line? We should all constantly ask ourselves these questions and demand accountability from filmmakers -- I'm still not sure if Schein passes muster.
The doc is not just a thesis on assisted suicide and depression, or an investigation into the ethics of documentary. It's also a fond look back at a different time. It's an exploration of aging, loneliness, and the changing face of activism. It's a powerful film, and a moving portrait of a complicated man and an unorthodox friendship.
Left On Purpose plays at Vancity Theatre on Monday, May 9 at 6:45 p.m. For more information, visit the DOXA website.