Oh boys. You've been in the spotlight for such a long time, it's little wonder that you are loathe to give it up. The coming of age story for young men has been a cinematic staple for decades. Long before Rushmore's Max Fischer, there was Dustin Hoffman in The Graduate and Bud Cort in Harold and Maude. But what was once charming and sweetly endearing has curdled into something kind of gross.
Perhaps it's because male crisis movies now extend far beyond the teen years into the mid-thirties and beyond. So many films ferret out every possible nuance of the male breakdown. They all seem to star Paul Rudd.
The now familiar recipe is this: ennui or enervation with the current mode of life (be it work, relationships, or life's purpose), a tiny bout of escape, followed by reinstatement of a new edition of the old order.
Two of the most recent examples of men-in-crisis film are Me and Earl and the Dying Girl and Ben's At Home. One is a Sundance darling, winner of the Grand Jury Prize, and the other is a low-budget Canadian indie. Superficially, they don't look the same. One has stars, a showy cinematographer, and a big old budget, while the other was shot in Toronto for apparently five dollars and all the catering you can eat. What they do have in common is the license given to the male lead to suck up all the attention, no matter what is happening around him.
In the case of Me and Earl, this is particularly problematic. The ''Dying Girl'' at the tail end of the film's title and the middle of the story is one Rachel Kushner (Olivia Cooke). Diagnosed with leukemia at the beginning of the film, her struggle is only the catalyst for a callow young man to find himself. That young man is Greg Gaines (Thomas Mann), a Herzog-quoting would-be Cineaste, who hides his insecurity and self-loathing beneath layers of humour and diffidence.
Greg's only friend is Earl (Ronald Cyler II) a tough black kid from the rough side of town. The boys are in the business of making bad rip-offs of famous films. And thus, the film references fly thick and fast. Herzog's Burden of Dreams gets plenty of attention, as does Truffaut's The 400 Blows. The boys aim to rework famous films (beginning with their titles) into ridiculous jokes. A Clockwork Orange becomes A Sockwork Orange, and so on and so on. If this recalls Max Fischer with his reworking of Scarface as a high school stage production, or even Michel Gondry's Be Kind Rewind, in which Jack Black and Mos Def reinvent Ghostbusters with gaffers' tape -- that is only natural.
Greg navigates high school by hiding out in the teachers' lounge, watching Powell and Pressburger films and carefully avoiding standing out. His system of maintaining cordial diplomatic relations with every school clique (jocks, stoners, goths) has worked very well thus far. But the result is that his only true friendship, one he refuses to even grace with the word, is his partnership with Earl. All of that changes, however, when his mother forces him to spend time with the dying Rachel. What begins inauspiciously soon blossoms into something genuine, transformative and life changing.
Or does it?
The film would have you believe it is so, but there is something missing, a certain madness that singes the eyebrows and opens up the sinuses. Truth, intent, that ineffable thing that separates art from more commercial endeavours, whatever you wish to call it, its distinctive cordite scent is absent though it may take you a while to notice.
Full Hallmark
There is a lot of stuff cluttering up the view -- high school cliques, horrifying parents, the films of the Nouvelle Vague, and lots and lots of Brian Eno songs. Eno's music (especially The Big Ship) is used throughout to terrific effect. The film is well put together, with flowery bits of cinematography, and the kind of Wes Anderson-inspired whimsy that has pervaded every self-conscious, self-regarding, irony-loving, fourth-wall-breaking hero's tale since Rushmore.
Even if there isn't a great deal that is original here, the magpie borrowings are so slickly packaged that it almost feels new. All the twee details -- chapter titles helpfully inscribing the action, a running calendar counting down the days of the doomed friendship, or a tatted up history teacher shouting ''Respect the research!'' at his students -- eventually feel as if they have all been carefully considered, weighed and measured for their relative impact. The television experience of director Alfonso Gomez-Rejon (he helmed multiple episodes of Glee and American Horror Story) perhaps accounts for this slickness. But it undermines any real emotion. Your cue to have 'feels,' as the kids say, might as well be handed to you on helpful intertitles.
Even the performances of stalwarts like Molly Shannon, who plays Rachel's mother, and Nick Offerman and Connie Britton as Greg's parents do little more than add some thespy colour. (Mr. Offerman may want to decline the next indie film that comes his way; he's already been in seemingly hundreds of the damn things, playing a variant of the tough-talking paternal character familiar to audiences from Parks and Recreation. Here, he is reduced to playing a washed-up academic, wandering about in a bathrobe, clutching a cat.)
As the film trots along, charting the course of Greg's growth and Rachel's decline, it is easy to be buoyed along by pop songs and boyish folly. To be fair, there are a few elements that seem almost interesting, in particular the presence of Earl, whose blunt and practical pronouncements feel like they were being issued almost from another film.
Earl's story, a cinema-loving black kid from the mean streets of Pittsburgh, is a film I would actually like to see. But no such luck -- it's the wiener white boy and his precious film project that gets most all the attention. Even Rachel's experience of sickness and death is only a conduit to the more central narrative of Greg growing up. The inclusion of other film references, especially Truffaut's masterpiece, only serve to point out the vapidity and hollowness at the centre of Dying Girl. Like a hipster's watch cap and beard, the trappings of authenticity are borrowed from places where they had genuine meaning. In repurposing them for fashion, the song remains the same, but the spirit is missing. The film overplays its hand and by the end, all the indie cred it worked so hard to establish has gone full Hallmark.
I am certainly not the first person to point this out. The film has come under some fire for its insistence on favouring the white boy story. If this was an isolated incident, no biggie. But the predominance of men in indie films is a bit startling. Sundance, in particular, loves its boy stories. The success of Whiplash, The Spectacular Now, or The Kings of Summer, all came barrelling out of the festival trailing accolades and critical froth. These films share some common characteristics other than just the presence of actor Miles Teller. They insist that there is only one important narrative experience.
Girls and people of colour can support the action but they are not the stars of the show.
'Ben's at Home'
For a homegrown example of what I'm talking about, we have Ben's At Home. It feels unkind to pick on Canadian indie films. Really, they can use all the help they can get. To be fair, Ben's At Home does what it can with very little, namely a modest set and actors who look like they just made the leap from CBC Kids shows.
The premise is simple. A young film critic named Ben, recently been dumped by his long-time girlfriend, is attempting an emotional recovery. Your typical everyman character, Ben possesses a good head of hair and a pop-eyed face that is neither too handsome nor too hideous. After a chance encounter with his ex at a bar, followed by a fight with a close friend, Ben holes up in his apartment, determined to prove that he can commit to something, even if that thing is never leaving his apartment.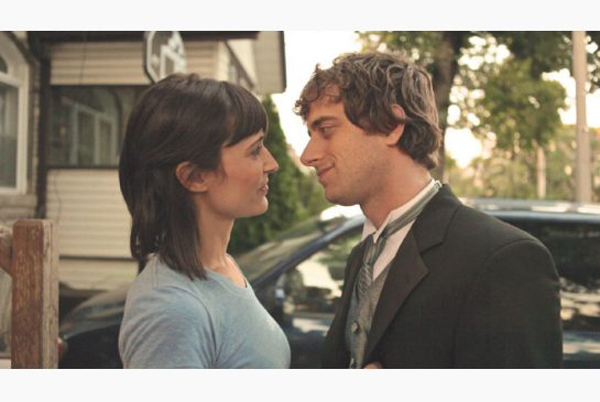 If the film has chosen to take more precise aim at the solitary life afforded by the contemporary conveniences of the internet, things could have gotten interesting. The modern day shut-in can work, eat, play and love, all within the confines and comfort of their own four walls. There isn't even much of a social stigma anymore to living in isolation. At first Ben has a swell old time, playing video games, ordering takeout and rolling around on the couch with various women that he orders up from OkCupid. It looks easy and quite pleasant.
The only pressing issue is a friend's upcoming wedding. Will Ben honour his self-imposed isolation or will he show up for his best friend's wedding? If you find yourself, thinking, ''White people problems,'' you're not wrong. There is not much at stake here.
Perfect girl for a boy
At barely 70 minutes, the film has little to do but sketch out the plot parameters and then introduce an element of change. In this case, it is a woman named Jess who delivers food to Ben's apartment and has the generosity to sleep with him after only a few random encounters. Jess is one of those perfect women. She likes wrestling, she laughs at all of Ben's jokes, and she comes with food. This is where things went wrong for me.
Ben is initially presented as a cute, funny, self-deprecating bro, whose hangdog looks and puppy dog eyes are supposed to be sweetly charming. But there is something ugly underneath his blandness. You see it especially in a scene where an online date goes terribly awry. The girl he thinks he is ordering up (like a pizza) is not the one who arrives. Unlike the previous women, who all giggle at his David Attenborough imitation, then compliantly have sex with him, this female is large, aggressive, and loud. His horror at being propositioned by such a woman is supposed to be shared by the audience, I believe. The scene is cheap and mean-spirited, and any residual sympathy that one might have had for Ben flies out the door. Ben is kind of a dick. And once that realization is clear, who cares whether he gets the girl or leaves his apartment?
By the end of the film, I'd had more than enough of Ben and his silly search for self-actualization. I wanted to know more about the crazy Polish woman who made Ben recoil like a timid little boy. Her grandfather invented foosball and she swears like a demented stevedore. She seems very interesting!