Ms. Kwan would rather not share her first name, and she isn't used to playing mahjong in front of a crowd. But this evening in Vancouver's Chinatown Memorial Square, a cluster of onlookers leans in as she surrenders a tile willingly to a woman decades younger, allowing her to score a combo.
She rolls her eyes and her audience laughs. They know the Chinatown senior is going easy on her opponent.
Before the game started, Kwan announced she was just an average player. "I don't play that much," she said in Cantonese. "Swimming is more of my hobby."
But the players here know better than to underestimate the elderly ones, most of whom have enjoyed the game for years.
No one knows exactly how old the game is. Some say Confucius created mahjong around 500 BC, noting that some tiles contain Confucian values like benevolence and filial piety. The Communist government disallowed mahjong in China in 1949, branding it a form of capitalist corruption due to its association with gambling. But mahjong was made legal again in 1985 following the Cultural Revolution, albeit without gambling.
Today, mahjong is booming in China, overseas Chinese communities and even among non-Chinese seniors in America. You can play it on your computer or phone, you can gamble or not, and one of the pleasures of the contest is the give and take of amusing smack talk.
All over the Lower Mainland, mahjong is played in homes, rooms for rent at dim sum restaurants, Asian arcades, community centres and benevolent societies.
Last Saturday, on a warm evening in Vancouver's fast changing Chinatown, construction cranes and new condo towers looming around them, a group of young adults brought mahjong out onto the streets. They crowd-sourced mahjong tables and tiles from family and friends and invited any and all to join in. There were Chinese checkers for those intimidated by mahjong. But, similar in some ways to the card game rummy, it isn't hard to learn.
Mahjong employs a set of 144 tiles with Chinese characters and symbols. There are a set number of cards in each suit, not unlike a deck of cards. The game requires four players who have 13 tiles at a time and take turns drawing and discarding tiles until they form combos. A game ends when there are no more tiles to draw from or when a player arranges all their tiles into combos. Players will reshuffle the tiles on the surface of the tile before a new game, which makes mahjong's iconic high-pitched clattering.
The organizers of Saturday's event, who call themselves Youth Collaborative for Chinatown, provided rule sheets to beginners and volunteers were around to help.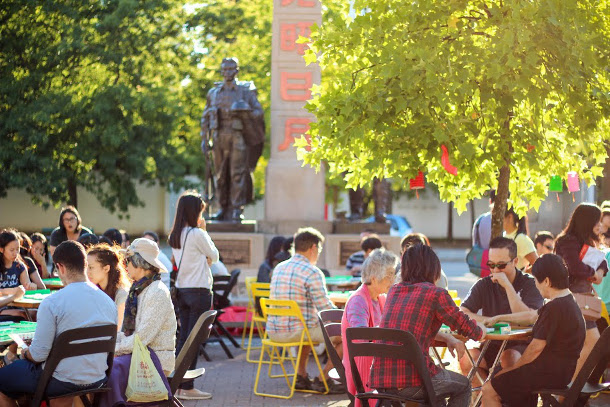 Youth Collaborative organizer Doris Chow said members of her group were tired of hearing about the "doom and gloom" of Chinatown and the g-word, gentrification. She and her team, mostly young Chinese-Canadians, hope to spark more intercultural and intergenerational connections in the neighbourhood and have partnered with many Chinatown groups.
"We want to change the conversation," said Chow. "Instead of talking about what's bad, we want to do what's good, and start building what we want to see."
Chinatown is no longer the historical enclave for the Lower Mainland's Chinese community, nor the only place to go for Chinese goods and services. However, the neighbourhood remains an important social hub for many with lasting ties to the area, especially seniors.
Even seniors who don't live in Chinatown often visit their respective benevolent societies in Chinatown, clubs for individuals from the same clan or county in China, where mahjong is a popular activity.
Chow says the youth group wanted to bring that same sense of community "out onto the streets" and help bring diverse individuals "all around the same table -- literally."
Last Saturday evening, the people playing games in Chinatown Memorial Square included a mix of young and old, Chinese and non-Chinese. The event was called "Hot and Noisy," which is a literal translation of Chinese characters meaning a "lively atmosphere."
Wonton memories
New condominium developments and non-Chinese businesses have appeared in Chinatown in recent years and many community members worry whether the heritage of the neighbourhood will remain. The fun atmosphere of "Hot and Noisy" brought back fond memories of the neighbourhood for many visitors.
"We used to come down after having a night out and have our wonton, that was our specialty," said Linda Emerson.
Emerson first learned mahjong 20 years ago from a Chinese friend, and also plays a Jewish-American style. On Saturday, she played a dozen games and won four.
Vancouver resident Lap Tan, 71, also reminisced about the past when he walked by the event.
Tan used to visit every week for egg tarts and was always proud to show the neighbourhood off. Tan, a war veteran who fought in the South Vietnamese Army and was trained in Ft. Benning, Georgia, always brought his American friends to Chinatown when they came to visit, especially the neighbourhood's vibrant night markets.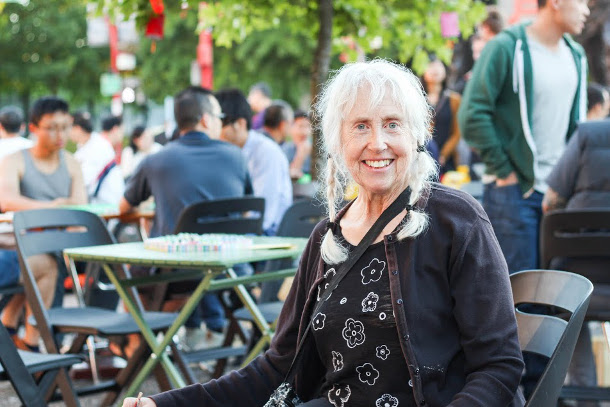 For artist Yuli Ken Lum, Chinatown was an important space for his entire family. His father worked at a fish shop and his mother was a seamstress nearby.
"I had a lot of good childhood memories," said Lum. "Firecrackers, Japanese crackers, the old Chinese kung-fu comic books, and then later on it was the VCDs and the DVD movies."
Lum worries about heritage in Chinatown as the Chinese community has dispersed to other neighbourhoods of the Lower Mainland. He understands the neighbourhood is evolving, but hopes new businesses will recognize moving into Chinatown is different than moving into neighbourhoods like Yaletown or Gastown.
Lum brought mosaic tiles to the event and invited passersby to add to a community art piece, a giant heart with Chinatown scrawled in the centre.
Sharpener of wits
Many visited Saturday's mahjong fest out of curiosity, to brush up rusty skills, or to soak in the atmosphere, but Jessica Chiu believes in games for another reason.
Chiu, in her 50s, volunteers with Chinatown seniors every week with a group called Chinese Outreach Care in Cantonese. In her experience, games help keep seniors' minds active. Chiu recommends mahjong for this, but believes Black Jack is even better.
"A lot of the time they will ask me, 'Is this enough? Do I need more cards?'" Chiu told The Tyee in Cantonese. "The important thing is that seniors learn some math. A lot of them don't know how to read Chinese or English."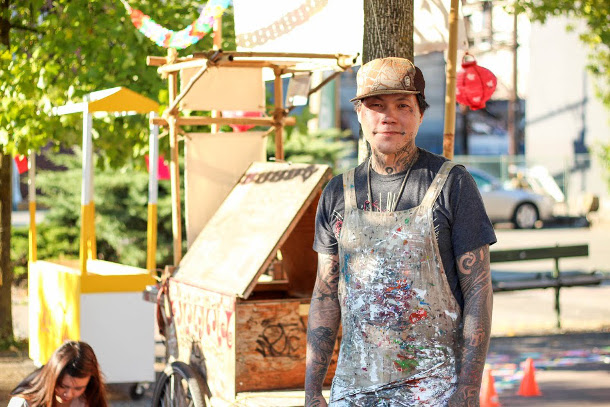 After winning her final mahjong game, leaving a string of defeated younger opponents in her wake, Ms. Kwan began her stroll home.
Kwan is one of Chinatown's 1,277 residents, according to 2011 City of Vancouver data. The number is 64 per cent up from 2001, and likely higher today as there are 540 new units completed or under construction, and another 232 pending approval.
For many seniors who live in Chinatown, everything they need is within walking distance, from groceries, friends to social services. The close proximity is important to Kwan, who says she needs the exercise.
There might be some conversations about "doom and gloom" in Chinatown. There is worry about new neighbours and even the "g-word."
Regardless, there is still a strong community here. There always has been, and it never left.