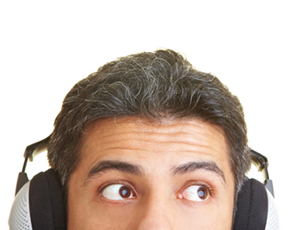 This month, I'm feeling guilty about joining an amateur detectives club courtesy of a new podcast unlike any other.
I'll get to the guilt later. If you haven't heard about Serial yet, you soon will: it's going to change the way radio is made, just as shows like The Wire changed television. This-straight-to-podcast series tells the tale of a real life murder mystery, which unfolds over a season of episodes. To call it addictive is an understatement.
Producer Sarah Koenig spent a year investigating what may be the wrongful conviction of a Baltimore County teenager who was jailed for murdering his ex-girlfriend 15 years ago. Now 32, Adnan Syed, the son of Pakistani Muslim immigrants, is articulate and charming. He was a 17-year-old high school senior getting ready for university when he was arrested, and you can hear the nice kid everyone describes in the thoughtful responses he gives the reporter.
Koenig, a former crime reporter for the Baltimore Sun, is now a producer with This American Life, which is where the story began. A family friend of Adnan contacted her with a long list of facts that don't add up to him being the killer. So she began digging into the police records and interviews, the lawyer's case file, and even the diary of the victim, Hae Min Lee. As she began interviewing the witnesses, she found lots of things that made no sense.
Koenig doesn't have to explain how she got hooked on this story because, in the space of a single episode, complete with a Charles Dickens-style cliffhanger, my friends and I were hooked too.
The facts
The facts are that Adnan split up with his girlfriend of eight months, Hae Min Lee, about a month before she went missing on Jan. 13, 1999. Four weeks passed before her body was found Feb. 9 in a shallow grave in the city's notorious repository for murder victims, Leakin Park. About two weeks later, on Feb. 28, Adnan was arrested on what appears to be scant evidence -- he had no firm alibi for the time of the murder, and there was a dodgy witness who claims to have helped him bury the body.
The case against Adnan rests on an accusation from his friend, Jay, who told the police that he helped Adnan cover up the crime. But Jay is also a dope dealer, and the podcast has yet to tell us how he came to be ratting out his pal six weeks after cooperating in corpse disposal. The producer promises to fill us in on Jay's story soon.
On the surface, Jay's tale is implausible and it provides the central question of Serial's story: who is lying? If Adnan didn't do it, as we're all fervently hoping, then why is one of his oldest friends claiming he did? Especially since there was a witness who provided an affidavit saying she saw Adnan at the library at the crucial time. For some reason, Adnan's lawyer never contacted her.
Does that mean Adnan's conviction was the result of his lawyer's incompetence? She was later disbarred for mishandling clients' money, so it's possible. Or is it something more sinister: a conspiracy in which the murderer, or one of his proxies, lied to pin the crime on Adnan?
Then there's the guy who found Hae's body in that shallow grave under peculiar (and unlikely) circumstances. Mr. S is like a character out of an Elmore Leonard story -- the sort of twisted eccentric who's as hilarious as he is frightening. We know from some of the information in police records that he's a bold liar who tells self-serving stories that fly in the face of facts.
We've all seen The Wire, we know about Baltimore crime and cops! After episode one, my money is on the conspiracy. After episode three, I'm even more convinced.
A lawyer pal pointed out that the witness who provided Adnan's alibi was contacted years later, and she flip-flopped. In the Serial interview, she again alibis Adnan. Perhaps she's just someone who says whatever she thinks the questioner wants to hear?
But her letter and affidavit seem so honest and earnest, I protest. I've read them because the Serial website is posting some of the evidence. There's also a map sketching out where the body was discovered.
Speaking of guilt
Yeah, I'm hooked. And I recognize it's a little shameful. Although I'm a mystery junkie, I generally confine myself to chatting over the details of True Detective or the latest Elizabeth George. In that context, the murder is merely a puzzle and the audience is matching wits with the author. It's just a variation on a crossword with some interesting characters to carry the clues.
Unlike real life murders, fictional mysteries are the most moral form of literature since they reinforce the idea that justice prevails. The murderer is discovered, and in the more conventional ones, he's punished. Even in the postmodern variations, the villains suffer. As for the victims, they're usually just maguffins -- something to jumpstart the plot.
That's not the case with Serial, which is why I feel a twinge of guilt over enjoying it so much. Part of what makes this compelling radio is that it's true. That's a young man whose life really hangs in the balance. Even if the evidence the reporter finds couldn't overturn the conviction, it would give Adnan and his family some comfort to know they were believed. Certainly, the audience becomes emotionally invested in what we're increasingly certain is a miscarriage of justice.
But what if Serial's investigation confirms the state's case?
Koenig gave an interview to the Guardian in which she said something unnerving. She doesn't know the end of the story because they're producing the podcast as they go, in real time.
"The way we have to think about it is, 'If this, then what? If that, then what?' We're forced to build out different scenarios. If this thing turns out to be true or not true, then what do we do? I'm trying not to freak out about the end right now -- we'll get there when we get there," Koenig said.
I sympathize with her technical challenge. But structuring the story of a real murder as if it's an entertaining mystery isn't just manipulative -- all entertainment is manipulative -- it raises a moral question. Is it acceptable for us to be using the real murder of a young woman for our amusement?
Hae is not just a maguffin. But so far, she's little more than an object in the story. As with fictional murder mysteries, little is said about the victim because the corpse's story is over. We get some background, of course. Hae Min Lee, we're told, was a pretty, popular daughter of conservative Korean immigrants. She was a good student and a talented athlete who played lacrosse and field hockey. She and Adnan agreed to keep their relationship a secret from their domineering parents who disapproved of the dating and partying of American teens.
But this is Adnan's story, so Hae doesn't come off so well. She's a flirt and a bit of a fool whose diary makes her sound shallow. Although the reporter excuses her as "a typical teenage girl," her own words written privately make her sound like a twit, and it's hard not to cringe at that invasion of privacy in support of Adnan's case. We haven't heard from Hae's family, who might bring a kinder view. But as the details of the case unfold, I can't help but wonder what it's like for them to relive this horror.
It could be justified if Adnan were wrongly convicted, but what if all this pawing through the minutiae of the case turns up the same conclusion: he did it. It would still be a great, compelling piece of journalism. But it would also be one that exploits the victims for a second time.
So Serial comes with a second crucial question. What if sophisticated storytelling skills are being used to manipulate us all into rooting for a killer?
Or as Asia, one of Adnan's long-ago classmates, put it: "I hope Adnan isn't just some sick bastard trying to manipulate his way out of jail."
Me too. But we won't know unless we listen. Serial posts new episodes every Thursday.
© Shannon Rupp. For permission to reprint this article please contact the author: shannon(at)shannonrupp.com.