Overbooked: The Exploding Business of Travel and Tourism
Elizabeth Becker
Simon & Schuster (2013)
While our attention was elsewhere, travel and tourism have become the biggest industry in the world.
Here in British Columbia, it's tucked into the middle of the Ministry of Jobs, Tourism, and Skills Training. But according to the Tourism Industry Association of B.C., in 2011 tourism here generated $13.4 billion in revenues -- 39 per cent more than in 2001. Tourism poured $1.13 billion into provincial tax revenues while employing 126,700 people.
Nevertheless, Victoria recently allowed BC Ferries to cancel the summer run between Bella Coola and Port Hardy, a classic case of penny-wisdom and pound-foolishness.
In her remarkable and very well-written new book, Elizabeth Becker makes it clear that B.C.'s attitude toward travel and tourism is typical -- we treat it as afterthought, frosting on the cake, when it's really the cake itself, the plate underneath it, and sometimes the whole bakery.
And it's a damn big cake. Becker cites some UN statistics: People made one billion international trips in 2012, up from 25 million in 1960. At least one person in 10 worldwide is employed in the industry. It generates $3 billion in business every day. The Hajj, Islam's great annual pilgrimage, is "a multibillion-dollar enterprise and the single biggest tourist event of the year." Meanwhile, this year's Spring Festival in China is expected to see 3.6 billion passenger movements between Jan. 16 and Feb 24.
The UN World Tourism Organization estimates that international tourist arrivals will reach 1.8 billion by 2030 -- with "emerging destinations" increasing at twice the rate of the advanced economies.
Not just Americans in shorts
They won't be just affluent North Americans and Japanese going on tours. They will include millions of Chinese workers doing their filial duty by going home for Spring Festival, and millions of workers flying to Saudi Arabia and the Gulf states to build skyscrapers and tend the children of their oil-rich employers -- at criminally low wages.
Becker is keenly aware of the ambiguity of this enormous industry. On one hand, tourism is keeping Africa's wildlife alive so rich Americans can go on safari to see them; without those tourists, poachers would have long since slaughtered the last elephants for the Chinese ivory market. Poor countries around the world have staked their national existence on attracting visitors to see some unspoiled town or forest, while spoiling that town or forest in the process.
And it's not just in the developing world. Under pressure from tourism, housing in Venice is now too costly for locals. The city has shrunk to just 59,000 residents, with 20 to 24 million visitors a year. To please those visitors, the authorities admit cruise ships whose wakes do more more damage than the rising sea level -- and whose idling engines create the air pollution of 12,000 cars in a city that's banned the automobile.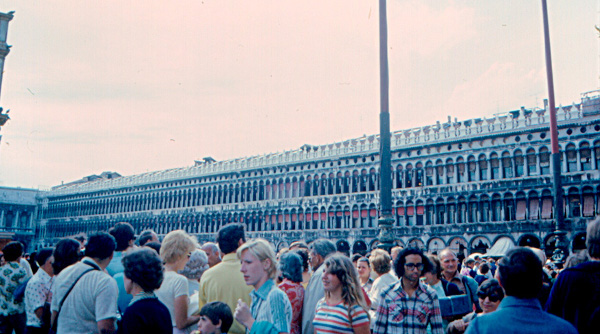 Fashions in prostitution
Becker looks at many of the nastier kinds of tourism: cultural tourism that ruins the local culture, as in Cambodia, and sex tourism that can see 5,000 Filipina prostitutes kicked out of Dubai to make way for 5,000 Russians when fashions change. (Human trafficking is also travel and tourism.)
A Swedish medical tourist went to India for an operation and came back with a drug-resistant infection, NDM-1, that has itself gone on a world tour. Ecotourists pump out carbon dioxide in their jetliners' contrails so they can commune with Kermode bears on the B.C. coast and the vanishing lemurs of Madagascar.
Travel and tourism can also have highly positive effects. Becker shows how safari travel in Africa's national parks offer steady jobs for many. Ironically, the parks give many Africans their first glimpse of wildlife.
Those success stories are overbalanced by some real disasters. Dubai is a bizarre success story: a scrap of desert with no distinctive culture that has made itself "a model for tourism in the 21st century." Rather than coast on its oil money, Dubai and its neighbour Abu Dhabi have used that money to create tourist destinations in which everything is imported -- from the caviar and prostitutes to the criminally underpaid workers who build the high-rise hotels.
"Experts believe," Becker writes, "that this very cheap foreign labor was as important as oil wealth in underwriting Dubai's growth as an international tourist attraction."
Dying to make tourists happy
Conveniently located at a crossroads between south Asia and Europe, Dubai made it cheap for airlines to fly there; when one regional airline got into a quarrel with the sheik of Dubai, he simply built Emirates, and then exploited the opening of the world tourism market after the fall of the Soviet Union.
"Today," Becker writes, "Emirates Airlines is ranked as the world's largest airline by passengers carried and by capacity. It is easily one of the most comfortable airlines I've ever flown on as well as the most convenient and inexpensive in that part of the world." That's because labour costs are far lower thanks to Dubai's "nearly medieval" labour laws. Dubai and the rest of the United Arab Emirates accept no international labour regulation.
The same is true of nearby Qatar, which will host the World Cup in 2022; the International Trade Union Confederation estimates that up to 4,000 migrant workers will die on the job while constructing the stadiums that will attract millions of football tourists.
Perhaps the most horrifying kind of tourism Becker describes is the cruise ship industry, which Vancouver cherishes. Cruise ships are floating shopping malls, a microcosm of consumer society. But they are environmental disasters.
21,000 gallons of human sewage, plus norovirus
"According to the Environmental Protection Agency," Becker tells us, "in the course of one day the average cruise ship produces: 21,000 gallons of human sewage, one ton of solid waste garbage, 170,000 gallons of wastewater from showers, sinks, and laundry, 6,400 gallons of oily bilge water from the massive engines, 25 pounds of batteries, fluorescent lights, medical wastes and expired chemicals, and 8,500 plastic bottles... But there are no accurate studies of how well that waste is disposed of because the ships are not required to follow any state or national laws once in international waters. ... As a result, neither the government nor the public know how much pollution is released at sea."
As with Dubai, cruise ships' success is built on low pay; Becker notes waiters generally earn $50 a month plus tips. No wonder norovirus often breaks out on such ships, ending hundreds of passengers' holiday with vomiting and diarrhea.
And cruise ship engines create serious air pollution. When Vancouver found itself during the 2010 Winter Olympics with cruise ships serving as floating hotels, it demanded they hook up to the city power grid rather than run their engines and create "cruise ship haze."
"The EPA estimates that a cruise ship carrying 2,000 passengers on the open sea will pollute the air with the same amount of sulfur dioxide as 31.1 million automobiles every day," Becker notes.
Assuming we could ever control this multi-trillion-dollar industry before it turns the whole planet into a theme park staffed by slaves, where would we guide it? Do we discourage safari tourism, and leave Africa's wildlife to the mercy of Africans trying to feed their kids? Do we boycott Dubai and consign its exploited workers to outright starvation? Workers in China crank out fake Venetian souvenirs, many of which are bought by Chinese tourists in Venice; do we leave the city to sink, deserted, beneath the waves of the rising Adriatic?
B.C. faces these questions too. The government allows grizzly hunts, just as African governments charge rich foreigners for the thrill of shooting an elephant. While BC Ferries reduces its services on the coast, the cruise ships glide north to Alaska's tourist traps, passing communities like Hornby, Denman, and Sointula that themselves rely on tourism to survive.
The status quo that Elizabeth Becker describes is actually a very recent "exploding business," and explosions don't last. The question now is how we will emerge from the rubble with sustainable communities, wherever people choose to live.