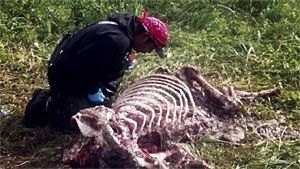 First Nations up and down B.C.'s coast have returned fire after the government denied they have the authority to ban grizzly bear trophy hunting on their traditional territories.
Coastal First Nations – a coalition of eight B.C. bands – launched a campaign yesterday with a short video that included a photo of Clayton Stoner, a B.C.-born hockey player with the Minnesota Wild, posing with the severed paws and head of a grizzly. He had a provincial permits to kill the bear, despite local bands declaring a ban on the sport. The bear, nicknamed "Cheeky" by locals, was left to rot in the Kwatna Estuary after its fur was removed.
"It is atrocious to see such waste, and to see such a majestic creature just taken for its fur," Bob Chamberlin, vice president of the Union of BC Indian Chiefs, told The Tyee. "Seeing the carcass, and realizing the true face of what happens after the harvesting occurs – the entire carcasses was just rotting in the estuary.
"I thought we as a society were moving past our barbaric ways, and were starting to look at things from an ecosystem approach to everything."
Chamberlain is also Chief Councillor of the Kwicksutaineuk Ah-kwa-mish First Nation (KAFN) — not a member of the Coastal First Nations — and told The Tyee his band is equally opposed to grizzly hunting, thus extending resistance across almost the entire coast.
Province has authority, insists minister
On Wednesday, Coastal First Nations released an opinion poll conducted by McAllister Opinion Research which found that 87 per cent of British Columbians agree the grizzly hunt "should be banned," including 78 per cent of respondents who "strongly" support such a closure.
The battle over bear conservation turned into a jurisdictional dispute Tuesday after the Minister of Forests and Lands, Steve Thomson, insisted no such ban exists because First Nations do not have jurisdiction.
"(We) asked that the Coastal First Nations respect the province's authority over grizzly bear management," Thomson told The Tyee in an emailed statement. "The grizzly bear harvest is based on the best available science. Within the traditional territories of the Coastal First Nations, approximately 58 per cent is closed to grizzly hunting."
Indigenous leaders immediately rejected Thomson's demand for respect today.
"They'll have a good fight!" Heiltsuk nation councillor Jessie Housty told The Tyee. "The bottom line is the government has told us they'd like us to respect their authority on this issue; but we'd like them to respect our authority.
"For us as First Nations on the coast, it's very intuitive that something like trophy hunting -- and the senseless slaughter, for sport, of animals that are a huge part of our culture -- is at odds with the future we're envisioning for our communities and our people."
Coalition exploring legal options
Stoner, who plays defence for the Wild, defended his haul by saying he had won one of this year's 3,786 grizzly hunting tags in a provincial lottery.
The total tags issued to hunters each year has risen by 27 per cent over the last five seasons. The province estimates there are 15,000 of the large omnivores, and depending on success rates, only about 300 grizzlies are actually killed annually. Hunting them costs non-residents $16,000.
"I grew up hunting and fishing in British Columbia and continue to enjoy spending time with my family outdoors," he stated. "I applied for and received a grizzly bear hunting license through a British Columbia limited entry lottery last winter and shot a grizzly bear with my license while hunting with my father, uncle and a friend in May.
"I love to hunt and fish and will continue to do so with my family and friends in British Columbia."
Housty insisted the purpose is not to vilify individual hunters like Stoner, but to shine a light on the B.C. government's licensing regime, and what natives say is disrespect for their clearly stated wishes.
"I grew up with bears, close to them," Housty said. "They are beautiful, intelligent animals, and they deserve dignity and respect -- not to be gunned down as soon as they emerge into a meadow."
In response, she said that Coastal First Nations are "exploring all (their) options" including possible legal avenues to enforce its disputed grizzly hunting ban.
"One of the things many people underestimate is that First Nations on the coast are sovereign nations," she said. "We are self-governing peoples -- governments that never ceded our territories.
"We have a right ... to manage our territories in a way that we see fit, and that is consistent with our values."