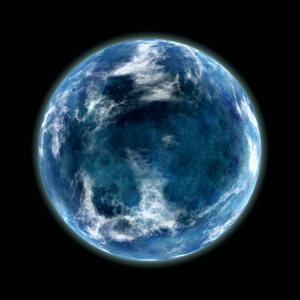 One of the most powerful photographic images of our time shows the gauzy ball of planet Earth hovering weightless in the velvet dark of space.
That is all we have. This one planet is our Eden, our space capsule, and if we fail to maintain it, it will be our species' coffin. iPods and 3-D television do not exempt our big-brained, thumb-wielding race of primates from the laws of biology.
On this planet, water is necessary to everything that matters. In many faiths, water is a sacred essence. In the empirical eye of science, it is the elemental prerequisite of life. Without water, there are no crops. Without water, not one of our modern miracles of technology could be manufactured. Essence of the Creator's spirit, essential molecule of organic chemistry, water is no less the essential solvent, lubricant, and medium of transport for the modern industrial economy. What we do with water affects what it can do for us and for the rest of creation later.
For that reason, we cannot discuss the safety of tap water without also discussing the security of the natural climate and ecosystems that are its ultimate source. Correspondingly, the state of water -- revealed in qualities such as temperature and oxygen content -- is often our best clue to the health of the ecosystems it flows through.
Wealth in a garden
Our view of "wealth" is similarly inclusive. We do not mean only the number of digits in an individual's financial worth or a nation's gross domestic product.
The Shorter Oxford English Dictionary gives the first meaning of "wealth" as "the condition of being happy and prosperous." Research shows that the determinants of happiness are enough money (although beyond a certain point, more becomes superfluous), physical health, rich social connections, meaningful work, and exposure to nature. The value of the last is too easily overlooked in reductionist analyses but shows up in measurably less mental distress among people with regular access to green spaces. There is a reason why gardens have been a feature of cities since Babylon. We take "wealth" to embrace this whole suite of requisites for balanced individual, family, and community well-being.
The only planet we have is changing. In this context, "security" means more than a steady job, police on the street, or guards at the border. As we begin to face ecological payback for two centuries of human rapine, security comes from a resilient, productive habitat. We are just beginning to recognize that such natural security is also essential to our national, economic, and even personal security.
The essence of our argument is that water is the currency of natural security. Its fate is co-extensive with ours.
Surviving the Anthropocene age
Earth has entered a new age, the Anthropocene. This "human age" is characterized by the retreat and vulnerability of nature in the face of human action. It is experienced in the economy as "nature scarcity": looming limits to mineral resources and scarcity of food and other products of living ecosystems.
The overarching challenge for all nations in the coming decades will be to adapt to this new reality with a minimum of suffering while preserving a maximum of wealth (as defined above). This cannot be accomplished unless we first preserve the remaining ecosystems providing essential natural services. Failure on this front poses existential risk.
Geography endows Canada with great assets in this new world of nature scarcity. Wisely managed, these assets position us to be among the winners of the Anthropocene. It is a role we can play for profit or global influence, or simply to bring relief to more suffering regions of humanity. But most of our citizens are unaware of their own exposure to water stress and contamination. And we cannot manage what we fail to either measure or defend.
National security is a responsibility that the sovereign -- in Canada's constitutional semantics, the Crown -- owes to the people. Natural security is no less an inherent and inalienable sovereign duty. But it is a duty that our leaders have so far failed. In this era of deepening eco- logical debt on a global scale, Canadians must insist that our national leaders accept and fulfill their duty to safeguard our natural security as vigorously as they do our military security.
The Earth will be blue for some time to come. Whether it will be green, at least in the same places, or continue to support the complex, ravenous form of life that calls itself homo sapiens is more in doubt. This book offers an account of how Canada and Canadians can avoid disaster and prepare our fortunate country to be a resilient refuge of wealth in a troubled century.