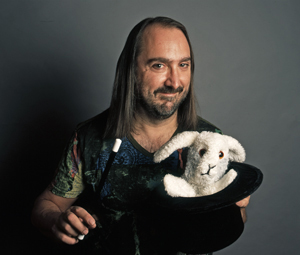 Free Magic Secrets Revealed
Mark Leiren-Young
Harbour Publishing (2013)
[Editor's note: In 1980, Mark Leiren-Young set out to write and produce the greatest rock and roll magic show in the history of the universe. It was supposed to be Star Wars on stage. It was closer to Jar Jar Binks...
In the just-published follow-up to his bestselling comic memoir, Never Shoot a Stampede Queen (winner of the 2009 Leacock Medal for Humour), longtime Tyee contributor Leiren-Young shares the story of his disastrous theatrical misadventures as a young man, and his equally disastrous attempts at wooing the woman of his dreams.
In this chapter of Free Magic Secrets Revealed, Leiren-Young and his partners -- a stoner magician and ambitious actor -- are invited backstage at the Orpheum Theatre to meet the promoter who is going to make all their fantasies come true. Enjoy.]
Backstage. Jane wanted to meet us backstage. At the Orpheum. This was serious. This required wearing a shirt with actual buttons.
I couldn't imagine a more glamorous place to meet. The Orpheum was where big concerts happened and the symphony symphed. It was an old vaudeville palace that had just been completely renovated with red plush carpets, posh seats and fancy fixtures -- and our promoter wanted us to go to the backstage entrance. And that's where Randy and Kyle and I met the security guard who told us to leave.
"We're here to see Jane," Randy said, "from Rainbow."
"Tickets are on sale at the front," said the security creature.
"We're with the band," said Kyle.
This time the gorilla grunted something.
Kyle grunted back, clearly understanding the guard's pre-verbal communication.
"Stage door," said the guard.
The three of us went to the stage door and mentioned Jane to a slightly more articulate bouncer who said, "Jane's backstage" and handed us three laminated passes to wear like necklaces, then waved us through.
As soon as we stepped inside, the three of us wanted to see, touch and steal. The theatre had the newest equipment in town -- the lights, sound system, control boards. "I wanna perform here," said Randy.
So did I. We were definitely not in Kansas, or the Jewish Community Centre, anymore.
Now that we'd officially made it past the gatekeepers no one seemed the least bit interested in us. Spotlights flicked on and off, platforms were being positioned and audio levels set as we made our way to the steps beside the stage. "C'mon up, guys." Jane was on the stage floor, dressed in even shinier, tighter clothes than usual. I think she was wearing leather pants. She looked like a rock star, like Pat Benatar.
As I stepped onto the stage, a rough male voice blasted through the darkness. "You! Kid!" Me? I was dead. I knew I was dead. I was being thrown off the stage, probably out of the building.
"Check the levels."
I stared out at the darkness.
"The microphone," growled the voice. "Grab the mic and talk."
So I picked up the mic next to the guitar stand and did what anyone who'd taken high school acting would do on a newly refurbished vaudeville stage -- performed what little I could remember of "To Be or Not to Be." I should have done a monologue from The Black Metal Fantasy -- that might have been a good omen -- but Adoma didn't have a monologue in Black Metal Fantasy.
Santar had lots of monologues, but when I handed Kyle the mic naturally he belted out a verse of "Born to Run." As Kyle did Bruuuuuuuuce I stood and stared at those seats, imagining our standing ovation until a roadie rolled out the drum kit and broke the spell.
Enter a legend
Then Jane led us into the wings. While we were still reeling from the idea of playing 3,000-seat theatres, we heard a soft southern drawl say, "Hello, Janey, dear." We turned to see an old man in fifties sunglasses -- and Johnny Cash-style country singer clothes. He was wearing so much pancake makeup he might have been embalmed. "How's it going?"
I knew the guy was important. I turned to Kyle and whispered, "Who's that?"
Kyle didn't even look at me as he whispered back, awestruck, "Roy Orbison." Kyle kept staring at Orbison, probably hearing Roy's hits in his head. He didn't just know and love classic rock, he might have been the only teenager in the world who owned blues albums. I figured I'd better not tell Kyle -- or Jane -- that what impressed me most was that I'd thought Roy Orbison died in that plane crash with Buddy Holly. As Kyle looked into Roy Orbison's sunglasses he saw a perfect reflection of Charlie's golden ticket to the Chocolate Factory. We all did.
I watched Jane flash her smile at the rock legend. "Good house tonight, Roy." She called him Roy. He called her Jane. Sure Jane wasn't old enough to have bought one of his albums back when they were topping the charts, but still... our promoter was talking to a real star just before his concert. Backstage. I felt like asking for an autograph on principle.
"Need anything, Roy?"
"I'm good," said Roy. Then he smiled at her -- and us -- and moseyed on.
"Have a great show tonight," said Jane. I suspected she didn't say "Break a leg" because he looked old enough that if he did, he'd break a hip too and never recover, but still...
Right after Roy went onstage for his sound check, Cousin Jane handed us the contract. "Here it is," she said. "Your future."
And Roy started singing "Pretty Woman."
I turned to Kyle. "Why's he singing a Linda Ronstadt song?"
Kyle gave me the look of complete and utter scorn I'd braced for when he'd found out I was a virgin. "It's his song."
"I think he has a higher voice than Linda's."
Kyle scowled.
"And I bet she wears less makeup, too," I said.
Kyle laughed.
"One day," Jane said, "you guys are gonna be out there." And we looked back out at the endless rows of plush seats. We'd already pictured them filled with fans cheering for us, but this wasn't just our fantasy any more. Jane was a real promoter, she worked with real stars, and she was telling us this was going to happen. We watched Roy finish his song, fondled our backstage passes and thought one day that's gonna be us. Then Randy pulled a deck out of his pocket and asked Jane to pick a card...
'We all need fantasy'
As we walked out through the stage door we practically floated by the security creature and the three of us waved at him like we were old friends.
After Randy and I got back to the apartment, we sat on my bed and watched The Tonight Show while Randy absently made a coin dance between his fingers. Paul Lynde, the centre square from Hollywood Squares, was on the couch being interviewed.
"That's gonna be us, ya know."
It took me a moment to register what he was talking about. "On The Tonight Show?"
"Yeah," said Randy. "And he'll be asking us all about The Black Metal Fantasy."
And for a moment I could see exactly what Randy was seeing. Johnny -- he'd let us call him Johnny -- would have Randy, Kyle and me on as his guests, the star guests who came out right after the monologue and his wacky sketches.
We'd laugh about how this had all started with a handful of store-bought magic tricks on a tacky Community Centre stage that always smelled of stale varnish. We'd tell Johnny how this show was only the beginning. If he thought part one was exciting, wait until the world saw part two and then -- the final, ultimate, epic conclusion -- part three, The Battle of the Sorcerors.
Johnny would laugh, and tell the world what "brilliant kids" we were -- he called everybody under 40 "kids." Then he'd bring out the band. Our band. Now that we were touring the world, playing New York, London, Tokyo and whatever the biggest city in Australia was, our band would be Styx, Led Zeppelin or maybe Pink Floyd.
Our band would play one of the songs I'd written lyrics for -- something with lots of power chords, a supernatural synthesizer riff, and the crowd would go wild, singing along to the number one tune on the Billboard charts.
We all need fantasy.
Fantasy keeps us aliiiiiiive.
It can get so cold in reality.
Without our dreams how could we ever survive.
Without our dreams how could we ever surviiiiiive.
During the commercial break, before he brought out the guy with the emu, the gibbon and the creepy baby lizard, Johnny would tell us how much he'd enjoyed the Broadway production and invite us back to a party at the Playboy Mansion to frolic with half-naked Bunnies. Since we were all from Vancouver, we didn't realize the Mansion was in Chicago and Johnny was in LA. And even if we had known more about U.S. geography, if anyone had a private jet, Johnny did.
Maybe The Black Metal Fantasy wouldn't get quite that big that fast -- maybe we'd never sip pina coladas in the grotto with Hef and his pneumatic squeeze, Barbi Benton -- but it could. The biggest concert promoter in the country told us it could.
We weren't just crazy teenagers any more. Rainbow was going to make us stars.