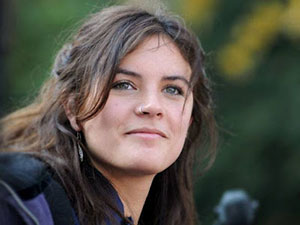 We Can Change the World
Camila Vallejo
Ocean Sur (2012)
Late in 2011, I first heard of Camila Vallejo when an article about her appeared in The Guardian. I should have known about her sooner; I was vaguely aware of student protests in Chile, but hadn't bothered to learn more.
Chile, after all, was a democracy again. The grim years of the Pinochet dictatorship were over. Whatever the students were sore about would be sorted out by the country's elected representatives. The president, Sebastian Piñera, had seemed pretty affable when witnessing the rescue of the trapped Chilean miners earlier in the year.
Yet now I learned that Chile's high-school and post-secondary students -- and their teachers and parents -- had been turning out for one street demonstration after another, demanding a simple thing: "free, quality public education." Protesters numbered in the hundreds of thousands.
In reply, they were being truncheoned by the Carabineros, Chile's national police, and blasted with water cannons from armoured cars called "huanacos." The water was often laced with irritant chemicals.
What's more, this Camila Vallejo was then 23 years old, a grad student in geography, the president of the University of Chile Students' Federation and the head of the national students' organization. She had over 300,000 followers on Twitter and a membership card in the Young Communists of Chile.
That just didn't make sense. Chile's communists and their allies had been effectively destroyed after the 1973 coup that overthrew Salvador Allende and installed Pinochet. Outside Cuba, where the increasingly decrepit Castro brothers rule as much by inertia as by ability, far-left movements simply don't succeed in Latin America any more. And the Berlin Wall had come down when Camila Vallejo was a year and a half old.
So how was this kid able to convulse one of Latin America's more successful countries?
Blindsided from the left
Part of it, clearly, was her looks. No Latin American male expects to be blindsided from the left by a spectacularly beautiful woman. "A pretty face doesn't put half a million people in the streets," Vallejo has said, but it sure challenges 500 years of macho political thought. Some TV interviewers were embarrassingly gobsmacked just to be in her presence. Her male Twitter fans packed passionate tweets of love into 140 Spanish characters. (Her political opponents tweeted their equally passionate hatred for her.)
So her success looks like an exercise in a capitalist-inspired rebranding of communism as the "Happy Rebellion," making her a celebrity cutie-pie fronting for a few old surviving Reds. But a closer look shows a political prodigy who's doing some things right and some things that ought to be terribly wrong.
Vallejo and her fellow students have been brilliant users of new media. Twitter and text messaging called in gigantic flash mobs to confront the Carabineros. When Vallejo ran for re-election as student president, she produced a slick video setting out her platform. Her blog posts were long; her tweets were brief, rare and heavily re-tweeted. (At present, she has close to 650,000 followers. President Piñera has close to one million.)
After losing her bid for re-election as student president, Vallejo carried on as the chief spokesperson for the national student movement -- and has done so in Cuba, Mexico, Brazil, Europe and even New York City. While she didn't achieve her goal of free, quality public education, she seems likely to be a continuing force in Chilean (and hemispheric) politics for decades to come.
Comfortable in any medium
That's because Vallejo seems comfortable in any medium, whether speaking to mass audiences of rock-concert dimensions or handling extended interviews on live TV.
She has an almost eerie poise and personal attacks never put her on the defensive. She sticks to her talking points (free, quality public education) like a Canadian Tory MP but without the Tory's robotic smugness -- and without sounding as if someone else has scripted her.
While I still speak the Spanish learned in Mexico 60 years ago, I find such video clips hard to follow. Chilean Spanish sounds like rapid-fire Italian, the vocabulary is a bit different and the slang is opaque. After reading endless newspaper interviews, watching news programs and scanning tweets both by and about her, I still didn't understand how Camila Vallejo had achieved so much, so quickly, from such an extreme political position.
So when she published a book last year, I ordered a copy. It finally arrived and I've been not just reading it but also translating parts of it into English -- forcing myself to grapple with both her words and her ideas.
Podemos Cambiar el Mundo (We Can Change the World) is a slender book of 132 pages -- a 42-page interview plus cut-and-paste jobs from many of her blog posts. Here the gap between her political discourse and ours is widest.
English-speakers reading online like short sentences, short paragraphs and short articles. Online reading may be different in the Spanish-speaking world. Spanish is a wordier language, and Spanish-speakers savour their language like a gourmet meal while we anglophones are happy with fast food. During the 2011-12 student revolt, Camila Vallejo was posting text on her blog that would have driven anglophones away in droves.
Here's a random example translated from one of her blog posts on how to create "a more just and egalitarian country":
"Focusing on undergraduate reform to ensure that the disciplines can reconsider without being dominated by market criteria, instead making the central axis their own role in the endogenous development of the country, with critical vision, pluralism, and orientation toward always responding in the first instance to the needs of the country and not to private or corporate interests."
And that's just one of four bulleted items in a particular list.
Abstract, academic, but effective
But it's typical of both her style and her content. She writes long sentences rich in subordinate clauses and parallel phrases. Her vocabulary is abstract and academic. Her subject is almost invariably the state of Chilean education in general and post-secondary in particular. Only rarely does she raise issues like the environment or the state of Chile's workers and aboriginal peoples.
Her arguments are also surprisingly different from most North American political discourse. She rarely attacks her adversaries personally -- only for their mistaken policies and actions. And she rarely bothers even to name them. She never mentions Pinochet, only the "dictadura." She never threatens class warfare but criticizes the "neoliberal sectors."
Vallejo rarely cites authorities, whether Chilean or foreign, classic political thinkers or blogging pundits. She simply discusses the events of the past half-century as if they're common knowledge to her readers and she's reminding them of what they already know.
Vallejo's goal is the "democratization" of post-secondary education, making it accessible -- and answerable -- to all Chilean people. She criticizes the present system because it gives affluent students a good private education, and access to power, while excluding those who can't afford it.
But she says absolutely nothing about what the outcome would be of a democratized university system. That, presumably, would be up to the people themselves to decide. Perhaps because of her training as a geographer, her key metaphor is "space" -- a democratic university would be space for the people to discuss what to do with a democratic Chile.
Maybe Camila Vallejo's true goal is not to democratize the universities but to sovietize the country and roll back 40 years of history. But for a Young Communist, she really doesn't seem very radical. Free, quality education is what Finns and many other Europeans take for granted. Social and income equality has been advocated by public-health experts like Richard Wilkinson and American economists like Joseph Stiglitz.
So it's a sign of how backward Chile remains, that only radical-left parties like the Communists are demanding what much of the world already has, while the government rolls out the water cannons in response. And Camila Vallejo, about to turn 25, is trying to change the system by the system's own rules: she and two other Young Communists are now running for seats in the Chilean parliament.
If she succeeds, it won't be through attack ads or by invoking some economic action plan as the only goal worth pursuing. Bizarre as it seems to us, she'll succeed by writing abstract, even pedantic articles and blog posts, and by speaking calmly and even pedantically in TV interviews, telling her listeners it is up to them to decide, democratically, what kind of country they want.
On second thought, that does sound pretty radical.