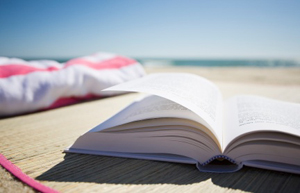 Once upon a time there was a brave little fish who found himself, June suddenly upon him, in strong need of a summer vacation.
The first half of the year had been a busy time for the fish. He'd logged many hours building his online video page. He'd started working Saturdays. And he'd found himself the sudden epicentre of a campaign to save independent journalism.
It seemed like a good time for a break. So the fish packed his bags, bought a ferry ticket, and was on his merry way. "Freedom!" he cried, his tiny fins thrust in the air triumphantly. He was happy to go where no one could find him.
All that was left, on the table by the door, was a list of books assembled by the fish's friends and colleagues: the perfect reading line-up for a fishy vacation with titles from B.C. and beyond. New classics, old classics. Stories fit for soul-searching trips and island pilgrimages. Tales rich on the palate, with a lingering finish...
We share it now in the event that you too are in need of a hasty getaway this summer season. And please add your own summer reading suggestions in the comments below.
The book to nurse your post-Pride hangover:
Davie Street Translations by Daniel Zomparelli (Talonbooks)
We think we know Davie Street. The pink trashcans, the rainbow flags, the highest concentration of leather men in the Lower Mainland. But Zomparelli's ode to that stretch of pavement from Burrard to Denman shows a side of the gay village most of us just hear about: the parties, the drugs, the violence, the heartbreak. But through the darkness Zomparelli finds love, acceptance, friends, and more parties. Even if you've never drunk beer with aging bears at the Pump Jack, you'll recognize the world Zomparelli paints. Davie is a microcosm of Vancouver: it's grey, wet and lonely. But if you're lucky, there's a sandy beach and orange sunset waiting for you at the end of the road.
A fitting read to replace thumb-twiddling in the doctor's waiting room:
Seeking Sickness by Alan Cassels (Greystone Books)
Just because a medical screen exists and someone is willing to give it to you, doesn't mean it's a good idea. In his latest book, health policy researcher and occasional Tyee contributor Alan Cassels offers a second opinion on things to consider before undergoing tests for things like prostate cancer, breast cancer and high cholesterol. Does the screen extend lives? What do independent researchers say about it? Would you do anything differently depending on the results? Do the risks outweigh the benefits? Some of Cassels' related work can be found here, and a recent interview with him here.
Best one to read on your band's cramped stinky tour van:
Five Little Bitches by Theresa McWhirter (Anvil Press)
East Vancouverite Theresa McWhirter spent the last several years touring Europe and North America with punk rock bands gathering material for her latest novel -- and it's paid off. Her story of the rise and fall of all-girl band Wet Leather (five little bitches who "Don't! Do! Dishes!") rings true in the complexity of its strong female leads and the gritty details of their punk lifestyle.  
The ideal book for your favourite budding revolutionary:
Something Fierce: Memoirs of a Revolutionary Daughter by Carmen Aguirre (Douglas & McIntyre)
The book opens with the author, age 11, being told at the airport by her mother that they're not going on holiday in Costa Rica. Instead they're throwing themselves into the Chilean resistance movement. That was 1979, six years after General Pinochet overthrew the Allende government and the Aguirre family fled to Vancouver. For Carmen Aguirre, the decade that followed would be a surreal mix of white-knuckle spy thriller and coming-of-age romp. The controversial winner of this year's Canada Reads competition on CBC, Something Fierce is essential reading for anyone who professes to want to change the world.
Best book to bring on a soul-searching solo trip:
Cures for Hunger by Deni Y. Béchard (Goose Lane)
As a boy, Béchard idolized his a father -- a man who routinely put his two young sons in jeopardy with wild, unpredictable and often dangerous behaviour that eventually breaks the family apart. In this beautifully written memoir, Béchard weaves his childhood memories with his journey as a young man to discover and come to terms with his dad's secret and storied past. 
One for the odd rainy day when you've a taste for something epic, tragic and true:
Tecumseh & Brock: The War of 1812 by James Laxer (House of Anansi)
A thoroughly researched, engaging and detailed peek into the history of the War of 1812, this book examines the struggle between the British Empire and an early American state through the lens of two characters: Isaac Brock, a British general tasked with defending what remains of British North America from American manifest destiny, and Tecumseh, a Shawnee chief intent on uniting First Nations to resist settlers pressing into the Ohio River Valley. They're two characters with no particular attachment to Canada, yet central to founding a national mythology. This book, with its vivid descriptions of battles -- both diplomatic and military -- makes reading history easy.
The perfect book for young folks on a hot day by the river:
The Absolutely True Diary of a Part-time Indian by Sherman Alexie (Little Brown)
This sharp view of Spokane Indian reservation life from the eyes of 14-year-old Arnold Spirit Jr. gives insight into adolescence that leaves you wondering if you should be laughing or crying. Renowned American writer and comedian Sherman Alexie tells the fictional (yet semi-autobiographical) story of a boy born on the Spokane Indian Reservation in Washington. Growing up in a poor family with an alcoholic father and a variety of health problems, Arnold takes comfort in spending time with his best friend Rowdy. Their friendship is strained when Arnold transfers to an all-white high school in the countryside beyond the borders of the reservation. This young adult novel explores the teenage brain through hilarious comics, which Arnold draws in order to better understand his world of poverty, alcoholism, bulimia, racism, and death. It is a great book that shocks with honesty and consoles with humour.
A fitting hangover read after summer nights spent in seedy bars:
Ablutions by Patrick DeWitt (House of Anansi)
Vancouver Island-born Patrick DeWitt became popular with The Sisters Brothers. Before that there was Ablutions, a deranged and gritty novella on vice, sin and evil through the eyes of a bartender who serves the lowlifes of a declining Hollywood drinking hole. It's hard to make comparisons between the two books -- escape dreams and DeWitt's wicked sense of humour weave through both -- but the recently reissued Ablutions is a bit like if you took the more visceral vignettes of The Sisters Brothers and mixed them with some kind of extreme hallucinogen. Reminiscent of Darren Aronofky's Requiem for a Dream, after reading Ablutions you'll push that whiskey bottle to the back of the cupboard. It's a hell burned into your brain forever... in a good way.
When you want an updated, adult version of campfire stories:
My Mother She Killed Me, My Father He Ate Me: Forty New Fairy Tales edited by Kate Bernheimer (Penguin Books)
By now you've probably been overexposed to the fairytales. From countless reprints of the Brothers Grimm and Mother Goose, to Disney Princesses selling everything from bookbags to toothpaste, you're no longer afraid of the Big Bad Wolf. But what if fairytales were updated for a more modern, adult audience? Bernheimer has compiled 40 fairytales from all over the world re-imagined by some of the best short fiction writers around like Neil Gaiman, Joyce Carol Oates, and Michael Cunnigham. What if Snow White's evil stepmother was actually a neglectful drug addict, the huntsman a homeless man? What if Cinderella were actually imagining it all in a meth-induced psychosis? Save this book for afterhours reading: these aren't your kids' fairytales.
A nice accompaniment for all you cooking rookies sipping $8 Pinot Gris:
My Life In France by Julia Child (Anchor Books)
Decades before The Food Network made us all "foodies," there was Julia Child. My Life In France is far more than the first TV chef's musings on butter, writing cookbooks, and taking classes at the Cordon Bleu in Paris without knowing a word of French. It is a tale of love: love of a city, love of food, love of her devoted husband Paul, and love of life. Child's famous spirit, whimsy, and utterly human fallibility unfolds off each honest page like a silky French pastry, taking you away to wherever she may be. Whether in her Paris kitchen surrounded by mounds of perfectly chopped onions, in the south of France at her favourite country bistro, or back in America fighting with publishers over the cookbook that was her life's toil, Child takes you there and makes you never want to leave.
What to read in preparation for another round of teacher-government battles:
Worlds Apart: British Columbia Schools, Politics, and Labour Relations Before and After 1972 by Thomas Fleming (Bendall Books)
If you've been paying attention to the ongoing battle between the teachers' union and the B.C. government, you've likely heard this isn't the first time they've locked horns. Nor the second or the third time. In fact the teachers' union and successive governments from the left, right and centre have been battling over salaries, classroom sizes and education funding for 40 years now. Accusations fly at both sides, placing all the blame on the educators or the politicians. Fleming takes a fair approach: he blames them both. Perhaps overly nostalgic for the days when teachers weren't political and the inner circle of the education ministry included actual educators, Fleming provides a detailed history of the people and decisions that created this rift. As for ways to fix the problem, we live in hope for a sequel.
What to read when the third cheeseburger of the week is winning that staring contest:
The Hungry Years: Confessions of a Food Addict by William Leith (Anchor Canada)
"I woke up on the fattest day of life." A confessional, a memoir, a comedy, and a tragedy, William Leith's The Hungry Years is about the British journalist's own struggles with beating addictions to every nasty thing on the planet, especially fast food and self-loathing. On the day of the fattest day of his life, the day after he licked three plates of mashed potatoes and gravy clean for dinner, Leith flew from London to New York to interview Dr. Atkins. Remember him? The diet guru who told us we couldn't have apples because of the carbs, and eating bacon and eggs every morning was good for you? Leith went to find answers, but he never really gets any. His deeply personal confessions about hunger, addictions, and strained relationship with his son and ex-wife are stirring, mostly because they don't come with the requisite Hollywood happy endings. It may not be a sunny summer read, but you'll be the winner of that staring contest.
A book to read while spending that week at the cottage with your relatives you always thought were a bit, um, off.
Malarky by Anakana Schofield (bibilioasis)
Vancouver author Schofield's much lauded debut novel employs a bluntly pragmatic first person voice in explicating the gradual psychic unraveling of an Irish middle-aged woman. The language is funny one moment, forensic the next, but just when the book begins to feel a small gem of internal monologue, you realize its about everyone in the world who is driven a little or a lot crazy by their culture's repressive notions of sexuality, identity and proper behaviour. In other words, read Malarky to either understand how your cottage-sharing relatives got that way, or to see them as not being as screwed up as you thought they were.
A book to rip through when you're not tripping out on drugs X, Y, or Z at Burning Man:
Fear And Loathing In Las Vegas by Hunter S. Thompson
Reading Thompson's legendary book about drugs, drugs, and more drugs (oh yeah, and the failure of the "American Dream" and America's War on Drugs) is a dizzying experience. You can read it in three hours easy, which this writer once did in the living room of her grandparents' house in a village in Wales when she was 18. Thompson writes with wicked speed, hurtling you along into a freaked-out road trip to Vegas where he and his Samoan lawyer get lost on dirt bikes in the desert, terrorize the tourists and the help, and lament the state of the nation and the bloody reality that was the Vietnam War. Never more relevant, don't just read it once, read it four times this summer season. As the deceased Thompson once said, "Buy the ticket, take the ride." Just don't take any ether before.
What to read before heading up the trail with your loved ones:
The Bear's Embrace: A True Story of a Grizzly Bear Attack by Patricia Van Tighem (Greystone Books)
Originally published in 2000, this re-issue comes seven years after the author chose to take her own life. "Patricia's life was a paradox," writes her sister Margaret Van Tighem in a new afterword. On the one hand, the author spent decades battling infection, drug dependency, and nightmares -- side effects of a brutal ambush that left her disfigured and depressed. On the other hand, she managed to live a full and active life, turning her pain into a remarkable memoir. The Bear's Embrace is a powerful mediation on family, love and human fragility.
Best book to read on a sunny stoop:
A Tree Grows in Brooklyn by Betty Smith (Harper and Brothers)
Smith's best-selling novel paints a portrait of life in New York's tenement districts at the turn of the 20th century, as seen through the eyes of 11-year-old Francie Nolan. The book's themes of hope and despair, compassion and cruelty, humour and tragedy still resonate today. Summer is the perfect time to revisit this old classic.
A handy paperback to consult for your next Tofino pilgrimage:
Long Beach Wild: A Celebration of People and Place on Canada's Rugged Western Shore by Adrienne Mason (Greystone Books)
Packed with archival photos, sketches, maps and little-known anecdotes, this handy purse-sized paperback is the latest from lifelong Vancouver Island resident Adrienne Mason, who has spent 20 years collecting stories on the edge of a continent. The site of at least six separate Nuu-chah-nulth villages, Long Beach later became a magnet for hungry gold panners, goat-lovers, air force pilots, rally drivers, birdwatchers, nudists, and at least one surfing prime minister. Long Beach Wild is a passionate, layered portrait of a place everyone has heard of but few know so well.
The perfect book to read when you can't go on vacation but would like to pretend...:
21 Journeys edited by Jeff Ellis (Cloudscape Comic Society)
Finally, a summer read recommendation with pictures. This anthology by Vancouver comic book artists features a series of stories loosely based around a travel theme. Some stories are closer to home, like the one about a boy whose life mirrors that of a spawning salmon. Some stories are straightforward travel tales. In any case this graphic novel is good for a mini mind-vacation -- that is if you ignore the darker elements like mental illness, fascism and serial killers.
...or the perfect book to read when you can't go on vacation and resent even the idea of someone else enjoying one:
Life Without by Ken Klonsky (Quattro Books)
Call it a forcibly imposed solitude retreat or a Kafkaesque nightmare scenario -- either way, false imprisonment is generally not the ideal way to get away from it all. The story of Joel Ascher is absurd and uncomfortably real: he is wrongly convicted for the murder of his wife and has only a lifetime of prison to look forward to. This novella shows humour in the failures of the justice system and looks at how a person copes when there is no reason to hope. The author draws on years of experience working with falsely convicted prisoners along with Ruben Carter with whom he co-wrote the biography Eye of The Hurricane.