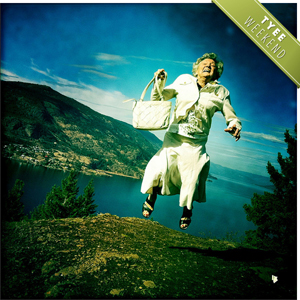 It used to be The Tyee sort of went to sleep on Friday, not to swim to life again until Monday morning. That ends tomorrow, when we launch our new weekend edition.
Why are we doing this?
For one, we want to create a home for B.C. stories that don't quite fit anywhere else -- not even on the pages of your trusty weekday Tyee. 
And we want to get more of you into our pages.
More of your photos -- like the photo essay we're running tomorrow with pix tagged with "love" you've submitted to the Your BC: The Tyee's Photo Pool.
More of your voices -- one regular feature will be interviews with people about their jobs. Another regular feature will relate your tales of getting into wild trouble out there -- we call it "Extremely BC."
On Tyee Weekends, you'll find first person essays from all perspectives, some funny, some furious, some, well, pretty weird. You'll find The List, an amorphous briefing on whatever 10 Things You Need To Know Right Now or Five Places This List Says You Should See or Eight Ironic Comments About Insert Popular Meme Here. Some will be serious, some not so much, but mainly they'll be incomplete. The whole point is to get the list started so you can add your own jottings, and pass it around to others.
Have we got Tyee Weekend all figured out? No way. That wouldn't be the point, given that this is a work in progress meant to open up The Tyee to you in various ways. So let's consider this the start of a conversation -- a leisurely chat over coffee Saturday mornings -- about how to make weekends special on The Tyee. The conversation starts tomorrow. Go ahead, sleep in. We'll be here when you wake up.