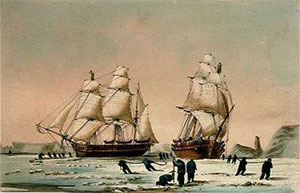 There are those who say the search for the Northwest Passage is the closest thing Canadians have to a creation myth, that in attempting to complete the line that circles the continent, we have a story that in some way tells of the birth of a national psyche, hardy but humbled in a frozen, natural crucible.
Not a bad idea. Not completely true, of course, but that's never gotten in the way of a good story, let alone a national myth.
The parts based in truth make for some compelling reading -- Pierre Berton's Arctic Grail and Ken McGoogan's Fatal Passage, for example, or even fictionalized accounts like Mordecai Richler's novel, Solomon Gursky Was Here, which uses the failed Franklin expedition as a backdrop against which a backwards and conflicted nation walks out of the white-out with a raven on its shoulder.
Stepping into the Arctic canon with a true story of high adventure is Brian Payton's The Ice Passage, just selected as a finalist for a B.C. Book Award. In Ice Passage, Payton tells the gripping tale of the McClure expedition, which set out in the 1850s to find the elusive Northwest Passage and the missing Franklin expedition, which disappeared in 1845 looking for the same passage.
Except the expedition wasn't Robert McClure's when it began. The mission was supposed to be led by Captain Richard Collinson, who was captaining the Enterprise. It seems, according to Payton's telling, that McClure's boat, the Investigator, outraced Collinson's to the western entrance of the passage and plunged in rather than wait for the other ship.
McClure's ship, and his ambition, soon got stuck in the mouth of an icy-fanged Arctic.
And so begins this little-known tale of Shackletonian proportions, a story of historic firsts and human drama. Do they find traces of Franklin? Do they follow him to the grave? Are they actually the first through the passage? Because history has virtually ignored their efforts, Payton's able to construct a story that doesn't let you go until the very last chapter.
Relying heavily on the journals of a German missionary, a translator who, it was hoped, could communicate with the Inuit, Payton found a counter-point to the blustery narrative of the 19th-century British naval men. What emerges is a multi-layered drama that is as human as it is heroic, and Payton resists the temptation to mythologize.
I met with Payton in a fogged-up coffee shop on a mythically-soggy Vancouver winter's day to talk about his love for this nerdy German missionary, the dangers of being an 'ambitious dude' in the Arctic, competing versions of expedition history, and how best to tell the story of a melting Arctic.
Here's what he had to say:
On going to the Arctic for a climate change story and coming back with a 19th-century tale of high adventure:
"So, I'd gone up there... to look at doing a story about climate change going forward... and made two fairly big trips up there to do that, talking to, at first, the Inuit people to find out what their experience was with climate change and also to spend time on that Canadian coast guard icebreaker [the Amundsen], which was part of this event called the International Polar Year...
"These are the guys who know the ice, right, more than anyone else... So, you can imagine that they choose the location fairly well and so they thought that what they'd be able to access was permanent polar ice -- pack ice -- and when they got there, it wasn't there. So, you can imagine, these are the guys we pay to know, and they're freaking out. So, it was a real eye opener spending time with them. What became clear to me after three weeks with them on the ice was that this was an important story to tell.
"[But...] I think that the rapidly evolving science around climate change is probably better suited to periodical writing and to television and radio reporting because it changes so quickly. And it's evolving at such a rate that I couldn't perceive writing a book that would be relevant in two year's time. More importantly, I think I found a better story."
On what this book says about climate change even though this book is not about climate change:
"What I want to do is just to establish -- you know the concept of shifting baselines? -- it's about what is nature now. What I think nature is, is different than what my grandparents think nature is. It's different than what my children think is normal nature. So, I think it's important to go back and establish a bit of a baseline. Let people go back and read and experience the Arctic through these fresh eyes. And so the reader will naturally bring to this book, I hope, some knowledge of what's going on today. And so what's off-stage here is the yawning gap between what they're experiencing and what we know now is coming to pass. So, the reader has to be involved here to put the pieces together."
On how the historical record likes you to die trying or at least not be an 'ambitious, ambitious dude' (or why Franklin overshadows McClure):
"[Franklin] died in the effort, in the heroic effort, and two ships were lost. And, you know, there was a vacuum of information that we all want to rush into -- playwrights, movie-makers, novelists, non-fiction writers want to fill that gap. And that's natural. What did happen? The answer is we don't really know. And we're piecing -- in the 150 years since then -- together what probably happened. The truth is, we'll never know. So, that's why that story has overshadowed everything else...
"And also the way McClure conducted himself after this event [the McClure expedition] shed some poor light on his character, in my opinion, and in the opinion of many people. He wasn't very chivalrous, really, in sharing... not just the money but sharing the credit for what happened. These guys rescued him and they had to take a cut in rations, they had to bring them onboard their boat and sleep side-by-side with these people -- they saved their lives. And in the end, McClure couldn't even bring himself to really give credit to that. And that doesn't speak well of his character. He's an ambitious, ambitious dude [laughs]."
On how expedition literature is a Rashomon-like experience (Or why the Colin Angus and Tim Harvey feud is nothing new -- note the comment section here):
"It's funny, if you go back and look at... McClure's version of this, he didn't even write it himself. He had someone write it from his notes. And it's a triumphant whitewash of his adventure and downplayed every single thing that could possibly make him look bad or that his men were under stress or that he made bad decisions...
"Alexander Armstrong, his chief surgeon, was a very serious, sober man, kind of humourless person in a way, who had the... health and well-being of the crew in mind, much less than making it through the passage. And so, his opinion of McClure was very clouded. And so, when he wrote his report, in so many ways, it was a payback time. It was a way for him to get back and get on the record what he thought was true. And so, that's where drama happens when you get these different kinds of opinions.
"...What I wanted to do with this book was put myself and you as the reader, us together, standing as a member of the crew, over their shoulders, looking at what they were doing and saying and hopefully experiencing some of what they were experiencing. I wanted to bring it alive and do it in a non-fiction way."
On why every expedition needs a nerdy German missionary of the Moravian Brotherhood to tell the story the British stiff upper lips can't:
"I loved [Jan Miertsching, on whose journals Payton also relied]. He's very different from me, in so many ways. First of all, he provides a wonderful fish-out-of-water character. He's not a part of the British Navy. He's not a naval man in any sense. He's not English. The language is new to him, as we find in the first chapters of the book. And he doesn't feel bound by the strictures of being part of that naval life and the constant underplaying by the British officers -- they are constantly underplaying what is happening because they don't want to seem like they're scared or they seem like, 'Really, this is nothing to be afraid of.' But he lets it all hang out. He has no reason not to. And so I love that about him.
"I just found him a remarkably sensitive character to see these things and his ability to speak Esquimaux is just key to, number one, his presence on this boat, but also, whereas McClure was able to connect the dots of what had been done previously in Arctic exploration, Mierstching was able to connect the dot that stretched over almost 2,000 miles. You know, how is it that Inuit Labrador language connects up with the Inuit language on Banks Island on the opposite end of the continent? That was such a leap of faith. No one knew that was going to be the case. So, his presence for me as a reader and as researching his work, he provides some sparkling moments of first encounter, first contact."
On how Brian Payton would change the national anthem:
"I don't know that I would agree with [the creation myth theory] but I've often thought that Stan Rogers' 'Northwest Passage' should be the national anthem [laughs], or at least the B.C. or Western Canadian anthem.
"Exploration and... striking out into an environment that is strange to Europeans and that is, in general, hostile, most of the year... I think that's very clearly the core of the Canadian mythology."
On what is lost when the Arctic pack ice melts:
"You know, this is an environment that lives. And one thing that I hoped to do with this book is to enliven the Arctic ice. This is something that we hoped Western society could reach, we speculated about, and we had this dream that beyond that ice there is an open spot at the top of the world where there may be other races of people and maybe palm trees and a warm, open ocean.
"And so what struck me was the craziness of that early idea and the shocking reality that that's about to happen. And in some ways we've willed it into being. We set out from Europe, the first exploration headed west to meet up with the East, and as more and more of North America and South America was explored, the Arctic was what was in the way. Because what we really wanted and still want is a way through the Arctic. And so, I want people to re-evaluate that this is an environment that we have to blast our way, sail our way, get around, get through to the other side. Because it is rich with unique flora, fauna and human adaptation."