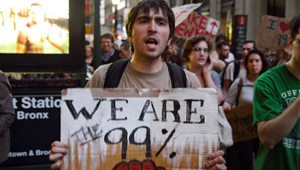 When DOXA started in the year 2000, who knew documentaries would surge in popularity so dramatically?
The festival's director of programming, Dorothy Woodend, isn't about to let up. Woodend (who also writes about film for The Tyee) says this year's edition is all about pushing the boundaries – and that includes showing experimental projects that challenge emotionally and intellectually.
The festival is screening 90 films in five different venues. That includes the new program Spotlight on the Future, eight films that focus on technological advances and what they mean for the human race and the environment.
Other programs include: The Justice Forum, the second edition of The Philosopher's Café, and the fourth year of Y for Youth. The latter aims to offer age appropriate material for elementary and high-school kids.
DOXA Documentary Film Festival runs May 3 to May 12, 2013. Tickets, festival passes and schedules are available online at www.doxafestival.ca.
If you're looking for quick, sure-fire recommendations, here are three:
Occupy: The Movie
Director: Corey Ogilvie
Country: Canada
Screening Times:
Friday, May 3, 7:00 pm; Tuesday, May 7, 12:30 pm; Saturday, May 11, 9:15 pm
This year's opening film, Occupy: The Movie, was directed by Corey Ogilvie, a former UBC student. The documentary features interviews with Noam Chomsky, Reggie Middleton, Adbuster's Kalle Lasn and other high profile thinkers -- displaying as well a decided commitment to include the voices of Occupy movement organizers, protesters and the average bystander.
Ogilvie travelled from Vancouver to New York so he could witness the movement first hand, motivated, he says, by unfair wealth distribution and a staggering middle class in Canada as well as the United States.
He managed to attend many meetings and strategy sessions, gaining personal and intimate footage with organizers and participants of the movement. Ogilvie intertwines his own footage, web videos, cell phone videos and TV news coverage to create a portrait of a movement that was extensively talked about but not widely understood.
Occupy Wall Street's inability to achieve social transformation is evident in the film. But so are its accomplishments, specifically its usage of social media and other Web tools. Ogilvie's 90 minute film will give viewers a clearer understanding of economics, bailouts, derivatives, terms like "too big to fail", and the hardships and turmoils of organizing a massive protest. But the documentary isn't designed to preach.
"I didn't want to hit the audience over the head with my opinion, or tell them what they should feel," says the director.
Casting By
Director: Tom Donahue
Country: United States
Screening Times:
Saturday, May 4, 2:00 pm
In the 1940s Marion Dougherty took what started out as a secretarial position and made it an art form. She invented the job of casting director.
"I just feel someone is right for the role," she says with a smile in Tom Donahue's documentary Casting By.
Those instincts allowed Dougherty to help discover Dustin Hoffman, Glenn Close, Bette Midler, Al Pacino, Christopher Walken and many other actors now household names.
In 2007, Donahue heard about Dougherty from a friend and decided to interview her on camera. Their conversation lasted 12 hours. A year later Dougherty was diagnosed with dementia. Donahue went on to interview 240 people in order to tell her story.
In the first eight years of her career Dougherty cast 500 films and got absolutely no credit for it. Casting By shows that due respect continues to be hard to get for casting directors. Most who have followed in Dougherty's step are women. And that's all Dougherty would hire when she established her own business.
"Marion would say that she only hired women because no men would take the job because of the low salary," says Donahue.
Sexism remains a major obstacle for casting directors, as becomes clear in Donahue's interview with Taylor Hackford, who heads the Directors Guild of America. Dismissively, Hackford states that casting directors should not be allowed to use the word "director" on their titles.
In Casting By, Donahue depicts the struggles and triumphs of Dougherty and fellow casting directors while giving us a portrait of the evolution of Hollywood.
The film includes interviews with Martin Scorsese, Woody Allen, Robert De Niro, as well as practically every famous actor that Dougherty worked with.
Donahue also focuses on their fight to get a category in the Oscars (casting directors are the only crew members with a main title credit and no Oscar category).
Dougherty died in 2011, never having received an Oscar. But this documentary honours not only the first casting director but those who have followed, contributing their own creativity to movies.
"I want audiences to walk away and understand how important it is to the film making process," says Donahue.
Wrong Time Wrong Place
Director: John Appel
Country: The Netherlands
Screening Times:
Saturday, May 4, 12:00 pm
Tuesday, May 7, 8:30 pm
"Then came July 22 and we all know what happened then."
After enduring the death of his son during a base-jumping accident, Harald decides to take extra care to make sure such horror will not again intrude on his life. But tragedy is random and senseless. Harald was working in his office the day Anders Behring Breivik set off a bomb in the building. Harald's resulting injuries almost robbed him of sight.
This is how Wrong Time, Wrong Place sets the scene for contemplating the killing spree by Behring Breivik that began with the bomb attack in Oslo and ended with the Utoya Island massacre a couple of hours later in 2011. The film follows survivors of the attack as well as a victim's family, as they go over the events that led to their being in harm's way on that fateful day.
The story centres on four groups of people: The bomb survivor, the victim's friend, the victim's family and a group of strangers who hid in the same bathroom stall on Utoya Island. Maybe it was fate that brought all of them together.
Maybe it was meant to be that the last victim did not know how to swim, or that she met her end in the same place where her friend had been swimming the day before. Had she stayed in Georgia and not gone to Utoya, would she still be alive? These are some of the questions the audience is confronted with.
Director John Appel attempts to bring some clarity to the events in an unusual way. He mixes filmed footage and phone videos taken by people who were on the scene the day of the shootings.
With very few mentions of the killer, the film focuses more on the coincidences that make horrendous acts like his seem like they were woven into the lives of those involved since before birth.
Perhaps there is no such thing as fate and all it comes down to is being in the wrong place at the wrong time. After all, the film tells about one man lucky to not be in the wrong place at the wrong time when Behring Breivik's bomb went off. Instead of going into the office like Harald, he decided to do something different. He stayed safe that day by base jumping.