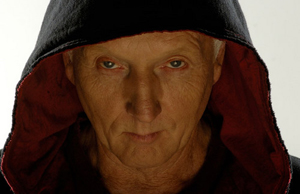 I was terrified to interview the guys who made Saw. I knew they weren't scary, but I had nightmares about what their story was since launching the top grossing and gross-topping horror movie franchise in history... a series where the next and supposedly final edition is coming out in the inevitable 3-D incarnation for Halloween. And it says it all about how hot the Saw franchise is that it's the horror flick that will own the Halloween screens.
The two Saw creators were at the 2010 Toronto International Film Festival to launch Insidious, an ingenious and truly haunting haunted house movie that crushes every cliché of haunted house movies (opening in 2011).
I started covering the Toronto International Film Festival in 1997 and I've hit every year but one since then. In that time I've interviewed hundreds of big name directors, little name directors, no name directors, movie stars, former movie stars, would-be movie stars and several dozen flavours of producers and screenwriters. But when anyone asks about my favourite Toronto Film Fest story, I always tell them about these two horror obsessed 20-something guys from Australia who really wanted to make a scary movie, so they polished their script, spent almost every cent they had to build this totally crazy creepy deathtrap and the rest of their pennies filming a nine minute horror classic... about a poor shmuck trapped in a reverse bear trap that will rip his head off if he doesn't slice into a not-so dead body to retrieve the key.
You can watch the short here. At least you could when I wrote this.
These two Aussie kids sold their idea to Hollywood and I knew their story had a happy beginning -- James Wan actually got to direct and his best mate and screenwriter Leigh Whannell actually got to costar -- alongside Cary Elwes (Princess Bride) and Danny Glover (Lethal Weapon). The movie caught fire in Toronto and their villain, Jigsaw, was suddenly able to slice and dice at the same table as Freddy, Jason and Chucky. It was my favourite inspirational horror story. It felt like the kind of Hollywood ending you see in the movies. But when the film started spinning off sequels I worried it had the kind of Hollywood ending you see in real life Hollywood, where the Aussies got home, read the fine print and discovered they were making less money off the series than the original poster designer.
But when we met at a downtown Toronto hotel, writer Leigh Whannell and director James Wan assured me this horror story had an ending that was more Capra than Kafka. "The producers were really good to us," said writer/actor Leigh Whannell. "They made us partners on that film, you know? They said, 'You're not gonna get paid up front and you're here for creative freedom, but you'll be partners with us if the film does well." And then when the film did well, they were true to their word... it was amazing. It was truly amazing."
'So young and naïve'
Says Wan, "To be honest, Leigh and I were so young and naive, we did not know any better. So when they told us that, 'Yeah, Saw made money,' we knew straightaway that they'd go, 'We want to make a sequel.' And I was like, 'Oh really? Oh, okay.' I didn't really think much about it, because I always felt that the Jigsaw character in the first film is such a compelling character, so I actually felt like, okay, maybe we can open up his story more because he's such a cool character... But was I expecting six, seven movies later? No, I wasn't expecting that. And was I expecting it to end up being the most successful, profitable horror franchise ever? No." Wan laughs at the idea.
The two both stepped aside from their scary baby after Saw 2, which Wan directed. Explains Whannell, "We're still part of the family, but we're like distant cousins as opposed to nuclear family members where we check in with the guys. We're obviously friends with Mark [Burg] and Oren [Koules], the producers -- and I'm really looking forward to helping to promote Saw 3D, which is amazing in 3D. If any film utilises 3D, it's the Saw films. It's been a wild journey. As you said before, you interviewed us in, what, 2004? Like six or seven years ago. And now it's coming to an end. It's a whole chapter of my life. I started writing Saw in 2002. So it's like the last 10 years of my life, basically, almost. It's gonna be interesting when that comes to an end, yeah."
Said director James Wan, "Leigh and I really trust the producers that are behind it. They know the world now so much more than we do. So it's almost like they've created their own Saw world now, so it's kind of tricky for Leigh and I to come in and go, 'Dude, do it like that,' because they've kind of gone on a different tangent from where we started."
Adds Whannell, "It started to get pretty gory. And if you're not able to take that, it's pretty hard to watch some of the sequels, because they push the envelope in terms of gore. But James and I aren't really into that."
Too much of a blood soaked thing?
Whannell grins when he explains that as far as he knows, Jigsaw really is about to claim his final victim, which seems to break another cardinal rule of Hollywood, the one about milking every moneymaking idea into the ground. "I think the producers just want to finish with this. It's really hard work, they've been working their asses off because they do one a year. I think they want to go out, do the fans justice, go out on a big note, 3D, big budget -- which they've done a great job with -- come full circle and then say, 'See you later.'
"We've all seen Friday the 13th: The Final Chapter, which then went on to have like eight more sequels. I really do think this is it. I think that Mark and Oren want to hang up their hats for the time being. They've really worked their asses off. It's tough. They're not having two or three year breaks in between the films, remember. Pretty much the second you wrap one Saw film, you have to start pre-production on the next one, to pump out one a year. It's just unprecedented. And it's interesting to have been at the start, to have created something that is a genuine cultural phenomenon, for good or ill. But I still love that first film the best, for a lot of reasons. Nostalgically, it's the film that I wrote in Australia. It's the first one. It's the one that holds the best place in my heart, is that first one."
And as they prepare to bury Jigsaw, the guys are already starting to daydream about the possibilities for Insidious 2.