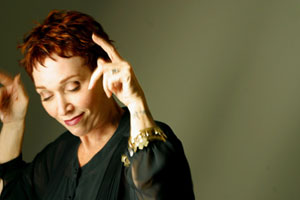 Babz Chula was not my first choice for the role of "the protester" in The Green Chain.
I wanted someone with Babz's warmth, Babz's politics, Babz's signature feistiness, Babz's sense of humour, Babz's ability to light up a screen and Babz's passion for small Canadian movies, but I wanted someone... old. 
I needed someone old.
I'd never seen Babz look old. I couldn't imagine her looking old.
I first met Babz when I interviewed her a lifetime ago. We met at her place in Kitsilano. I think she spent most of our visit advising me on the responsibilities she felt came with my job as a theatre critic. I recall her telling me that when she was growing up a neighbour named the Barbie doll after her. That doesn't seem to be true, but I believed it. Wouldn't you?
Her circuitous route to BC, and back again
I also learned her story. That she was grew up in New York and Hollywood. She moved to the Kootenays in 1971. In 1977 she went to Hawaii to work as a singer. When she returned to B.C. in the 1980s she made the switch from singing to acting, and to acting and singing.
I'm pretty sure we were supposed to be talking about Simple Folk -- a gem of an event that wasn't so much a play as Babz sharing a stage with her two friends Morris Panych and Ken Macdonald, swapping stories of their youth and singing songs they loved. I was lucky enough to score tickets to Morris' and Ken's first performance of their first play -- Last Call -- and I've been a fan ever since, catching every show of theirs I could. I've never seen them in anything else remotely as raw, open and honest as Simple Folk. It felt less like a play than a late night party where all three were slightly buzzed and singing for themselves and each other and anyone else who felt like listening. I always suspected it was Babz who created that vibe, who looked them in the eyes and demanded the truth -- not the standard rehearsed, programmed response, the truth -- and who drew a vulnerability out of Morris and Ken that translated on stage without the protective covering of their brilliant wit. 
I remember Babz showing her sexy, steamy side in Roy Surette's production of Three Penny Opera at the Firehall Theatre, rocking the house and breaking the theatre's box office attendance records.
She'd lived the part
I can picture her in role after role in Canadian films, starting with the Can Con classic, My American Cousin. And maybe I saw her play someone subdued at some point. Her imdb.com listing rattles off over a hundred TV and film appearances since then, so she must have. Maybe she was feist-free in one of her guest appearances on a made-in-Vancouver series like The X-Files or The L-Word. But when I flash on images of Babz I picture her giving someone hell, or seducing the pants off some shocked, lucky and delighted younger man. 
I picture the fiery red hair.
I see the vibrant smile.
And mostly I hear the infectious laugh and the New Yorky Jewish twang that pierced the auditorium at the Carlu in Toronto as the post-show schmoozing was happening for the 2006 Genie Awards, in which Babz was nominated for her performance in Seven Times Lucky. I hear that voice shouting, "Mark Leiren-Young, what the hell are you doing in Toronto!"
I crossed the room for a hug and she caught me up on her life -- and her fights with cancer. She asked what I was up to and I told her about The Green Chain. And when I'd told her the plot she said, "Too bad there's not a part of me in it. I'm an old hippie logging protester."
And I wanted to say, "That's exactly the part I'm trying to cast right now," but how could I tell her that since she didn't qualify? Even if she was joking about her age she wasn't old. But then I took a second look... and after her battles with cancer, after all those rounds of chemo, I thought... she still doesn't look old to me, but she looks just a bit... tired. And she just offered to be in the movie. She'd won a Gemini, a Leo, Jessies and we were at the Genies. How was this not a good sign?
I wanted to offer her the part on the spot, but I waited to consult with my producers first. Tony Wosk and Donna Wong-Juliani couldn't have been more thrilled, but Donna asked the same question that had always kept her off my wish list. "Is she old enough?"
"Not really," I said. "But she's magic."
Honoured, and terrified
I emailed Babz the script.
This was her response:
"Yes on all accounts!!  A big YESSSSS!!!
"I've just printed out the script and have started to carry it around with me so that I can look at it whenever I need to... like when I 'm waiting for the light to change... while the smoothie is in the blender... when I am on the phone listening to someone ramble on... yeah... uh huh... hmmmmm.
"Will talk to you soon. Heading into another huge week of treatments...new ones. You can find me on my cell. I have surgery on Tuesday... but otherwise my phone is on.
"Surgery, yes. This cancer thing never ends. It is the way you LIVE from now on. WITH cancer. I refuse to die FROM cancer. I will live WITH it. THAT I can do.
"Take care. Be well. Health is Wealth. Love is All.
Barbara"
When I found out The Green Chain was the first job she'd done since she'd come out of this round of treatments, that it was the first acting she'd done since wondering if she'd ever act again, if she'd be healthy enough to act again, I was honoured. And terrified. And wished we had a real budget so we could pay her a lot more.
My film directing experience at that point consisted of having finished the first three monologues in The Green Chain. I was thrilled with the results, but none had been what one would call... quick. 
I didn't know how much energy Babz would have. Neither did she.
I also had one request for Babz. I wanted her to dye her hair grey. She balked. I think she told me she'd done grey before -- but only once -- and in that role she was supposed to be ancient. As much as I wanted her, it was a deal breaker. I'd always pictured the granny in my movie to be in her seventies and even with all her surgeries and therapies, I didn't really believe she looked 60.
A lot of people asked if lines in the movie were improvised because there were so many words. Oddly, because there are so many words I think it's tougher to improvise because then it gets tough to remember the flow. But Babz and I met a few times to cut them, to tweak them, to make them flow and after we discussed the logic and rhythm of every change, those were the lines she delivered. She really wasn't old enough for the part I imagined. But she was perfect for the part we shaped on her back porch over glasses of herbal iced tea.
'I am not going to stop'
The day we shot her monologue, she arrived looking as ready as if she'd been acting on this same set every working day for the last six months. It was the fastest, easiest day of filming. I knew it had to be. We'd talked about how many good hours she usually had in her. But I also knew we were done before Babz was wiped out. Although knowing Babz, it's possible she was wiped out and simply wasn't willing to let any of us see it.
There was one moment in her performance that gave me chills when I saw it live and still brings me to tears even after seeing it a few hundred times. The interviewer asks her if she's going to stop fighting now that she's in jail and at the end of her response, at the end of her monologue, she appears on the verge of tears as she stammers out the words, "No. I am not going to stop. No. You're not getting rid of me that fast." Then she stares into the distance. And knowing her real life story there's no way to watch that moment and not believe she's talking about the cancers.
I was thrilled that after she did The Green Chain she started acting again. If the only thing the movie did was remind Babz she still had more work to do, more parts to play, that would still have made the whole experience worth it. She won two more Leos for performances she did after our shoot -- one for guest starring in the CBC TV series, J-Pod and another for her role in Mothers & Daughters.
Meanwhile, several actors launched "The Babz Chula Lifeline for Artists Society" to help pay for the mix of mainstream and alternative treatments that were allowing Babz to stare down three kinds of cancer. It not only gave the arts community -- and audiences -- a chance to share their support for someone who was rightly known as western Canada's Queen of independent movies, but it allowed those of us who loved her to follow her journey as she reported in on her progress and her healing trip to India.
After The Green Chain hit the festival circuit, Babz was willing to promote it and show up for it like she was a producer and, unlike the real producers on the movie, actually making money from it.
Babz was the first one with hugs and congrats for everyone at the cast and crew screening. She was there at the opening in Vancouver, staying after the show for the question and answer session. During our Vancouver run at the Fifth Avenue Cinemas, Babz even made time for a series of interviews where she talked about our movie and her cancers.
Surrounded by fans
The last time I saw Babz was at a Vancouver Film Fest gala. As Babz held court leaning against a pillar in the hall outside the party, she talked matter-of-factly about how another of the cancers had returned. She talked so matter-of-factly it sounded like she was going to be okay. I turned to her husband, cinematographer, Larry Lynn, and he told me that this time the cancer had the edge -- but Babz wasn't giving up easily. And seeing her response to critical illness, talking to her about death and life, made it impossible not to appreciate life a lot more and fear death a little less. 
On Friday, May 7, eight years after being told she had only a few months to live, cancer finally took Babz from us.
I know she got tired.
I know she's finally left us.
But I won't believe she ever got old.
"Take care. Be well. Health is Wealth. Love is All."
A memorial will be held for Babz Chula on May 23 at the Arts Club on Granville Island. The Babz Chula Lifeline Society will live on in her memory, collecting money to help other artists survive their battles to recover from accidents and illness.  Babz is survived by her husband, cinematographer Larry Lynn, sons Aviv and Orpheo Ciulla and daughter Jordana Citrano, stepdaughters Electra and Emily VanderShee, and four grandchildren.