The province's top doctor tells us to get outside and enjoy nature because of its known health benefits. B.C.'s government shuts all provincial parks. You can't blame outdoor exercise-loving British Columbians for being perplexed.
During the COVID-19 pandemic, provincial health officer Dr. Bonnie Henry repeated what she said in an April 17 media briefing: "It is important, we believe, for mental and social health, for people to be able to go outside, but to do it safely, and to maintain those safe distances." That was nine days after BC Parks closed provincial parks.
Now sources say Premier John Horgan may soon announce a date for reopening provincial parks. If so, it will end a period when members of the pandemic response team seemed not to be on the same page, frustrating many people craving recreation in their favourite spots.
Just prior to their full closure, BC Parks saw overwhelming levels of park use, stating on their website that the closure was necessary for the safety and health of both visitors and park operators: "By taking this action, we align with federal and provincial directives for people to stay home to reduce COVID-19 transmission risk."
Over to you Dr. Henry. "It was not me who closed the parks," she clarified in an April 29 news conference. Indeed, an April 22 internal memo to outdoor recreation facility operators in the Vancouver Coastal Health region written by the region's deputy chief medical health officer, Mark Lysyshyn, underlined that no provincial health officer orders stipulated closure of outdoor recreation facilities including parks, trails, sports fields and courts. All are considered low risk for viral transmission.
Coquitlam-based PerfectDayToPlay blogger Alexandra Nesterchouk took to YouTube to clarify the situation for her followers — mainly millennials with young kids who she says don't necessarily understand the distinctions between provincial, national and regional parks.
Originally emigrating from Russia to Toronto, she and her family moved to British Columbia three years ago, drawn by access to nature and beautiful landscapes. Park closures affect low-income earners and new Canadians disproportionally, she says, "since not everyone has a backyard or an easily accessible place to roam."
Shuttering BC Parks just in advance of the Easter weekend was "perhaps a bit too hasty," says Louise Pedersen, executive director of the Outdoor Recreation Council of BC, although she acknowledges that conclusion was easier to reach in hindsight.
Over the Easter weekend, with provincial parks closed and the weather unseasonably warm, Lower Mainlanders headed in high numbers to regional and municipal parks. Metro Vancouver deemed parks an essential service, making adaptations to continue operations despite a 40 per cent jump in visitors, explains Jerry Dobrovolny, chief administrative officer for Metro Vancouver.
Given the impracticality of frequently cleaning the many surfaces, playgrounds were closed, but most parks and trails were kept open with increased handwashing opportunities and hand sanitizing stations, staff presence, and creative signage like an eagle wingspan or cougar length to demonstrate two-metre physical distancing. Some Metro Vancouver loop trails are now one-way, with exit opportunities. Many parking lots are closed to encourage walking or cycling to parks close to home, with those that remain open signed to encourage physical distancing when entering or exiting vehicles.
"Natural physical distancing is starting to happen as people adjust to the new normal," says Dobrovolny.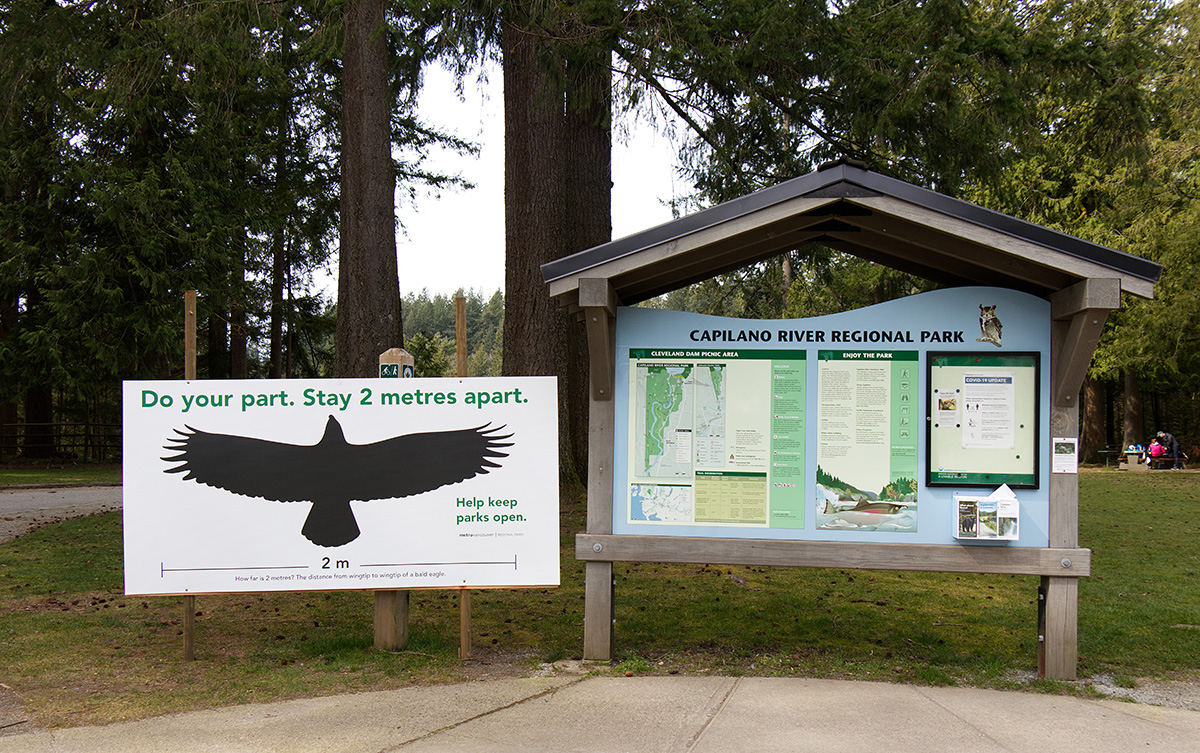 During the COVID-19 pandemic, the outdoors has been a saviour for British Columbians dealing with lost jobs, an unknown future, and working from home while homeschooling kids, explains Pedersen. "Parks and trails are giving us a little glimpse of normality."
Matilda van den Bosch at the University of British Columbia's School of Population and Public Health and co-author of a 2016 World Health Organization report on the health benefits of urban green spaces, says time spent outdoors helps reduce stress, perhaps boosting immune systems. "Physical distancing is super important, but being outdoors and access to green space has health benefits too," she says, advocating for a balanced approach given the science and evidence.
Indeed, in her April 29 news conference, Henry advised that viral transmission risk from someone walking or running by you outdoors would be "infinitesimally small." Being outdoors, "as long as you're with your group, your home, your bubble, is fine," she said, but reinforced that you still need to maintain your distance from others.
In their statement, BC Parks said reopening may be phased and will be complex given that park locations range from remote wilderness to urban settings. Limiting access to locals at first could alleviate some of the visitation pressure that closing provincial parks puts on regional parks, suggests Pedersen, a resident of North Vancouver, where BC Parks has well-established trails with plentiful visitor capacity.
But visitor capacity is one thing. Financial capacity is another. Pedersen underlines that BC Parks, and the provincial agency that manages trails on Crown land, have been "chronically underfunded for two decades," and that a key driver for BC Parks current closure is a lack of funding to adapt to the COVID-19 crisis given staffing, signage and educational modifications needed to manage an altered visitor experience.

Province of British Columbia and Metro Vancouver 2020 budget documents indicate that per hectare funding for provincial parks is less than $4 compared with $4,919 for Metro Vancouver parks and nearly $60 for Alberta Parks.
"Parks should be funded to a level that represents the full value they provide to British Columbians," including their ecosystem services and human health benefits says BC Parks Foundation CEO Andrew Day.
"Restricting access to parks has been challenging and we want to thank people for their co-operation and patience during these unprecedented times," said BC Parks in their statement. "It's important to remember that this is temporary," they added. Canadians hope so. An Angus Reid poll released April 20 found that Canadians prioritize reopening of parks above all else, including workplaces.
On April 25, Henry assured, "We are looking at how we can open up the parks in a safe way as we start to transition to our new normal."
BC Parks did not make anyone available for a requested interview, but said in a prepared statement: "We are unable to predict exactly when the current park system closure will be lifted."
So is Premier Horgan about to clear up all the confusion? If so, it will be a breath of fresh air.