In the gravel parking lot for Pemberton's most popular mountain biking area, a dozen cars are parked on a sunny Saturday afternoon of the Easter weekend (far fewer than normal for the weather). Tomáš Riedl gets out of his camper van to hit the trails. He is here from Vancouver for three days, he says, despite the province's official request to avoid travel. "I don't think the situation is that bad," he says. "People are getting crazy from being at home."
Riedl meets up with a handful of friends, most living in Whistler, one living in his van in Pemberton. They are all originally from the Czech Republic — where their friends and families are now instructed to wear masks whenever they're outside. Here the group of friends are happy to breathe mask-free in the fresh air. They are treating each other like a de facto family, meeting for bike rides in an effort to stay safe and sane.
The scene feels harmless — a small cluster of healthy young men simply standing in the sunshine. But assuming they may, at some point, get closer than two metres apart from each other (or anyone else), statistically it is not benign. No community is entirely free of connections, thanks to essential workers, grocery store trips, and more; adding to that network by visiting "just one friend" has a large impact on the connectivity of an entire community — or communities.
Such simple acts, these days, are capable of sparking intense emotions. Others in the parking lot refuse to give me, a reporter, their names; they are fearful of retribution from Pemberton-based friends and workmates who have told them in no uncertain terms to stay away, stay out, stay home. Those who do give me their names laugh sheepishly; they are cautious, perhaps feeling a little guilty, but not too guilty. The bike trails, they say, are thinly populated: each saw only a few other riders out between the trees.
B.C.'s health minister, Adrian Dix, asked people to avoid non-essential travel over the holiday weekend: any mingling, any stops, any unnecessary meet-ups, increase the odds of spreading the virus. Many small towns have issued official declarations that they are "closed" and plea for tourists to stay away for the duration of the pandemic.
The rationale is not a knee-jerk not-in-my-backyard kind of isolationist greed. Communities are afraid of resources being overstretched: the few ambulances in town being filled, the grocery stores pressured, the risk of wildfire increased and firefighters put at risk (Squamish is facing that now), the small farmers made ill or deprived of healthy workers. The province's tourism slogan is now: "Explore BC... Later."
The lines are logical but not as simple as they first seem. Minister Dix also says that "getting outside for fresh air and exercise is important," but how far can one reasonably travel to do that responsibly?
In small towns like Pemberton, where I live, Facebook groups are erupting into skirmishes as people post angry missives against perceived floods of tourists or holiday homeowners arriving on their doorsteps. Others preach kindness and understanding, while some question the ethics of keeping everyone out.
Over on Salt Spring Island, local paramedic and freelance writer Sean McIntyre says the main influx is holiday homeowners coming to shelter in place and get away from the city. "I guess if they have homes here it's their community too," he says. But that didn't stop one man he saw in the grocery store parking lot from "screaming at tourists to go home."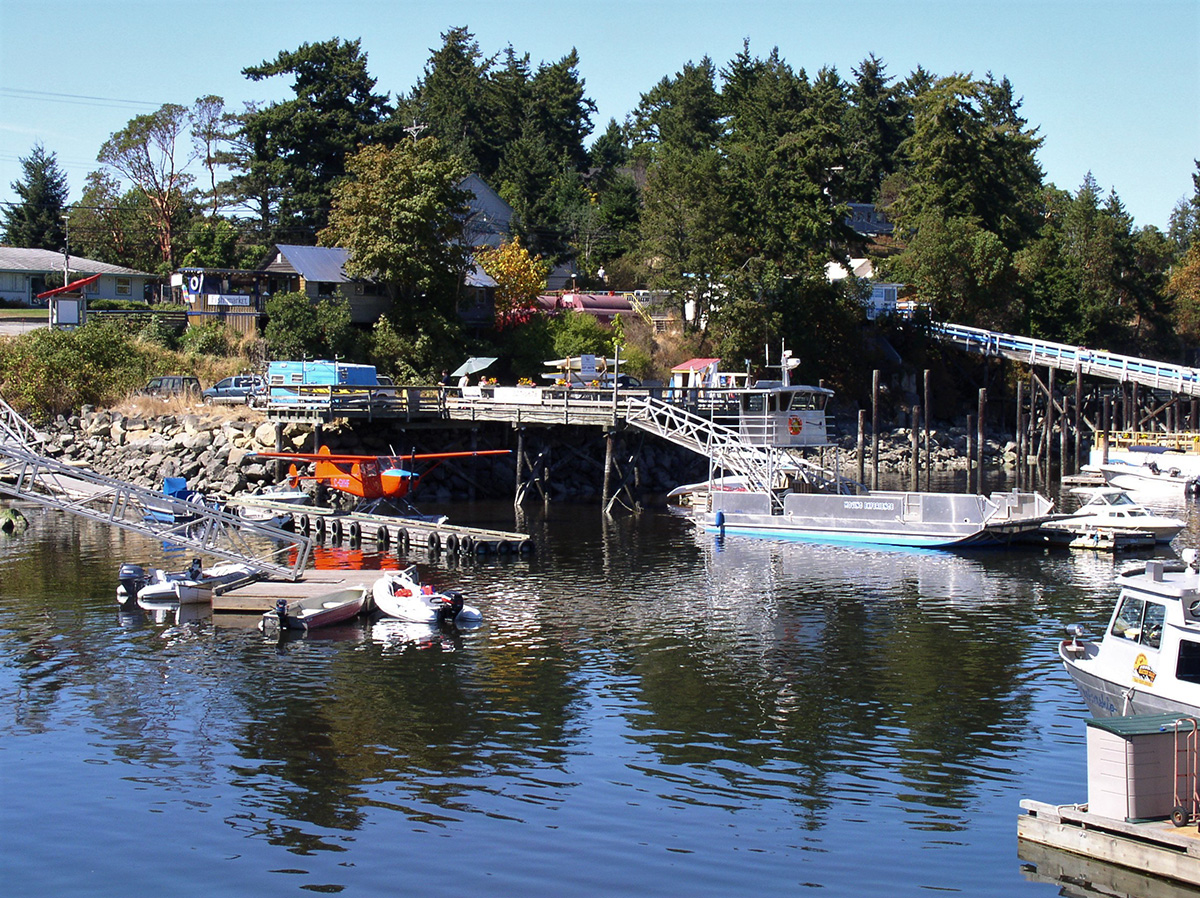 The island of some 10,000 residents is used to seeing its population double in the summer; whether the grocery stores and medical services can handle that now is up for debate. There are no publicly declared cases of COVID-19 on the island. "We should just assume that it's here," says McIntyre.
In Pemberton, the 2,500 residents living about two hours north of Vancouver primarily face a different concern — day-trippers. So far, two cases are publicly known to have tested positive in our small community clinic. While others are assumed to be quietly self-isolating, residents are keen to keep the numbers low or non-existent.
The lack of a visible, escalating, local emergency prompts a natural split in local responses. There are those who see it as a triumph of the social isolation policies, and evidence of the necessity to hold the line of compliance; and those who see it as evidence that isolation is unnecessary. This is the great conundrum of pandemic policies: if they work, it looks like you didn't need them in the first place.
Underlying this split lie serious philosophical issues about fairness, privilege, ownership, and the burden of risk.
People living in remote communities are often at a disadvantage when it comes to things like educational opportunities, cultural activities, and a diversity of careers, jobs and company. During a pandemic, the more pressing concerns are things like a lack of medical personnel. "It's not a question of the virus coming and going; we know it's everywhere. It's a question of resources," says a concerned Salt Spring resident who declined to be named. Simply transporting critically ill people by ambulance requires skilled workers and equipment that are already stretched throughout B.C. Salt Spring has only two ambulances, notes Holly Slakov, chief of staff at the island's Lady Minto hospital; only one can leave the island at a time. "We would quickly be overwhelmed if we had a cluster here, absolutely, absolutely," she says.
While there are only two grocery stores in Pemberton, they have thus far been well supplied. In early March, I took a photo of our overstocked toilet paper aisle, where paper products were on sale two-for-one, while people were reportedly coming to blows over TP in Vancouver's Costco. Come summer, our community will have the benefit of local farms. Other advantages are also immediately apparent: low population density, large backyards and bountiful opportunities to escape into the wilderness for a walk, hike or bike ride.

A friend on Facebook joked, "You know how in every post-apocalypse book and movie the survivors are always trying to get somewhere, to some rumoured place [of] plenty just out of reach? Yeah, give it about 3 weeks and we'll all be crawling to Pemberton!" On a sunny afternoon, that feels true. Stuck at home with two small children, my husband and I thank our lucky stars that we're not trapped in a tiny downtown apartment or condo.
From the shore of Pemberton's One Mile Lake on Easter weekend, I watch a kayaker paddle by against snow-capped mountains. There is a sprinkling of four or five groups of two or three people each, sitting a discrete distance from one another, with home-packed picnics. Some are local, some are not. In nearby Whistler, by contrast, the local rules are to avoid all parks and docks except when passing through.
"We have the privilege of being able to isolate outside easily," says Stuey Connell, a British immigrant living in Pemberton while seeking Canadian residency. "It seems selfish," he admits, to ask non-locals to stay out. "But I don't see any other way." His partner, Ophelie Vanthournout, comes back to shore from a stint out on the freezing lake in a wetsuit. "We are already foreigners enjoying this country," she says in a French accent. "I can't complain."
For those trying to relocate to their own holiday homes, the question of whether they count as "local" is even more fraught. At least one Facebook post about using second homes up the Sea to Sky prompted responses so vitriolic that the administrator deleted the thread. Meanwhile Prime Minister Justin Trudeau provoked ire by going to his own holiday home for the weekend.
For some, there may be a pressing concern to relocate out of a crowded city — perhaps a family is protecting an immune compromised child, for example. But for many, it's a simple desire to have a nice day out, to enjoy themselves, which smacks of selfishness to some. "To disregard the province's direction to remain in place is reckless and irresponsible," said Pemberton Mayor Mike Richman in a press release.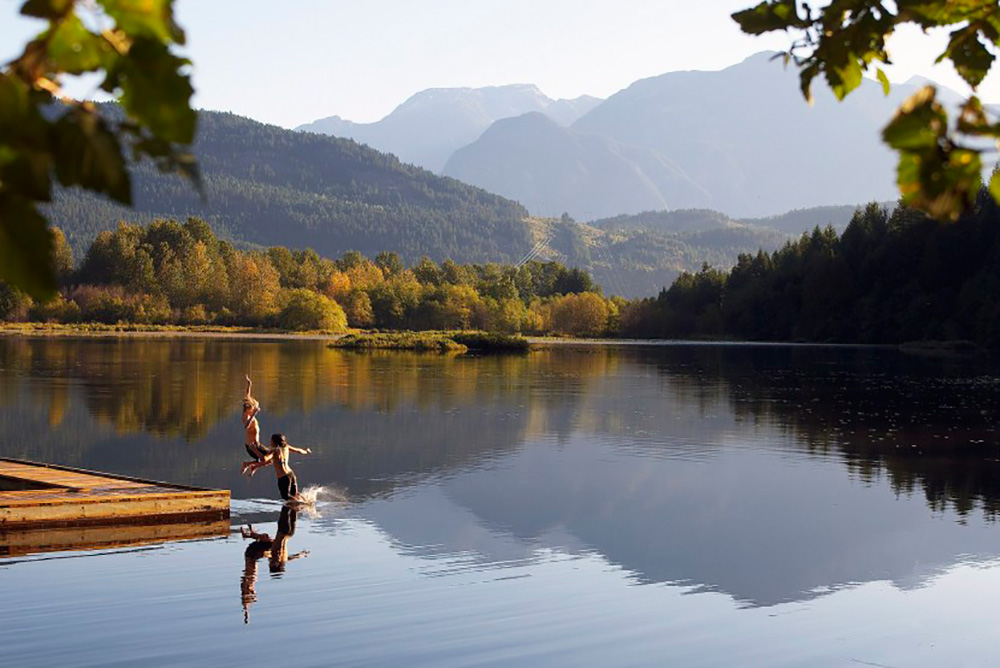 At One Mile Lake, a couple who drove up from Vancouver to picnic here say they were just trying to get away from the city after being stuck at home. They were astonished by the number of people on Kitsilano Beach in downtown Vancouver as they drove through, they say. "It was crazy," says Jake Marston, an IT consultant.
The issue, however, is one of fairness. If this couple can drive out of Vancouver, why can't all? Surely many urbanites would rather be alone on a mountain than anxiously holding their breath and bumping shoulders on Kits beach. And yet if everyone did it, then the remote, empty areas would not be empty, and the burden of disease risk would shift to places not prepared to shoulder them. One couple does it and feels fine because no one else is doing it; but even if they aren't spreading a virus, they are sparking jealousy and ill-will. Others, starting out with the best of intentions, may, in the end, stop for coffee, for groceries, for gas, increasing the odds of a virus transmission with every step.
"I think people should be discouraged from stepping too far from their local environment," says Connell philosophically. "Then everyone thinks, they're doing it, why not me?"
Meanwhile the closing of many parks and facilities has had the counterproductive effect of concentrating people into the areas that are open. "It's like a funnel," says Marston's partner, who declined to give her name. "Everyone is going to the same places."
These are issues that towns like ours will continue to grapple with; not just for Easter or the May long weekend, not just for the summer. It is increasingly clear that this pandemic will affect our social behaviours for years to come. Social responses need to be sustainable for the duration of a marathon, not a sprint.
Up in the parking lot, I run into John Norlander, who works in industrial demolition in Coquitlam, and who came up to Pemberton for the day with his partner just for the drive. "We were going to stay in the car, but we saw this park was open, so we thought we'd stretch our legs." They step hesitantly from their car. "It is open, right? Why is it open?"
Norlander and his girlfriend have heard the requests to stay at home this weekend and are generally supportive of British Columbia's approach to the pandemic. "They could be even more strict," Norlander says. "That makes us total hypocrites, being out here," he admits, laughing hesitantly. Since he raised this point, I asked him why they came. "We wanted to go someplace without too many people," he says, simply. "We are responsible people. If we were at all sick we wouldn't leave the house."
But many people with the virus don't have symptoms, I note.
"Yeah, that's true, that's scary," he says, nodding, taking a sip of coffee. Together he and his girlfriend walk side by side down to the park, smiling in the sunshine.