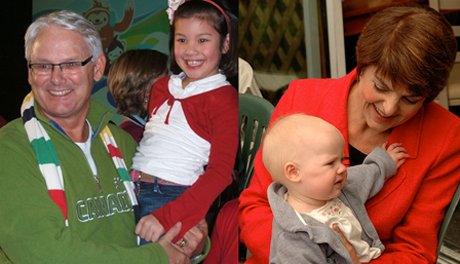 In the 2008 Throne Speech, the BC Liberals proposed a huge shift in early childhood education that would involve spending more than half a billion dollars a year. Hardly anyone in the media noticed. In April, the Ministry of Education released a key report affirming that initiative. Pretty much no one in the media bothered to mention it.
Both the NDP and the BC Liberals have significant planks in their platforms on childcare and early childhood education, but those planks haven't been used to start many fires on the campaign trail. Only the Georgia Straight covered the issues in any depth, asking why the NDP has backed away from previous childcare commitments.
What will it take for B.C. to move forward with a shared sense of purpose and excitement on childcare and early childhood education? These two ostensibly separate but inextricably linked matters are hugely important to our short- and long-term future.
Wonder why B.C. ranks last among Canadian provinces in a key measure of children's economic health? Insufficient and expensive childcare is a big part of the problem.
Want to reduce the high-school dropout rate and improve adult language skills? Those long-term learning outcomes are hugely influenced by what we do with the plastic minds of pre-school children.
Hush now everyone
A little excitement and interest in the media about such things would be nice, but my colleagues hardly deserve all the blame. Last month, when the government released its overdue report Expanding Early Learning in British Columbia for Children Aged Three to Five, the Ministry of Education didn't even bother to issue a news release. And why would they? Make a childcare promise and the odds are you'll soon be backing down, and not just because of cost. There are so many overlapping jurisdictions. And there is so much attitudinal baggage.
We are still deeply conflicted about how to raise our children, and as a result we have failed to take the steps required to help parents balance work, family and childhood education needs.
In Canada, we're well behind many Western European countries, New Zealand, and even U.S. states such as Oklahoma and Georgia, where universal half- or full-time programs for four-year-olds and sometimes three-year-olds are completely free, or nearly so. And that's according to the BC Liberals' own consultation paper. UBC early learning researcher Lynell Anderson says Canada has the poorest access to childcare in the industrialized world, and among the highest fees. In 2008, B.C. ranked dead last among Canadian provinces in an analysis of child-care delivery by the Canadian Labour Congress.
Yet amid the current economic chaos, there's hope of a sort. At some indeterminate time in the future, B.C. might do something about our laggard ways. Although they won't say when, both the NDP and the BC Liberals say they will introduce full-day kindergarten for all students. The Liberals are also looking at optional kindergarten for three- and four-year-olds. The NDP has promised to expand child-care. The difference between the two positions is in some ways merely semantic. The generous view of the Liberal plan is that they're getting around society's reticence about childcare by calling it "early childhood education." NDPers are not so averse to "childcare," but they too are steering toward the language of education and investing in children.
Whatever helps us get past our misapprehension that childcare means we're not raising our children right is fine by me. Because we need to get past it.
We're not living in the 1950s
Our society has experienced some fundamental changes in family organization and economic need -- an early childhood paradigm shift in the words of the academics. Yet despite all the givens -- that two-income families have become a necessary norm, that many parents don't have the family support they had a generation ago, that high-quality child care contributes to the social and intellectual development of our children -- old attitudes persist. Last year, a mother looking for action on childcare at a Vancouver school board meeting was met by a trustee with the words "free babysitting."
Not free, actually. The basic provincial operating subsidy for a spot in "out-of-school" care is just $1.40 a day. The mother simply wanted to know why the school board wouldn't provide surplus space for a service she was willing to pay for.
The cost of all forms of childcare in B.C. is prohibitive for many families. Sure, the BC Liberals substantially increased the income threshold for childcare subsidies a couple of years back, after cutting it early in their first term. But while two working parents jointly earning $48,000 after tax can get a 40-per cent income-based fee subsidy, they still have to spend roughly a quarter of their net income to keep two pre-school kids in typical licensed group care.
In 2006, 16 per cent of B.C. children lived below Statistic Canada's "low income cut-off," the highest rate in Canada. While Premier Gordon Campbell may dispute whether the cut-off constitutes child poverty, there's no denying the financial challenges faced by that $48,000 family.
Never mind that the family simply might not be able to get a high-quality daycare spot when they need it.
Kindergarten lessons
And when their children enter kindergarten, it's that old déjà vu all over again. Kindergarten after-care waiting lists often far exceed the size of the programs, and you won't have to look far down your own street to find a mother who has given up work to get her family through that year. Even Minister of State for Child Care Linda Reid allowed, in an interview with me last summer, that it's a problem. "What families say to me is that the kindergarten year is the hardest year to obtain childcare."
It's at the kindergarten level that many failures in B.C.'s childcare and education policies converge. B.C. provides full-day K for aboriginal and special needs students and those who speak English as a second language. At Vancouver's Cunningham Elementary a couple of years back, there were only five students who didn't meet that definition, so the school sent them away at lunchtime. School boards rightly recognize that this is an extremely stupid policy, and most of the time they find ways to avoid it, yet it still happens. One veteran childcare administrator described the practice to me bluntly. "It's segregation."
The need to give ESL kids preferential kindergarten rights has roots in poor access to preschool care. Many working immigrant parents of modest means have older relatives care for their young kids, and they arrive at school without strong English skills. While any Canadian parent obviously wants their children to speak English well, two-tier kindergarten provides a short-term reward for failure -- a coveted free full-day kindergarten spot. Elementary teachers have even told me they believe some poor parents ask their children to pretend they don't speak English during language assessments so they can access full-day kindergarten. These are exceptional examples, of course, but they are serious and avoidable ones.
Navigating a balkanized system
Current kindergarten policies also contribute to the balkanization of our school system, particularly in multicultural urban areas. Some parents see the remedial role public-school kindergarten plays for ESL children as a reason to place their own kids elsewhere. I'd venture it's one of the underlying causes of the recent boom in French immersion programs. Three families I know simply walked away from kindergarten's complex challenges by enrolling their children in private school. They get full-day K, lower student-teacher ratios, and guaranteed in-school after care.
After I enrolled my daughter in half-day kindergarten at a Vancouver public school, I was told she would almost certainly not get a spot in the after-care program serving the school. I'm a private boys' school survivor who strongly believes in the public system, yet I still put down $650 in private school deposit fees to ensure that I could keep working in the fall. (My daughter got the spot she needed, but only because of an administrative mistake.)
Since 2001, private school enrolment has risen by 15 percent while public school enrolment has declined by seven per cent. I asked minister Reid if she thinks half-day K and poor after-school care access contribute to higher private school enrolment. "You're absolutely right," she said. "The sadness is that public schools haven't seen that relationship."
Some school and childcare administrators make a good case that complex provincial capital funding policies have impeded their progress. While a few districts use that as an excuse, others, such as West Vancouver and Victoria, have tried to meet the challenge independently. But their solutions can be fraught. West Van makes full-day K available at most schools to parents who can pay for it, raising the question of whether the program amounts to private schooling in the public system. Victoria school superintendent John Gaiptman doesn't think that's right. "Never should a child have an advantage because of monetary issues." Yet the Victoria district's own fee-for-service after-care programs also raise issues of social equity.
Pledge of full-day K, undelivered
We need a more consistent approach, and it's against this backdrop that the NDP and BC Liberals have developed their child-care and early-childhood-education policies.
A short history of those policies begins with the 2001 election. At the time, the NDP was starting to implement a strategy developed by Carole James, who was then the government's director of child-care policy. The first stage provided universal on-site before- and after-school care for $7 a day. During the election, the BC Liberals promised to follow through on that program. Afterward they reneged.
When more than half a billion in promised federal funding for child-care expansion disappeared under the Conservatives in 2004, the BC Liberals continued with their band-aid policy of incremental expansion of existing programs. Over eight years, they increased the number of licensed spots by about seven percent to 90,000. Yet in 2005, there were 233,000 children in B.C. under six, and more than 138,000 had a mother in the paid labour force. Another 223,000 children age six to 12 with a mother in workforce are potentially in need of after-school care.
Federal money is important, but in its absence provincial governments must still show leadership. Quebec, of course, has led the pack by offering universal child care for $7 a day. Manitoba isn't far behind. Ontario and Alberta are also well ahead of B.C.
Last year, though, the B.C. government has had an epiphany of sorts. They said they'd provide full-day kindergarten for all students in 2009, and examine the feasibility of optional kindergarten for three- and four-year-olds. They stopped forcing school districts to divest themselves of excess space they might use for expanding community programs. And they started talking about schools as community hubs.
The full-day K idea was welcome, but the idea of school-based programs for younger kids opened Pandora's box on teacher qualifications, education standards and impact on existing programs. Licensed group daycares pride themselves in delivering a high standard of early childhood education.
Following province-wide consultations, however, the government pretty much stayed the course, except that everything will be delayed by the economy and logistics. While the BC Liberals promise big changes, they're not budgeting for them in the next three years.
NDP and Liberal platform promises
The kindergarten changes are an achievable short-term goal. The province's April report estimates additional space would cost $20 million, an additional 1,000 teachers could be found soon, and the annual cost would be $130 million.
The optional programs for younger kids, however, would add between $395 million and $470 million to the bill. The implications for existing daycares is huge, and it's clear that any move on the initiatives for younger kids is years away.
The BC Liberals' platform echoes the report's ambitions, but without any dates attached, and without making any connection between its early-childhood education plans and acute daycare needs.
The NDP platform promises, as finances permit, full-day K with the accompanying after-school care, which it figures will free up 10,000 childcare spaces. The party also undertakes to establish timelines for expansion of daycare and improve training and retention in the child-care field. The NDP also says it would increase operating funding by $125 million and cap fees, without getting into any of the finer points of such a complicated policy. These are modest promises for James, who had more ambitious plans almost a decade ago. It's unsurprising that she pointed the finger at Gordon Campbell last fall on the issue, saying he "squandered the good times."
The NDP and BC Liberal platforms both have real shortcomings. While the parties measure the impact of delivering childcare on the government's bottom lines, no one seems to be measuring the impact of the cost and availability of childcare on families during an economic downturn. What's more, at a time when economic stimulus is all the rage, it's worth noting that investing in new educational programs puts a much greater percentage of the government's money into local economies than building roads and bridges.
The government's own report also makes it clear that expanding early learning and childcare, or whatever you might care to call it, produces big future economic benefits, including reduced social service costs and increased productivity. Improved funding and delivery of those services also increases job opportunities and disposable income for poorer families at a time when that really matters.
The NDP at least promises "wraparound" childcare for school-age children so both parents can work. They make the connection between childcare and employment opportunities. They're not afraid to use the word childcare to describe daycare-based pre-school learning opportunities.
Despite the BC Liberals' ambitious early learning plans, they don't seem to be able to fit the pieces of this complex puzzle together.
Childcare is central to child well-being
When CTV reporter Mi-Jung Lee repeatedly pressed Gordon Campbell in April on what his government is doing to address child poverty, childcare was never part of his answer.
When I asked Shirley Bond last year if her government considered the shortage of after-school care an urgent issue, she said "No." She rejected the idea that it is the province's duty to ensure parents have the daycare and after-school care they need, and put the onus on the complex patchwork of agencies that deliver the service: "I think it has to be community-based."
In 2007, the BC Liberals cut $800,000 in funding to the West Coast Child Care Resource Centre, which helps community agencies coordinate childcare programs. Yet Linda Reid told me she hears few complaints about provincial funding from organizations that provide daycare services. "Most organizations are absolutely thrilled."
Sure, the puzzle is complicated. To solve it, you have to reconcile its complexities and show a little visionary leadership. One of Gordon Campbell's vaguely Maoist sounding Great Goals is for B.C. "to become the best educated most literate jurisdiction on the continent." It looks like we've got a lot of catching up to do.
Related Tyee stories: