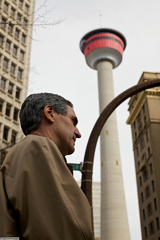 A federal Liberal MP challenged me recently to describe what I thought the next "story" of his party could be. The point he was making to me as an environmentalist was that they just ran on the whole green thing, and had lost. So, is that chapter done and gone for the Grits in Ottawa?
Federal Liberals arrive in Vancouver for their convention this coming weekend in the midst of a B.C. election campaign that wasn't supposed to be about the environment, but is. Partly this is because parties are playing against type in the stories they are telling, with the BC NDP promising to axe the carbon tax the BC Liberals put in place, while the Greens run on the economy.
Michael Ignatieff has also garnered attention by playing against type in his early statements about the tar sands, downplaying the devastating environmental impacts in favour of saying the Liberals shouldn't run against Alberta. (Albertans, by the way, actually want the tar sands to be cleaned up, and the pro tar sands talk hasn't helped any in the polls there either).
But the overall story that Ignatieff wants to tell about the Liberals is still emerging. Early indications are that it is all about nation building, national unity and economic recovery. Even just the title of his recently released book -- True Patriot Love -- sums it up.
Nationalism smackdown
Interestingly, the story about nationalism and economic recovery is one that the Conservatives are trying to own as well, leaving little daylight with the Liberals on many fronts. The difference may come down to a matter of scale: incrementalism for the Conservatives and grander projects for the Liberals.
So, do environmental issues play a role any longer in what seem to be the emerging battle lines in Ottawa? As with the B.C. election, we can't predict a possible renewed interest sparked by a surprise shuffling of positions in Ottawa -- remember for example that Brian Mulroney was named Canada's "greenest" prime minister. But we can predict that pressures from outside Canada will force the environment back onto the agenda this year.
Climate negotiations loom
The next major round of international climate negotiations will conclude in Copenhagen this December, and with a change of government in the United States and with scientists increasingly anxious about the fate of our life support systems, the expectation is that a meaningful deal will get hammered out.
The U.S. has been indicating that trade sanctions are a possible part of its climate action to "level the playing field" for U.S. companies vis-à-vis their international competitors, so Canada will finally be forced to implement a cap and trade system for major polluters to match action in America.
And guess what? How Canada's cap-and-trade system is rolled out has a major impact on the story that both major parties want to tell about national unity and economic recovery.
On national unity, will Canada design a cap-and-trade system that gives special treatment to Alberta and Saskatchewan to allow them to keep raising emissions, as those provincial governments are asking for to accommodate more tar sands pollution? Or will Canada's system require that all provinces do their fair share to bring emissions down?
On economic recovery, will Canada design a system that complements a necessary major push towards a green economy, or will we let Obama position American companies to out-compete Canadian ones in leading the next wave of industrial development and creation of green jobs?
Green is the new green
At the very least, these are questions that political parties in Ottawa cannot avoid. At best, these are questions that should be embraced considering that Canadians' concern over environmental issues hasn't gone away, and considering that global warming will become an ever more pressing issue to deal with.
Ignatieff could continue to play against type with a story that embraces Canada's fastest growing source of global warming pollution in the tar sands, but at some point he and his party will recognize the contradictions of this story both for national unity and for long term prosperity in the low-carbon economy of the future. Voters will be listening with interest.
Related Tyee stories: