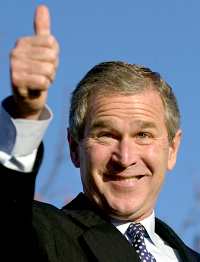 Before leaving office, President George W. Bush will pardon himself from the verdict of history.
Sources say History is pissed. "We had an open-and-shut case on this guy," one historical judge reportedly fumed. "We had him nailed."
Insiders confirm that the outgoing president will grant himself a full and formal reprieve from the court of public opinion. Such a pardon has the full force of law, and would apply to any judgments now pending or yet to be made by future judges of history.
Article II, Section 2 of the U.S. Constitution grants presidents the right to issue full pardons to anyone, regardless of crime. Controversial benefactors of presidential largesse have included Marc Rich, the fugitive financier pardoned by President Clinton on his final day in office; and Defense Secretary Caspar Weinberger, pardoned by President Herbert Walker Bush in 1992 for his role on the Iran-Contra scandal.
Constitutional scholars say that President Gerald Ford's 1974 pardon of ex-president Richard Nixon comes closest to setting a precedent for the action about to be taken by the current president. Still, no previous president has ever pardoned himself. As well, previous pardons pertained only to potential or existing criminal cases. President Bush's self-pardon would apply to the murkier realm commonly referred to as the "Judgment of Time."
Blanket protection
Experts believe that Bush's pardon would extend to opinion shapers in both the journalistic and academic realms. Retrospectives of the Bush presidency, already well underway in preparation for his January departure, will now likely be severely curtailed. Assessments of the Iraq war, torture scandals, constitutional crimes, the economic crisis and even political missteps like the "bring 'em on" and "mission accomplished" fiascos will now be replaced by simpler observations, such as: "He was the 43rd president of the United States," "He enjoyed an occasional hot dog and a ball game" and "He was right handed."
"We're not happy, of course," another historian offered. "The evidence was pretty clear, and the verdict was going to be a slam dunk. But we're pretty much hamstrung here."
Some indirect criticisms might still be available, such as, "The president's brother, Jeb, has a funny name," or "Between 1989 and 1998, Bush was part-owner of the Texas Rangers baseball team, which continued to suck the hind tit during this period." Still, fear of protracted legal action may put a chill on even these veiled attacks.
One hope remains, however. "There are a lot of amateur historians out there," one academic offered. "Does this pardon apply to them as well? We're in uncharted territory here. A constitutional pardon can shut me up. But it can't stop Joe Six-Pack from making a few choice remarks to his drinking buddies."
Others disagree. "I think that's covered too," said one expert.
Related Tyee stories: