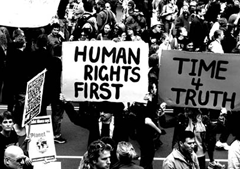 Today, we celebrate with cautious optimism the 60th anniversary of the Universal Declaration of Human Rights.
International human rights have steadily gained ground and are now codified in dozens of treaties. Enforced by national courts and international councils, they have saved countless lives. Yet they have also suffered setbacks, such as George Bush's decision to "take the gloves off" after the terrorist attacks of Sept. 11, 2001.
What will the next six decades bring?
Will Barack Obama succeed in repairing the United States' reputation as an international human rights leader? Will new treaties protect individuals who are still woefully exposed, such as aboriginals, gays, lesbians and transsexuals? Will our grandchildren -- as our grandparents did in the wake of the Holocaust -- reaffirm their "faith in fundamental human rights, in the dignity and worth of the human person, in the equal rights of men and women and of nations large and small?"
I believe that all these things will happen, for international human rights have displayed a remarkable resilience; they hold an intrinsic power enabling them to withstand the most egregious assaults on their precepts, returning to the centre of geopolitics time after time.
A defining moment
The international human rights movement has its roots in the 19th century. Slavery was abolished throughout the British Empire in 1807; many other countries joined the abolitionist movement in the following decades and, in 1926, the Slavery Convention was adopted by the League of Nations.
In 1859, Henri Dunant witnessed the aftermath of the Battle of Solferino, where 40,000 men died, many as the result of untreated wounds. When the young Swiss businessman returned to Geneva, he and some friends initiated a movement that became the International Committee of the Red Cross.
The adoption of the Universal Declaration of Human Rights took things to a new level. Drafted by Canadian law professor John Humphrey and U.S. first lady Eleanor Roosevelt, it constituted the first internationally agreed affirmation of a multitude of rights, including the rights to free expression, assembly, asylum, and the right not to be tortured.
Individual human beings went from being chattels of sovereign governments to autonomous agents with inalienable protections.
Next steps
The Universal Declaration was not a binding treaty. That step was accomplished in 1966 with the adoption of the International Covenant on Civil and Political Rights and the International Covenant on Economic, Social and Cultural Rights. These two treaties, which affirm and elaborate the rights set out in the Declaration, have since been ratified by more than three-quarters of all countries.
Another step was taken in 1973 after Salvador Allende, the democratically-elected president of Chile, was overthrown by General Augusto Pinochet. A small, London-based human rights group called Amnesty International campaigned vigorously against the regime of torture that followed, in the process transforming itself into the first mass membership, multinational non-governmental organization with real clout in international affairs. That clout soon delivered a UN Declaration on Torture (1975) and Convention against Torture (1984).
Cold War struggles
During the Cold War, human rights were used as political and ideological weapons, with Washington criticizing Moscow for failing to respect civil and political rights, and Moscow condemning Washington over economic, social and cultural rights.
It is important to understand that context when reading President Ronald Reagan's comments on the 40th anniversary of the Universal Declaration of Human Rights:
"For people of good will around the world, that document is more than just words: It's a global testament of humanity, a standard by which any humble person on Earth can stand in judgement of any government on Earth."
The Cold War struggles prompted some to argue that human rights are culturally relative; that they are a peculiarly Western concept that should not be forced upon nation-states with different social, cultural, ideological and religious traditions. Ten years ago, Kofi Annan, the then-Secretary General of the United Nations, put that argument to rest:
"Do not African mothers weep when their sons and daughters are killed or tortured by agents of oppressive rule? Do not African fathers suffer when their children are unjustly sent to jail? Is not Africa as a whole the poorer when just one of its voices is silenced?"
For better, for worse
In addition to being universal, human rights are meant to apply in the bad times as well as the good. Indeed, human rights are especially needed when the going gets rough -- as it has since Sept. 11, 2001 -- in order to protect against excessive and arbitrary state action.
Just six days after 9-11, President Bush signed a "presidential finding" that provided the CIA with broad authorization to disrupt terrorist activity, including by killing, capturing or detaining Al-Qaeda members anywhere in the world. On this basis, the agency began secretly transferring suspects -- like Canadian Maher Arar -- either to the intelligence services of countries notorious for torture or to clandestine prisons located outside the United States.
Four months later, the Bush administration began sending some suspected Taliban and Al-Qaeda members to the U.S. naval base at Guantanamo Bay, Cuba. Ignoring public criticism from a number of allied leaders, the UN High Commissioner for Human Rights and even the Red Cross, then-secretary of defence Donald Rumsfeld insisted the detainees could not be prisoners of war.
Mr. Rumsfeld refused to convene the tribunals required under the Geneva Conventions to determine their status, instead assigning them to a new category of "enemy combatants" that was recognized nowhere in international law. In November 2002, the English Court of Appeal opined that it was as if the detainees were in a "legal black hole."
The situation at Abu Ghraib Prison was worse. The image of a hooded man standing on a box, with electrical wires dangling from his outstretched hands, remains seared into our collective memory.
Finally, in December 2005, developments like these prompted Louise Arbour, the then-UN high commissioner for human rights, to issue the following public warning: "The absolute ban on torture, a cornerstone of the international human rights edifice, is under attack. The principle we once believed to be unassailable -- the inherent right to physical integrity and dignity of the person -- is becoming a casualty of the so-called war on terror."
Human rights return
In 2003, Maher Arar was returned from Syria. In 2006, George Bush admitted Abu Ghraib was a "mistake" and that "We've been paying for that for a long time." During the 2008 president election campaign, both candidates promised to close Guantanamo Bay. The ability of the United States to "win hearts and minds" had been severely compromised. The power of human rights -- expressed in part through international public opinion -- was beginning to be felt again.
The most remarkable contribution to that resurgence came on Nov. 4, 2008. For millions of people around the world, the election of Barack Obama brought hope that the United States might soon return to the constructive, cooperative, law-abiding approach that led to the United Nations and Universal Declaration of Human Rights. During the campaign, Mr. Obama spoke out against extraordinary rendition, torture and secret prisons. He also demonstrated empathy for human beings everywhere. To quote from his speech in Berlin on July 24, 2008:
"[T]he world will watch and remember what we do here -- what we do with this moment. Will we extend our hand to the people in the forgotten corners of this world who yearn for lives marked by dignity and opportunity; by security and justice? Will we lift the child in Bangladesh from poverty, shelter the refugee in Chad, and banish the scourge of AIDS in our time?
"Will we stand for the human rights of the dissident in Burma, the blogger in Iran, or the voter in Zimbabwe? Will we give meaning to the words 'never again' in Darfur? Will we acknowledge that there is no more powerful example than the one each of our nations projects to the world? Will we reject torture and stand for the rule of law?"
Statements like these are important, for they contribute to a world-wide perception that the United States will soon be back on track as an international human rights-respecting country.
Actions, as we know, count more than words, and the election of a black man as U.S. president is of much greater significance. It is an affirmation of our common humanity that is causing people around the world to reassess their assumptions about the United States. There is, all of a sudden, a new wave of good will towards America.
Yet similar waves of good will have appeared before, most recently in the weeks after 9-11. Which raises the question: as president, will Mr. Obama actually respect human rights and thus maintain the good will? Or will he, like Mr. Bush, squander that precious resource away?
International human rights themselves will survive regardless. They are strong, resilient, and offer a better way.
Related Tyee stories: