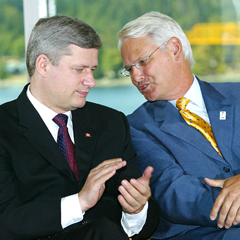 The day following the election, I heard veteran reporter Keith Baldrey comment that the BC Liberals could take heart from the fact that the province turned right in its majority vote for Stephen Harper and this Tories. With great respect, I beg to differ.
British Columbians have always been able to separate provincial elections from the federal ones. I well remember 1979 when there were overlapping elections and it was by no means unusual to see a provincial Socred and a federal NDP sign side by side in the same lawn. Workers on my campaign would be working for their federal favourites -- at each others' throats in the federal fight and chummy friends in my office.
The dynamics of federal and provincial elections are as different as night and day. There are three parties on the national scene, only two that matter in B.C. While some issues overlap, even similar ones are seen differently depending on the election in question. I think the federal outcome in B.C. was more leader against leader, with Harper easily besting Dion and Layton.
It's going to be interesting
Provincial elections in B.C. are always more interesting than federal ones and the campaigns bear that out. There's a feistiness in provincial elections and a feeling that if you vote right and your party wins, something will in fact be done. In federal elections, one gets the sense of participating in some remote exercise that only matters a little bit to us who live so very far away from where it does matter.
The next provincial election will have much to do with Gordon Campbell's personality, how he's perceived as a leader and how Carole James compares. I hasten to add, though, that popular leaders don't necessarily win over less popular ones. The outgoing, witty and always entertaining Dave Barrett went up against the dour and for many unpopular Bill Bennett three times and lost all three because it appeared to voters that Bennett was better equipped to deal with the issues that mattered.
Carole James got off to a slow start, to say the least. Her political experience having been confined to school board and school trustee politics was no help on the provincial scene. James, totally misunderstanding the function of the legislature, which is to figuratively spill blood that would otherwise be literally spilt in the streets, wanted to get bipartisan agreement to have all MLAs behave better. This was, of course, manna from heaven for Campbell, for whom a peaceful house really meant that he could do what he pleased with no one really showing anger.
James' rebuilding project
In fairness to James, she took over a party badly divided, with only two sitting MLAs. As with all political parties, the NDP is a coalition. But unlike other coalitions, the component parts of the NDP are much more independent of each other. James had to rebuild not only an opposition in the legislature, she had to rebuild a party torn asunder by the antics of the last couple of years of NDP rule. To me, the signs are that she is succeeding, slowly but surely.
If a party mimics its leader, the BC Liberals could be in trouble. In all my years watching governments, I cannot recall any matching the Campbell government's arrogance -- not even that of Pierre Trudeau. Moreover, he has managed to spread his arrogance right around the province.
BC's big issues
There will be, in my view, two overriding issues: the economy and the environment. While it's important to try to assess what the economical climate will be, we must surely admit it will pose big problems. The stock market crashes (and crashes they've been) will be in focus by next May. People will have digested the huge losses in their RRSP portfolios and whatever other investments they've made. They will see that their mutual funds will have been badly hit and those retired may see their pensions diminished and their personal savings down perhaps 50 per cent. One thing my broker had a hard time understanding, which is why I fired him and sold everything three years ago, is that older folks don't have a "long term" in which to recover. These people will expect Campbell to offer solutions and right now.
Then there is the environment apart from greenhouse gases. Whether it's fish farms and the dirty pact Campbell has with Alcan in the northwest, fish farms up and down the coast, proposed LNG plants on the north coast, the wiping out of the unique ecology at Eagleridge in West Vancouver, the transmission lines in Tsawwassen, the Gateway project, especially though not exclusively in Delta, the abandonment of the Cambie Street merchants, private power smashing the environment around the province or the stealthy but persistent privatization of BC Hydro, the premier has enraged British Columbians not just for what he's done, but for his callous indifference to the wishes of people.
In order for the Campbell government to fall, James and her colleagues must look like a government in waiting. This won't be easy as voters remember, especially, the last term of the NDP. She must find ways to showcase her better MLAs, not easy to do since the autocrat disobeys his own legislation and doesn't have fall sessions and the media bends over backwards to avoid dealing with anything that might hurt the government.
As recently as a few months ago, I would have said that Carole James was not up to the job. I'm changing my opinion. Bear in mind Mair's Axiom II, which says "you don't have to be a 10 in politics, you can be a 3 if everyone else is a 2, and Campbell is looking more and more like a 2." James has much improved her understanding of politics in B.C., meaning that the defeat of the autocrat and his toadies is a much more realistic possibility.
Censorship and profit
Let me close with a media story. Last week I spent three days on the northwest coast as spokesperson for the Save Our Rivers Society dealing with the private power plans of the government. A day or so before I left home, I gave an interview with a reporter with a radio station in the Interior. I don't want to name the station or other details because I don't want to get anyone in trouble. But I've heard from a good source that the station refused to run the report because it might offend Alcan, one of their major advertisers.
If true, then here we have another example of the state of free speech in the land of Campbell. The premier made the pact with Alcan to disregard the deal the original contract and legislation and permit, indeed partnered with Alcan to give Alcan a sweetheart deal to make hundreds of million dollars making electricity for sale instead of expanding aluminum production as the deal called for.
Don't blame Alcan. They're doing what corporations are supposed to do: make money. Blame the Campbell autocracy which has, hand in hand with Alcan, traded jobs in Kitimat for huge corporate profits from power.
Related Tyee stories: