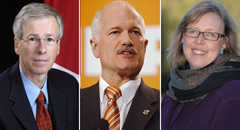 If the Conservatives do not get a majority in this election, Canada could still get a majority government. This could happen if the Liberals, NDP and the Greens (if they elect any members) formed a coalition. Such a coalition government would reflect the majority of Canadians who do not support the Conservatives. The Conservatives received only 36 per cent of the vote in the last election and, with a slight shift of fortunes, they may get less in the coming election. However, when the substantial majority of over 60 per cent gets split among four other competing parties, the Conservatives -- with a minority of the vote -- could wind up forming the government. This need not happen.
If for once the Liberals and the NDP set aside partisan politics and acted in the interests of Canada, it would be the beginning of a new era for us. In making this proposal, I am not suggesting a merger of these parties. The parties would remain as they are. They would only have to agree on a certain number of objectives and policies. On this basis they could form a majority government, or even a minority government with more seats than the Conservatives.
Cabinet seats could reflect the proportionate share of MPs from both parties. If the Liberals had 115 MPs and the NDP had 40, the Liberals would compose 75 per cent of the cabinet and the NDP 25 per cent. In such an arrangement, it would seem reasonable if Jack Layton became deputy prime minister.
At this stage, both of these parties need one another if they are to have a role in forming a government. Coalitions occur on a regular basis in Europe and in other parts of the world -- but so far, never in Canada, although the NDP and the Liberals did cooperate in the past. And it was at those times that some progressive legislation was passed. It is high time for this to occur again.
A shared platform is doable
The parties would have to agree on a joint platform, or a specific set of objectives in forming a coalition government. Of crucial importance to the NDP would be the agreement to enact proportional representation and the abandonment of any on-going commitments for Canada's further integration into the U.S. With hard negotiations, the parties might agree to some or all of the following:
Afghanistan. Canada's complete withdrawal of our military forces from Afghanistan, at the earliest date possible, and to direct our attention to UN peacekeeping.
NAFTA. Agreement to amend, and better still, to abrogate NAFTA. Only then could Canada once again have an independent energy policy. When it's in their interests, the U.S. simply ignores NAFTA rulings, e.g., softwood lumber. We would be better off with the rules of the World Trade Organization.
Families. A national child care policy.
First Nations. A national policy to work with First Nations to resolve their crucial problems.
Tax realism. There has to be a halt to the obsession of lowering taxes, which reduces the quality of our social services. "Taxes are what we pay for a civilized society" (U.S. Supreme Court Justice Oliver Wendell Holmes). It's taxes collected by governments that provide us with the wide array of social services and infrastructure, such as schools, medical services, libraries and parks, safe streets and livable cities.
An agreement on only a few of these proposals would justify the formation of a coalition government. Most importantly, it would remove Stephen Harper and the Conservatives from office and stop them from destroying the Canadian Wheat Board, stop them from further weakening and dismantling the CBC, stop them from wrecking further federal programs, especially healthcare, and stop them from weakening the overall role of the federal government.
Time for pressure is now
People should start putting pressure on these parties to begin such negotiations as soon as possible so that immediately after the election they would be prepared to go to the Governor General with the request that they be recognized as a majority coalition government. If these parties made a public announcement to this effect, the public through strategic voting could very well increase the strength of both parties.
Surely a government of this type would be in the best interests of Canada and its people. But can the leadership of these parties rise above short-term partisan politics? At a time when our country desperately needs this, are they capable of becoming statesmen?
Related Tyee stories: