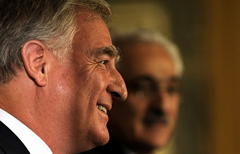 During his stop in Kelowna on the weekend, Foreign Affairs Minister David Emerson looked relaxed in his role as Conservative cheerleader, relieved to not be running in the election himself, but happy to help boost a caucus colleague who is.
He showed up at a pancake breakfast in support of Kelowna-Lake Country MP Ron Cannan wearing blue jeans and a grey sports coat on top of a white golf shirt. He was at ease, pressing the flesh with supporters of Cannan and the Conservative party and happy to chat with a local reporter in his role as his party's national campaign co-chair.
What exactly does a national campaign co-chair do? I asked him.
"Well, I asked the prime minister the same question when he asked me to do it," he replied with a light chuckle. "It really is to be there, to represent the party, to be the talking head from time to time when they need someone on an interview, to go around make sure the candidates are maintaining momentum."
From Liberal to a top Tory
Emerson has taken on the role of respected party elder, a veteran retiring from the partisan battles who shows up on the campaign trail to rally the current standard bearers. And yet he is doing it for a party he has never personally run for as a candidate, though he ran against them twice.
Covering the election in a place like Kelowna, where there is not much doubt about the outcome (just about anyone the Conservative's ran here would win handily and Cannan is widely respected in the riding) can be a little dull. But Emerson's appearance provided a rare injection of star power into an otherwise lacklustre local race, even if it was only for a gathering of about 50 party faithful. Up until now, the biggest name to come to Kelowna during the election was Green party leader, Elizabeth May, who stopped at the airport for a 15 minute rally before boogying up to Vernon.
Emerson's job in this campaign is to pump up the troops and let Conservatives, in ridings not getting a lot of attention from Prime Minister Stephen Harper, know that they are still important to the party's fortunes.
"Get out and vote," he told Cannan's supporters from a small stage set up in front of Cannan's campaign office. "The worst thing that can happen to the Conservative party in this election is lethargy and taking things for granted."
'We're seen as mainstream'
Emerson appears to be quite popular with the grassroots Conservatives here, which seems kind of surprising given that both times Emerson was elected to Parliament (in 2004 and 2006), he did so as a Liberal. But Emerson has won them over with his intelligence, personable manner and conservative economic principles. His defection and subsequent contributions to a Conservative government have made him a symbol of how the remade Tories have finally, once again, overtaken their old, beaten-up rivals, the Liberals
Now that he's had a chance to work closely with Harper, Emerson has a different view of him than he did during the last election, when Emerson warned voters about the Conservative leader harbouring a hidden agenda.
"I think under Stephen Harper's leadership, he's actually succeeded in the last four years or so of really attracting that broad swath of middle-of-the-road, moderate Canadians. I don't think we're seen as a party that's extreme in any way," he told me. "We're seen as a mainstream party that really focuses on ordinary Canadians, working Canadians and their issues and problems, whether it's taxes, getting their kids' schooling paid for, or crime or whatever. I think the prime minster has done a fabulous job of developing and articulating a coherent strategy for government."
Which, of course, contrasts with how Emerson now views his former colleagues. "Mr. Dion and the Liberal party have lost their way," he said.
'My skin is thick'
Asked about his views on partisanship, Emerson said he was not a member of the Liberal party when Paul Martin asked him to run the first time. "I knew Paul from his days as finance minister and admired what he did and he wanted somebody with an economic background to come in and help." Emerson has a PhD in economics from Queen's University and is the former CEO of the forestry company, Canfor, experience eagerly tapped by both the Liberals and the Conservatives.
Emerson said he joined Paul Martin's team, "not because he was a Liberal but because he was Paul Martin, and when Paul decided after two elections that he was going to step down, it basically left me dangling there. I got a phone call from Stephen Harper and the rest is history."
He added that he didn't intend to run a second time in 2006 but Martin talked him into it. "Paul said, 'No, no David, you've got to run, we don't want you jumping off a sinking ship,' so I said 'OK, I'll do it for you.'"
His decision to not run again this time was not because he feared the attacks he knew he would face, he said, but because of his family. "Really, I've learned to survive it now, my skin is thick. I've got scar tissue all over the place, and so nothing hurts anymore, but really, I've got kids still at home and in school and my son's in Grade 12 and my daughter's in Grade 9 and I thought I owe them a year or two of fathership before they leave home because I've been away for most of the last four and a half years, so we just made a family decision that it was time."
Before their party formed the government, many Conservatives denounced the violations against democracy committed by MPs who switched parties without a byelection, like Belinda Stronach. But since Emerson crossed over and became one of Harper's steadiest cabinet ministers, many party supporters have overcome their initial discomfort with one of the Conservatives best performers.
How party switching plays in Kelowna
"I don't like the switching parties," said Bryan St. George, a local businessman who attended the breakfast. "But my personal opinion is the only reason he was in the Liberal party is because he felt he wanted to give Canada some service and they were the only opening."
St. George went on to say he supported Emerson because Emerson is a smart businessman who, at his core, is really a Conservative and not a Liberal. "He has a conservative frame of mind and that's what we need in this country is people with less liberal frame of mind and more conservative frame of mind because if we keep going down the liberal road, we're going to pay a high price."
The difference between the two, he said, is "the liberal frame of mind seems to be tax and spend and the conservative frame of mind is 'hey, let people keep their money and spend it where they think is best, don't use the government as a means of relieving people of their money so that the civil servants and politicians can spend it to please themselves.'"
At the same time, party switching was never something that bothered retired lawyer and party supporter, Ian Disbery. "I don't see a problem with that, lots of politicians do that," he said. "People change their mind."
Disbery's* only regret with Emerson is that Emerson isn't running again. "I was very impressed with him," he said. "I think he's, if not the best minister, certainly one of the best, and probably the best."
Harper's pleasant dream
As for the man who famously said on the night of the last election after his Liberal party was ousted from power, "I would like to be Stephen Harper's worst nightmare," Emerson is clearly capable of getting down into the partisan mud when the occasion calls for it, but says he doesn't like it.
"Politics is great in the governance sense of the word. Governing the country and developing policy and legislation to make the country stronger and help people along, that's wonderful," he said. "Partisanship and the mudslinging and all the crap that goes on in partisan politics, I don't enjoy that very much."
And just because he doesn't want to face the voters himself this campaign, don't expect Emerson to go gently into the night.
"I've said to the prime minister, if he has interesting things that he wants me to do or to work on that is not part of the electoral process, I'd be delighted to continue to contribute," he said.
*Corrected at 10:20 a.m., Sept. 30, 2008.
Related Tyee stories: