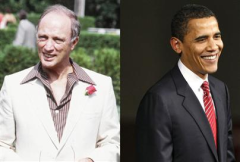 Even though I currently reside in Northern California, where news from Canada has to be sought out on the web on sites like The Tyee, I am well aware that Harper has called an election. I voted in the last federal election (I was in Vancouver then) and I'll feel frustrated again if Canada tilts even more to the right, away from our proud liberal heritage that, to some extent, still makes us the envy of the world.
Down here, of course, they've been in election mode for over a year now. The American presidency has a built-in timetable for withdrawal from the Oval office, so no one is ever surprised by the leader suddenly calling an election.
As a Canadian liberal in King George's court, I've had a ringside seat to the rabid culture war currently being fought on the bunting clad steps of town halls across this divided land. And it makes me think, sometimes, of home.
Down, way down, in the USA
Since most Canadians (Conrad Black and David Frum aside) would probably be Democrats, it's no surprise that Barack Obama is the candidate closest to my heart. He's inspiring to listen to, dynamic to watch and, after eight years of W, it's fascinating to see an intellectually curious person giving reasonable answers to the often ridiculous flag-pin questions asked by the appalling cable media down here.
Yet, all across the echo chamber of the right wing media, Fox News and AM talk radio, the conservative attack machine assails the hope-based movement of Barack Obama, who has gone, in their minds, from being the "presumptive" Democratic nominee for president of the United States to the "presumptuous" one.
"Hope is just buzzword!" they scream.
"Young liberal idealists!" they sneer.
"Change is just empty rhetoric," they assure themselves.
In the face of trying to prop up former maverick John McCain, who long since left the Straight Talk Express for the Trash Talk express route to the hearts of right wing neo-cons with the rather desperate and cynical addition of celebrity creationist Sarah Palin to the ticket, all these commentators can do is vainly try and counter the Audacity of Hope with their own Ferocity of Hate. Oh, and if that weren't cynical enough, now the McCain / Palin team have co-opted the word "change" to mean more of the same, or worse.
Keep (stylish) hope alive!
But as a Canadian who came of age in the Trudeau years, I can attest to the fact that hope, optimism and youth can play a significant part in raising a country's belief in itself and can go a long way to inspire a country to raise its potential. As a child, I may not have fully understood our own audacious change agent, Pierre Elliot Trudeau, but I knew two things for sure. Trudeau was cool, and for the first time in my short life, I found myself thinking that, by extension, Canada itself was cool.
The Trudeau years were our own version of Britain's swinging '60s "Cool Britannia" days of the mod fashions and groovy innovation. Sussex Drive was hardly Carnaby Street, but Trudeau dated pop singers and then married a chick from B.C. who went on to hang out with The Rolling Stones! He drove a sports car, went canoeing in a fringy buckskin jacket fit for Neil Young, and John Lennon even went to Ottawa to meet him!
When I got a little older, I became aware that Trudeau had invoked the War Measures Act to quell the Quebec crisis. While this struck chilling dissonance against my established image of the man, it didn't erase the fact that he had drawn the curtains on years of parochial federal government voyeurism by decriminalizing homosexuality and abortion in the Criminal Code of Canada and asserting that: "There's no place for the state in the bedrooms of the nation" and adding, "What's done in private between adults doesn't concern the Criminal Code."
Political details, however, had not mattered one metric iota to me as an apolitical child. I was buying the promise of a Cool Canada and Trudeau was the man who wore a funky designer hat to the Grey Cup kickoff. A year after Expo '67, here was this young-thinking guy with a mongrel French accent, with hints of Oxford erudition, telling it not just like it was but, like, how it could be.
Creating a 'Just Society'
I talk to a lot of Obama supporters down here, and read their thoughts on the blogs. Quite a few of them know the detailed specifics of Obama's policies to wrest America back from the failed strategies of Bush's neo-con puppet masters. They know them by heart. But for some Obama supporters, it doesn't even matter. These kids were born long after the hopeful fires of John and Bobby Kennedy became eternal flames on well-tended lawns. For these young people, it's enough that someone in public life wants to inspire them, and challenge them to be a force for positive change after so many cynical so-called leaders have disenfranchised them in the recent past.
And I'm here to tell them, based on my own memories of the Trudeau years, that hope might just be enough, as long as you're willing to fill in the blanks and work for it. I remember that irrational but incredibly powerful feeling that Canada was capable of being a "Just Society."
I still think that, even after the Harper years, and Canada's social politics still command respect from any American who actually knows anything about our proud history of liberal social policy.
I tell my American friends that they can have their own Trudeau, his name is Obama, and that they have to fight for what Dr. King called "the fierce urgency of now" in the face of what I call "the false potency of No."
Related Tyee stories: