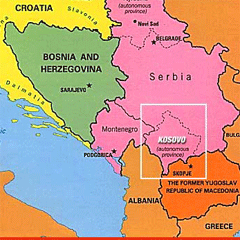 What impact does recognition of Kosovo have on Europe on the one hand and Canada on the other?
It is confidently asserted by those set in authority over us -- in that lovely Victorian phrase from the Anglican Book of Common Prayer -- that our recognition of Kosovo as an independent state will have no effect upon Canada's relationship with Quebec. That seems to be a correct, not to say wise, statement given the present state of separatism in Quebec.
However, as Canadians have seen (though they've learned no lessons), Quebec separatism never leaves us but merely hibernates from time to time.
Recognition of Kosovo was inevitable. As Churchill once observed, recognition is not done to "confer a compliment but to secure an advantage." Kosovo has been an independent state in fact for some years and there seems no alternative but to recognize that as a fact (de facto recognition), and legally defensible (de jure).
NATO next 'nation'?
With Kosovo's spiritual home, Albania, moving to join the EU and NATO, it seems that this path will be irresistible to Kosovo.
"Nations" within a state now have one more precedent to justify their fight for independence. The Catalonians and Basques in Spain come readily to mind and there are others. But these things don't happen quickly. It took the United States 13 years to recognize the Soviet Union. It took even longer with "Red" China.
The recognition of Kosovo does not imply that minorities all over the world will pour into the streets waving new nationalists flags and singing new anthems as they take over their part of the country.
The biggest secession of recent times came with the breakup of the Soviet Union and we see now that some of the breakaway nations are moving closer and closer to Moscow, demonstrating that predicting the fallout of secession is a dangerous game.
How to insult a Russian
The international impact of the recognition of Kosovo is on Russia's relationship with the West.
Russia has always regarded itself as the kindly old uncle towards all Serbs. It was this pan-Slav sense that provided the spark for World War I. The Austro-Hungarian Empire mobilized for war against Serbia (because Serbia didn't, in their eyes, sufficiently apologize for the assassination of Grand Duke Ferdinand in Sarajevo), which led Russia to mobilize to protect Serbia. The race for the trenches was on.
Russia still regards itself as the spiritual home of Slavs but their concern for Serbia would probably be "pro forma" had only the West not behaved as it did after the breakup of the Soviet Union. The United States had a glorious opportunity to follow Churchill's dictum, "In victory, magnanimity." Instead it gloated and what aid it did provide was spasmodic and desultory.
Then NATO, of which America is the senior partner, wooed former Warsaw Treaty nations and new countries formerly part of the USSR. This was, we surely can understand, seen both as an insult and a real military threat to Moscow.
A part time drunk and buffoon and part time man of extraordinary courage, Boris Yeltsin was replaced by the steely tough, former KGB officer Vladimir Putin who has straightened out the huge economic mess made first by the Communists and then by the corporate thieves who moved into the economic chaos.
New arms race brewing?
Putin is the new Russian iron man and he is angry, very angry. Freedom of the press is gone as is the short lived fair election process and the semi-democracy it spawned.
With America moving its "Star Wars" space weapons program into Eastern Europe, Mr. Putin, with some justification, sees this defense shield as aimed at Russia, not just some rogue states. Russia, already the second most powerful nation in the world, will now, under an angry President Putin work overtime to gain the ability to push the shield out of the way or in some way nullify it. What this means, of course, is a renewed arms race.
This is not all happening because unimportant Canada recognized Kosovo nor, indeed, just because the United States and others did. But it's one piece of the puzzle.
There will be consequences and the noises being made by President Putin ought to make NATO consider the wisdom of taking in areas that for a long time were within the Russian sphere of influence, to put it mildly.
Meanwhile back at home . . .
What about Canada?
No political action, no matter how minor it appears, is without consequences. The immediate consequences on Canada of the Kosovo recognition appear be minor but I fear this will change. While there are scarcely flag waving crowds flocking to the national assembly demanding independence on the strength of the Kosovo recognition, this event does have an impact especially in light of the recent foolish declarations by both the Liberals and Conservatives that Quebec is a "nation."
Nation within nation situations do not have a good track record. Ethnicity never dies as the breakup of Yugoslavia demonstrates. Intact minorities in Romania, Spain and France demonstrate that. As does, indeed, the United Kingdom where Scots have remained Scots even though the English/Scottish single kingdom came into being over 400 years ago. Ireland struggles under ethnic division that goes back to the 11th century.
Ironically, if Quebec were to secede, the hitherto helpful example of Kosovo would quickly bite them on the backside since the minority would no longer be Francophones in Canada but non-Francophones within their new country.
It can be concluded, I think, this way. Canada had little choice but to recognize Kosovo. But that recognition did add a couple of chips to the Quebec's stack, especially as it came at a time when the Liberals and Conservatives, for short term political profit, declared that Quebec is "a nation."
Over the past 50 years, (a very short time in constitutional terms), Quebec has gone from "maitres chez nous" to "sovereignty association" to "distinct society" to "nation."
What do you suppose the next step will be?
Related Tyee stories:
=end fact_box