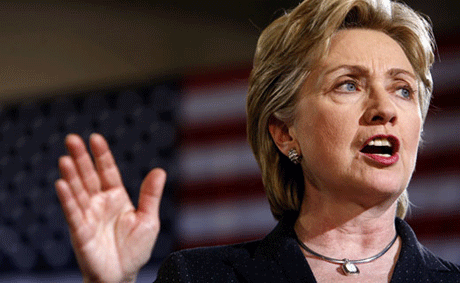 Austin is a sprawling city of suburban strip malls and downtown bars. Next week, those bars will be overflowing with hipster musicians, fans and record company executives as the world descends for the huge South By Southwest music festival. But today, Austin is ground zero for American politics.
Since I arrived four days ago, the Texas Democratic primary has been on everybody's lips. Sipping margaritas at the Red House Lounge on Saturday night, a local artisan said she's never seen so much excitement around an election, let alone a Democratic primary.
She had not yet decided whether to vote for Hillary Clinton or Barack Obama, a statement that sparked what has likely been the most common alcohol-fueled debate in Austin lately. Her friend, a painter, argued for Hillary's political experience and firmer policy plans over Obama's charisma and apparent lack of solid ideas.
As a Canadian, I'm having to rethink my perceptions about the state that gave us George W. Bush and still executes more convicts than any other in the union. There is a Republican primary today, too, but the main topic of discussion here seems to be whether the Democrats should field a candidate to be America's first black president or its first woman president.
Of course, Austin is the most liberal city in the Lone Star State. And if the number of lawn signs and sign-waving supporters on the streets are any indication, it seems to have succumbed to the wave of Obamamania that has swept 11 states in a row.
Obama is also ahead in the admittedly completely unscientific "pastry poll." Quack's Bakery in the leafy Hyde Park neighbourhood has been selling "political shortbread cookies" shaped like O's and an H's. On Sunday, Obama had about a 160-cookie lead.
Do or die for Hillary
Whether today's Texas primary kills the Clinton campaign or gives it new life, it's a fitting place for her last stand. In 1972, she and her future-husband, Bill, worked on voter registration in that state for George McGovern, who was running on an anti-Vietnam War platform against President Richard Nixon.
"In a real sense, I began my journey in Texas 36 years ago," Clinton told supporters at the Austin Convention Center yesterday as she faced the biggest political battle of her life.
It's a journey she hopes will take her all the way to the White House, but it could end here if she loses today.
Polls show the candidates for the Democratic nomination running neck and neck in Texas, but Clinton needs a decisive victory if she is to fend off pressure to drop out of the nomination process.
Andrew Karch, an assistant professor at the University of Texas's department of government, warned that the race is "too close to call."
However, he said, "On first glance, the way the delegates are allocated seems to favour Obama."
Karch is quick to admit his state's system of choosing delegates can seem baffling to anyone without a PhD. "Texas has one of the strangest systems out there," said Karch with a laugh. (See sidebar).
Primary fever
The fact that Texas is the locus of a momentous political battle hasn't escaped the attention of residents who have already come out in what could be record-breaking numbers.
Texas Secretary of State Phil Wilson told Associated Press that about 60 per cent of the 3.3 million people expected to participate in the Democratic and Republican primaries voted early. He also predicted a record turnout today.
"It's an unusual situation and I think it's been quite a boon for the Texas Democratic Party, which has faced difficulties over the past few years," said Karch. "I think Democrats are really excited."
A Sunday editorial in the Austin American-Statesman accused the Democratic Party of ignoring the state over the past 12 years. "Democratic presidential candidates and the national party have shunned Texas, handing it to the Republicans without much of a fight," said the newspaper.
But both candidates for the Democratic nomination were here yesterday fighting for votes. Obama spent the day in San Antonio, a city with a large Hispanic community that is loyal to Clinton, according to pollsters. Clinton held two events in the Obama-stronghold of Austin.
Besides being the state's most liberal city, Austin lies in the district with the most delegates of any in Texas. Rather than allocating delegates according to population, the party gave more delegates to districts that saw higher numbers of Democrats turn out to vote in the 2004 presidential election and the 2006 gubernatorial race.
That's a problem for Clinton. While she is expected to gain overwhelming support from the Hispanic community, which comprises 36 per cent of the population, much of it is spread through districts with fewer delegates. Fifteen of the 31 districts have only four delegates. Meanwhile, the Senate district that includes Austin has eight delegates and is dominated by an Obama-friendly contingent of educated professionals, young people and a smaller but politically active population of African-Americans.
To make matters worse for Clinton, the senators representing the three districts with the most delegates are backing Obama.
If Clinton wins the popular vote today, she could still end up with fewer delegates, said Karch.
On the other hand, even if Obama wins Texas, "He won't have enough delegates to clinch the nomination."
And there are smaller primaries in three other states today too -- Ohio, where polls give Clinton a slim lead, and much smaller ones in Vermont and Rhode Island.
Another wildcard in Texas is an expected spike in independent voters and disgruntled Republicans casting ballots in the Democratic primary. "There's potential for a really ambiguous result," said Karch. "The question then is whether there will be pressure from party insiders telling (Clinton) to go home."
New vision for America?
If Clinton was feeling desperate yesterday she didn't show it. Her first appearance in Austin was billed as a "Texas-sized Town Hall," where she took vetted questions from audience members.
The Hillary love-in was broadcast on local cable and streamed on her website, and it gave her one last chance to show Texas that she is about implementing policy and not just making inspirational speeches -- an accusation she has been throwing at her rival.
As president, Clinton promised to bring in universal health care, pull troops out of Iraq, make post-secondary education affordable, move the U.S. economy away from oil and toward renewable energy, and implement a comprehensive strategy to lift 37 million Americans out of poverty.
"I would take the constitution out of cold storage and warm it up," she said in response to question about President George W. Bush's alleged abuse of executive power.
Her voice hoarse from campaigning, Clinton mentioned other lofty goals too. Her supporters clapped and cheered enthusiastically.
Melissa Odom will give Clinton her vote in this evening's caucus. "She's a woman and I want to see a woman president," said Odom, adding that this race has generated unprecedented excitement in Texas. "We've never been able to decide an election before," she said.
Regardless of who wins the Democratic primary, Texans have shown their stripes in a race that has captured much of the world's attention. And it comes a surprise to at least one Canadian that many of those stripes are Democratic blue rather than Republican red.
Related Tyee stories: