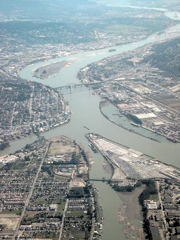 Over the past two years, I've been privileged to act as facilitator for Metro Vancouver (formerly the Greater Vancouver Regional District). I've chaired some 25 meetings relating to the Livable Region and how it is impacted by issues such as transit, crime, density, economic development, employment and so on. I have probably listened to more than 100 presentations and, as importantly, listened to so-called stakeholders. It's been an awesome experience, and has given me a great opportunity to get an overall look at how the region functions, and some of the challenges it faces.
In a way, Metro Vancouver is like a federal system, with the component parts being like provinces and Metro Vancouver the federal government. But there is a major difference: in Canada, the federal government permits provinces to act within their constitutional boundaries, while in B.C., municipalities are never permitted to forget that they are children of big mama in Victoria.
Before I started doing this exercise in power making, I would have favoured a more centralized scheme for Metro Vancouver. Now I'm not so sure. These issues are often debated, with the pro-amalgamation folks going on about duplications and economies of scale.
The issue has surfaced most recently is the context of calls for a regional police force. West Vancouver, New Westminster, Delta and Vancouver have their own police forces, while the balance use RCMP.
Always at the back of the mind of those dealing with this issue is the fact that it's not been a great decade for the police in Canada, what with the Morin, Marshall and David Milgaard cases, where police perjury sent three men to jail for murders they did not commit; taser deaths; questionable handling of drunks; Friday night police drinks parties in the wardroom; and so on.
Whether we would be better served by a region-wide Metro Vancouver police force is for others to debate.
When I think of municipal issues, I find myself less worried about how we govern ourselves, but stew over this basic question: where the devil does it all end?
Provincial consultation akin to 'show trials'
There are two projects that have caught my eye. The obvious one is the expansion, upgrading and dramatic changing of the Sea-to-Sky Highway, which runs right through where I live in Lions Bay.
There is no question that the current road is a dangerous highway, but were it not for the 2010 Olympics, much could have been done to make it safer by modest changes and better policing.
What now will happen is a series of developments along the highway, and considerable expansion of Squamish. On the axiom "Build it and they will come," it will not be long before the new four-lane highway is no better at handling the traffic than the present one.
Delta will be similarly impacted. The Municipality of Delta is one of the oldest, if not the oldest, farming community in British Columbia. The South Fraser Perimeter Road will have a substantial impact on sensitive environmental areas, and as "progress" continues, more people will arrive and roads and other infrastructures will need expanding and upgrading.
I've dealt with this problem before, and will only touch upon it now: government environmental impact studies are a cruel farce. By the time the government orders them, the deal has already been done and consultations with the public are about as fair as "show trials" used to be behind the Iron Curtain.
Livable Region Strategic Plan
Metro Vancouver has been guided by a Livable Region Strategic Plan since 1996, when it was adopted with the support of all municipalities. The Province of B.C. has recognized the plan under the Growth Strategies Act. The primary goal of the plan is to help maintain regional livability and protect the environment in the face of anticipated growth.
The four main strategies of the plan are:
Protect the Green Zone: The Green Zone protects Greater Vancouver's natural assets, including major parks, watersheds, ecologically important areas and resource lands such as farmland. It also establishes a long-term growth boundary.
Build complete communities: The plan supports the public's desire for communities with a wider range of opportunities for day-to-day life. Focused on regional and municipal town centres, more complete communities would result in more jobs closer to where people live and accessible by transit, shops and services near home, and a wider choice of housing types.
Achieve a compact metropolitan region: The plan avoids widely dispersed development, and accommodates a significant proportion of population growth within the "growth concentration area," in the central part of the region.
Increase transportation choice: The plan supports the increased use of transit, walking and cycling by minimizing the need to travel (through convenient arrangement of land uses), and by managing transportation supply and demand.
Why not give democracy a chance?
My essential question is this: what happens when senior governments want to do something that one of the component local governments of Metro Vancouver either isn't fussy about or simply disapproves of -- such as the overpass at Eagleridge Bluffs near Horseshoe Bay, or a massive undertaking such as expanding Deltaport, including a highway that endangers wildlife preserves and threatens agricultural land?
At present, when the provincial government decides to do something, it does it. Then, as an afterthought, it gets an environmental assessment. That the project will be approved is a foregone conclusion of nearly all B.C. environmental assessments. There is very little ability of the public to stop, amend or slow down Victoria's pet projects.
The questions I raise are easily dealt with by business groups like boards of trade or chambers of commerce. "We must have progress," they say. "If you don't go forward, you'll wind up going backwards." And, of course, "Jobs! Jobs! Jobs!"
Surely the time has come to finally face the elephant in the room and set some sort of standards for growth. How big do we want to be? Do we really want to continue growing bigger and bigger and let future generations worry about congestion in every sense of that word?
Common sense tells us that there must be some point at which we say, "Enough is enough!"
But shouldn't we know, at this critical juncture, where the Gateway Plan will have such an impact, look down the road and anticipate what new stresses will come after Gateway?
Do we keep encouraging new arrivals to settle in B.C. without any plans as to how they and future immigrants will be accommodated?
Ought not the public be given an opportunity to deal with this vexatious problem, before decisions are made?
I realize that democracy is difficult for a government to deal with. But just for the hell of it, why not give it a chance?
Related Tyee stories: