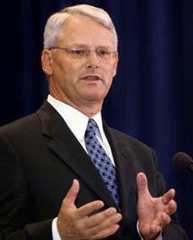 "These are the times that try men's souls" -- Thomas Paine, as his pen helped launch and sustain the American Revolution.
Thanks to the Campbell government the system of appointing the TransLink board has become a farce. Now all the financial aspects of TransLink are handled by a board hand picked by Campbell -- while the political problems they create are to be borne by local councils. Pretty nifty!
Here's the little shell game Campbell & Co. played:
The first step to creating a new TransLink board was appointing a screening committee of five to select a panel which would give Metro Vancouver a list of 19 "safe hands" (for Campbell).
That screening committee consisted of an appointee by Premier Gordon Campbell, one from the Vancouver Board of Trade, one from Greater Vancouver, one by the Institute of Chartered Accounts, one appointed by the regional mayor, and one from the Gateway Council which describes itself thusly: "The Gateway Council is a dynamic, industry-led organization of senior executives from the seaports, airport, carriers and other companies engaged directly in the Gateway transportation business."
Take care now, for here's where the fun begins. This "selection panel" then presented a list of 15 potential directors of TransLink (you can guess how many on that list will stand up for you and me) from which the mayors must select nine.
Were you watching? The new nine-member board will come from 15 people selected by a blue ribbon committee appointed by Gordon Campbell. That's the new BC Liberal democracy, Campbell style.
Incidentally, when it went to Metro Vancouver there was no "loaded vote" as is customary but everyone had one vote -- one for the mayor of Vancouver, one for Belcarra Park, one for Surrey and one for Lions Bay.
Steer to the right!
It's also noteworthy that Marvin Schaffer, a long time adviser to TransLink and adjunct professor in public policy at Simon Fraser University was told by Mike Harcourt, one of the screening panel, that he wasn't even on the short list. Why not? Schafer is probably the number one expert in the field but is seen as a leftie! Might that have been the reason?
The screening committee members were all fine gentlemen and good citizens. I've no quarrel with any of them. What I very much quarrel with is a screening committee hand picked by the premier and, with the exception of Mr. Harcourt, all from the business, dare I say, Conservative (big and small "c") community.
Friendly faces
This new TransLink board, all Campbell approved, without an elected person on it, will have the power to raise property taxes, buy and sell property, change property taxation classifications and run its own police force.
Here they are: Dale Parker, a businessman who's business financially supports the Campbell crowd; Nancy Olewiler, an economist who serves as a Liberal appointee on BC Hydro's board of directors; David Unrah, lawyer and businessman who serves on many boards of directors and, get this, is the corporate director of Canada Line Rapid Transit which is overseeing the construction of the RAV -- oops! -- Canada Line (A little conflict of interest here?); Jamie Bruce, an investment banker; Sarah Goodman, PR spokesperson for Weyerhouse; Robert Tribe, long time Executive Director of SNCF Lavalin, which makes buses and transit stuff (surely not another conflict of interest!); Cindy Chan Piper who has a consulting firm, is a member of Vancouver's right wing Non-Partisan Association and is a vocal supporter of Sam Sullivan (Gosh! Not another conflict of interest!); and Skip Triplett, who has been an executive with BC Tel (now Telus), Xerox of Canada and the Steel Company of Canada.
There you have it folks. Nine members of the business community all approved in advance by Premier Campbell to represent the needs of two million Vancouverites.
To hell with citizens
How do you feel about this TransLink if you live in a part of Metro Vancouver who doesn't vote right?
These men and women with no mandate from taxpayers will decide how hundreds of millions of your taxes will be spent. When the argument is made that they were approved by the mayors, remember that the only discretion the mayors had was to pick nine names from Campbell's list of 15 friends of his government.
We've seen it before
All of this, of course, fits into a well established mode of operation by the Campbell government. Let's revisit a couple of projects where local mayors, councils and citizens have been shut out of the process -- unless you consider being consulted after the deal is done due process.
There's the expansion, upgrading and dramatic changing of the Sea-to-Sky highway.
There is no question that this is a dangerous highway but were it not for the 2010 Olympics, much could have been done to make it much safer by modest changes and much better policing.
What now will happen is a series of developments along the highway and considerable expansion of Squamish with the public only consulted after the decision was made. On the axiom "Build it and they will come," it will not be long before the new four lane highway will be no better at handling the traffic than the present one.
Another obvious area which will be similarly impacted is the Municipality of Delta, one of the oldest, if not the oldest farming community in British Columbia. The South Fraser Perimeter Road will have a substantial impact on sensitive environmental areas and, as "progress" continues, more people will arrive and roads and other infrastructures will need more expanding and upgrading.
Cruel farce
Government environmental impact studies are a cruel farce. By the time the government orders them the deal has already been done. Consultations with the public are about as fair as "show trials" used to be behind the Iron Curtain.
What happens when Victoria wants to do something against the wishes of a local council?
The Campbell government does it anyway and to hell with letting citizens and their councils into the project before it's a done deal. The politicians closest to you, your municipal councils, can do nothing because Victoria in the person of Gordon Campbell has stripped away its rights.
Last week it was the turn of transit, until now run by the mayors of Metro Vancouver (formerly the GVRD).
And what was the fundamental issue that triggered the American Revolution? Taxation without representation.
Well folks, George III is alive and well. He runs his fiefdom in a great big office in the parliament buildings in Victoria.
Related Tyee stories: