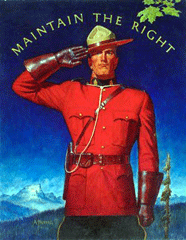 Ever since the radio days of Sgt. Preston of the Yukon over half a century ago, I've been a fan of the Royal Canadian Mounted Police.
When my wife and I became Canadian citizens in 1973, we were thrilled to see a strapping Mountie in red serge attending the ceremony. In my few encounters with the Mounties since then, I've found them superbly competent and professional cops, and really nice people.
But it's time to disband the RCMP, and to build a whole new police culture in this country.
The grotesque killing of Robert Dziekanski is just the proverbial straw on the camel's back. Now that most of us have seen that poor man welcomed to Canada with multiple Taser shocks, we need to look again at the RCMP's last few decades.
Public hazard
This is the same RCMP that killed two men in the Winnipeg General Strike in June 1919. In the Great Depression the RCMP was routinely used to break strikes. For decades the Mounties spied on Canadian universities, and built up a big dossier on Rene Levesque as a supposed communist.
In the 1970s, the RCMP staged a dirty-tricks campaign against Quebec separatists that led to its loss of the intelligence function and the creation of CSIS. That in turn led to a bureaucratic turf war whose buried bombs are still going off, including the recent report that the Mounties ruined CSIS's chance to infiltrate the Air India bombing conspiracy.
In just the last two or three years, Mounties have sent their own people ill-prepared into fatal encounters — four dead in Mayerthorpe, Alberta; two in Spiritwood, Saskatchewan; one in Edmonton; most recently, 20-year-old Const. Doug Scott, shot in Kimmirut just a few days ago.
The Mounties are a hazard not only to themselves but also to their fellow Canadians. Less than two years ago, a Mountie got 18 months in jail for sexually assaulting two girls — one in Vancouver in the early 1990s, the other in Terrace in 2004. Another officer, accused of having sex with underage teenage prostitutes in Prince George, escaped punishment thanks to RCMP slowness in pressing charges.
A Mountie stationed in Vanderhoof escaped charges for shooting and killing a drunken burglar. In May 2006, Ontario Finance Minister Greg Sorbara won a battle against the RCMP, which had accused him of criminal wrongdoing.
The Mounties busted a young British Columbian named Ian Bush for drinking beer in public; minutes later, in the RCMP station house, he was dead with a bullet in the back of his head. They gave mistaken information to their American pals, sending Maher Arar into the hands of the CIA and then into a Syrian torture cell.
The RCMP as political meddlers
Perhaps the most ominous Mountie crime of all occurred in the 2006 federal election campaign, when they advised an NDP candidate that the police were investigating possible inside trading in income trusts by the Liberals. That could well have finished off Paul Martin's career, putting Stephen Harper's Conservatives in power.
We fret about each incident, but ignore the pattern. The Royal Canadian Mounted Police, like J. Edgar Hoover's FBI, has flourished for over a century on great media relations. The Mounties look gorgeous on horseback; their uniforms invoke a raw, comforting masculine power of broad shoulders, jackboots, and big pistols in big holsters.
But they are the descendants of an improvised force, slapped together to deal with a political crisis in the Cypress Hills in 1873. American "wolfers" — traders in buffalo skins and toxic whiskey — slaughtered about 20 Nakodas near the site of Fort Walsh, now a tourist site.
The very young Canadian government in Ottawa scraped together a new North West Mounted Police and sent it west. These cops charged some of the wolfers and brought them to trial, but none was ever convicted. They didn't get their man that time, and they rarely get their man when he's one of their own.
A coup against the Mounties?
That self-protective culture is one of the most difficult challenges to cleaning up the RCMP. You would think that the Mounties would instantly expel any of their members consorting with underage prostitutes or shooting young men in the head.
Instead they close ranks around the malefactor, drag their heels, and make it as hard as possible to determine the facts of the case. Even the tarnishing of their reputation seems an acceptable price to pay. Their political masters talk about "process" and wait for the stink to dissipate.
It seems unlikely, therefore, that the Mounties can be reformed by appointing the right commissioner and revising a few policies. A government that seriously wanted to clean up the RCMP would have to mount a lightning coup against it. J. Edgar Hoover protected himself by maintaining detailed files on all his political masters and enemies. The Mounties doubtless have similar files on everyone now active in politics, just as they did with Levesque.
So reliable forces would have to seize RCMP offices and files, sparing the politicians (at least temporarily) from embarrassment or worse. Senior Mounties would be offered a choice: immediate retirement or criminal prosecution, most likely on charges of obstruction of justice.
The rank and file would find themselves in the position of Saddam Hussein's army. It would be folly to sack them all, but equal folly to re-hire them under the old terms and the old culture. Perhaps we could give them a choice also: a return to boot camp, to drop their old Taser-loving values and to learn a whole new set of police virtues, or to leave the profession.
The new order
Those who passed boot camp would then be free to apply to new provincial police forces. Those forces would have unions to protect their members' interests, but independent civilian agencies would oversee them. Never again would a police force investigate itself, or another police force. Any cop who stonewalled his civilian masters would be advised to send his resume to Blackwater, and good luck to him.
Until the killing of Robert Dziekanski, I would never have dreamed of such a radical change to the law enforcement of Canada. But when we look back objectively at the history of the RCMP, only a radical change seems likely to save the values that the Mounties are supposed to embody and protect. Many officers might welcome such a change, even if it meant resuming their careers in provincial uniforms.
For all the failures of Canadian law enforcement, we remain — I hope — a nation with sincere respect for the rule of law.
And respect for law must compel us to disband the RCMP.
Related Tyee stories: