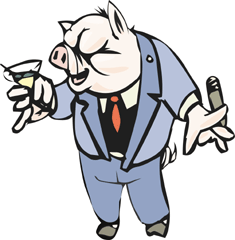 Federal election law limits some donations to limit unethical influence of wealthy interests, but secret, unlimited donations are still legal
On August 1, the Globe and Mail claimed to have "discovered" in Canada's federal political donations law a loophole that allows a donor to donate more than $60,000 in secret to a political party through small donations to each of the party's riding associations. Actually, this is neither a discovery, nor is it the only or most serious federal secret donations loophole.
The association donation loophole was highlighted in Democracy Watch's 1999 report "For the Best Government Money Can't Buy."
And yes, it is illegal for corporations, unions and other organizations to make donations to parties, riding associations or candidates (since January 1, 2007), and illegal for individuals to exploit this loophole to make donations larger than the legal limits of $1,100 annually to each party, $1,100 annually combined total to each party's associations, and in an election year an additional $1,100 combined total to each party's candidates (all three limits increase each April 1st based on the inflation rate). But these limits cannot be enforced because of weak disclosure and enforcement measures.
The real solution
A follow-up Globe editorial board editorial recommended lowering the non-reportable donation limit for riding associations from $200 back to its pre-2003 level of $100, which would do little to solve the problem as corporations, unions, other organizations or individuals would still be able to donate more than $30,000 to a political party through donations of $99.99 to each of its riding associations without the associations being required to report the donations.
Democracy Watch's 50-member group Money in Politics Coalition has been pushing since 1999 for an actual solution: requiring riding associations to register and disclose all their donors and giving Elections Canada the power and mandate to audit the finances and operations of parties, riding associations and candidates annually to ensure they are following all the rules.
Even if these measures were made law, other even more significant loopholes need to be closed to ensure that federal parties, associations, candidates and government officials are not taking secret donations of money, property or services, loopholes that the Globe and Mail and most other Canadian media, and federal political parties, continue to ignore.
These loopholes, and others closed by recent changes to federal law, are also open in provincial and territorial laws, and include the following:
secret, unlimited donations to nomination race and party leadership candidates are allowed (as long as the donation is not used for their campaign)
riding associations are allowed to establish a trust fund and take secret, unlimited donations to the fund (and to use the donations for anything other than campaigns)
parties, candidates and associations are not required to track or disclose donations of volunteers' services by corporations, unions or other organizations
federal MPs are not required to disclose to the federal Ethics Commissioner any property or asset they have that is worth less than $10,000, and the commissioner has no explicit auditing powers to ensure MPs' annual financial statements are accurate
contrary to the United Nations Convention Against Corruption (which Canada's federal government has signed but not ratified) and the guidelines of the international Financial Action Task Force (FATF -- headed by a Canadian and currently headquartered in Canada) suspicious deposits to the bank accounts of politicians, and government policy-makers and decision-makers, are not reported for possible investigation.
So while the Globe's editorial claimed that the ban on donations from corporations, unions and other organizations and the limit of $2,200 (the Globe incorrectly claimed the limit was $1,100) on annual individual donations to political parties and riding are "unrealistically low limits" that "encourage individuals to look for ways to skirt the rules, such as small donations to individual associations", in fact, any donor wanting to give secretly could do so much more easily and at greater amounts through the completely legal avenues listed above.
Close the loopholes
With an average annual salary of $35,000, most Canadians can afford at most an annual donation of $1,100 (which is approximately what a donation of $2,200 would cost after donation tax deductions are factored in). To adhere to the democratic principle of one-person, one-vote, all political donation laws in Canada should restrict donations to the same low level as the federal law. Higher donation levels allow only wealthier people to use money as an undemocratic and unethical means to buy influence with candidates, politicians, government officials, riding associations and political parties (and, therefore, with governments).
For decades, all federal political parties (yes, even those who criticize the current federal Conservative government's reluctance to close the association donation loophole) have pretended to be interested in closing all the secret donation loopholes in federal laws.
Most recently, all federal parties pretended to pass an effective "Accountability Act" which in fact left open more than 80 loopholes in the federal government's overall honesty, ethics, openness, representation and waste-prevention accountability systems, loopholes that are recipes for corruption, waste and abuse of the public trust and interest.
Provincial and territorial governments all have a similar number of loopholes in their accountability systems, and their politicians have similarly pretended for decades to be interested in closing these loopholes.
For decades, many of Canada's mainstream media outlets have played along, pretending to pay attention to the loopholes. Canadians deserve better, both from their political parties, and from their media.
Related Tyee stories: