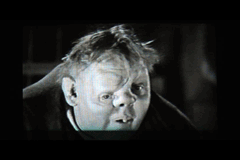 [Editor's note: Andrew Struthers showcases his videos as commentary on The Tyee. His biggest YouTube hit drew 5 million viewers. His latest short film, with an accompanying essay, runs below.]
Last week the big hit on YouTube was Alanis Morissette's parody of The Black Eyed Peas' 2007 Grammy-bagging anthem to bling, "My Humps."
Just by slowing the song down so kids had time to think about the lyrics (which for the most part comprise a list of diamond retailers) Alanis exposed the ab-crunchalicious Fergie as the bling-bling ho of our times. Such a sad demise. Only four hits back Fergie was crooning "Where is the love?" I guess those were the Good Old Days.
Alanis was not the first to complain that "My Humps" might have a negative effect on tweens in search of values. Slate called the song "so bad as to veer toward evil." The hit sparked endless debate about how much lower modern culture could possibly stoop. Personally, I found Fergie's original version so "fugly" that it redefined the term, fully qualifying as self-parody. This was my only problem with Alanis's version -- to paraphrase G.K. Chesterton, a parody of a parody gets you back to square one. But what about a parody of a parody of a parody?
Now THAT's a hump. And before the PC crew get on my case about making fun of the afflicted, I should point out that I consider this piece a self portrait. I'm not disfigured, but there's something very Spam about the shape of my head. Charles Laughton's hunchback has always been an inspiration to guys like me because despite being funny-looking, he still gets the girl. At least temporarily. Those were the Good Old Days -- 1939 Hollywood -- when girls wanted more from their men than ice carats.
Not that the movie's female lead, Esmerelda, was immune to the lure of cash. A dancing gypsy girl, she falls hard for Phoebus, the ambitious captain of the King's archers. But after a quick torture session at the hands of one of her admirers, and the timely intercession of pamphlets run off on a new-fangled printing press, she ends up with Gringoire, the penniless (and humpless) playwright. That's Hollywood.
Good old days
But Hollywood's 1939 version is itself a re-imagining of Victor Hugo's 1831 novel; and in retrofitting the classic tale for the Land of Liberty, several liberties were taken. For example, in the novel, Esmerelda merely wounds Phoebus, and for this she gets the death penalty. That was the reality in 1831, but it wouldn't have worked as a dramatic device in 1939, by which time stabbing a rich guy would only get you life. And Hugo's novel ends with Esmerelda dangling on a rope, not swanking off Hollywood-style with Gringoire.
The fugliest moment in the book comes when Phoebus watches Esmerelda's execution instead of stopping it, which he could easily have done, except that it would have interfered with his plan to "marry up." Indeed, Phoebus was the original bling-bling ho. You couldn't have snuck an ending like that past a 1939 Hollywood producer if you hid it under the seat of a Humvee. But such tragic denouements are the hallmark of classical literature.
Of course, the novel itself is Hugo's re-imagining of Paris not as it was in his day, 1831, but as it might have been back in 1485 -- the Good Old Days, according to Hugo, who revered Gothic architecture as the zenith of European culture, and devoted chapter three of his novel to his belief that everything valuable about western civilization had been destroyed by the introduction of the printing press, which device leads inexorably to the hegemony of the masses.
Revisionist thinkers may disagree. Another point of contention is Quasimodo's hump itself, which might have gotten him ostracized in Hugo's day, but would have made him a star in medieval France, when freaks were a hot commodity.
And that's me being polite. In the 15th and 16th centuries, literally thousands of children were purchased from their peasant parents each year and sold to royal courts, where their young limbs were broken and reset at odd angles, and their growing bodies were encased in steel and clay containers that molded them into freakish proportions for the amusement of the ruling class.
Now THAT'S fugly. So fugly I wish I hadn't read it. Jeez. Whoever thought up that slogan "The Good Old Days" was an idiot. The further back you go, the fuglier humanity becomes. And don't even get me started about the dental work. Or the smell.
The very idea of those legions of children being disfigured in the name of cash makes Fergie's humps seem rather benign. They're probably not even real. Nothing is these days. For this, I blame great literature, and Hollywood, and YouTube, all of which serve the same purpose: they turn the past into a dream, against which the present suffers greatly by comparison.
Other video commentaries by Andrew Struthers: