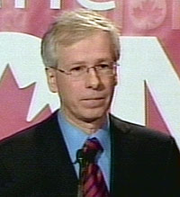 A mere 13 months into a new administration in Ottawa, the inhabitants of the House of Commons look to be on the verge of another election. Stephen Harper and his Conservative government have been spending like crazy ($9.8 billion over the past three months), and a spring budget full of other political goodies will be delivered within a month.
Harper is a shrewd strategist, however, making a self-engineered House of Commons defeat unlikely in the face of polls showing parity with the Liberals. With aspirations for a majority government, forcing an election that eventually returns similar results to the current seat totals would be an exercise in democratic futility.
By the same logic, if patience is a virtue, then newly installed Liberal leader Stéphane Dion should have no desire to rush into a pointless campaign.
The old mantra states that change occurs as a result of governments being shown the door rather than opposition parties being voted into office, and thus Dion would also be wise to carefully assess the political climate, which carries neither urgency nor any immense dissatisfaction to speak of.
Here are some red flags and deliberations for Mr. Dion and his brain trust to consider when attempting to frame the choices soon to be before the electorate.
These Tories are no longer scary
Those that continue to label the government as neo-conservative are not only out of touch with the current dynamics of public opinion, but do so at their own peril.
When it comes to the Canadian electorate, there is little to no knowledge of what the label exactly means. Outside of the prospect of imposing elements of social conservatism on the country (something that the government is far too conditioned to attempt in their current push to gain greater power), voters aren't particularly fearful of the Conservative agenda thus far.
In fact, not only is Stephen Harper far from scary to Canadians anymore, but I would argue that he has the ability to come across as likeable to your average voter. From his genuine passion as a hockey historian, to his willingness to poke fun at his stilted persona, to his tough and focused style of administration, Harper's roadblocks within the realm of public perception are slowly disappearing.
The recently released CPAC-SES Leader Report Card demonstrates that Stephen Harper has been extremely successful in demonstrating widespread appeal in trustworthiness, competence and vision. Because Stéphane Dion's leadership is still new for his party and Canadians as a whole, the comparative data isn't something that truly reflects his future capabilities. Thus, while there is most definitely room for growth, Dion obviously starts off at a decided disadvantage.
Harper has proven to be a different kind of politician than first expected. He masks his intentions and actions within government well, and has designed an agenda that most Canadians find relatively innocuous.
This isn't to say that people are entirely appreciative of every decision that Harper has made. Rather, it is to acknowledge that between a favourable reaction to at least one of the five priorities, a long Liberal leadership race, and a lack of scandal or controversy, Harper is acceptable enough for Joe or Jane Shmoe to park their vote with.
Dion's green handcuffs
It is astounding to see how politicians of every ideological stripe have embraced the environment as the number one issue of concern for the country. The government has been forced to completely shift its course from casual indifference to adopted action. However, while the Conservatives may be weak on the environment, they aren't as vulnerable as some might perceive.
A just-released online poll of more than 3,000 Canadians by Innovative Research indicates that roughly six out of 10 voters agreed with the statement the former Liberal government never had a plan to meet Canada's Kyoto targets, while the same portion expressed support for the notion the government could cut taxes "if it really wanted to."
Therefore, the Tory tax cuts that are going to come down the pipes in next month's budget are going to be a very popular move with voters, while measures like the recently introduced $1.5 billion fund for provincial initiatives to fight climate change will work to mitigate the image that Harper isn't taking the environment seriously.
Even though Bill C-288 (an act to ensure Canada meets its global climate change obligations under the Kyoto Protocol) was passed in unanimity by all opposition parties last week, images of Pablo Rodriguez getting a standing ovation from the Liberal caucus immediately afterwards could come back to haunt the party in the ensuing months.
As articulated by the Toronto Star's Chantal Hébert, "Bill C-288 ensures that the lacklustre Liberal performance on Kyoto will be as much a part of the picture of the next campaign as the Conservatives' belated conversion to a greener agenda." As a result, the whole affair has translated into a huge tactical error for the Liberal party, and established a buffer between Tory environmental inadequacy and past Liberal inaction.
Voter fatigue
Canadians are tired of going to the polls. If another federal election is held this spring, it will mark the third time that Canadians have had to mark their ballots in under three years. In addition, Jean Charest should call a Quebec election sometime this week, Albertans are destined for a spring election with replacement Premier Ed Stelmach at the helm, and Ontario is set to decide the fate of Ontario Premier Dalton McGuinty in October. Three other provinces are also likely to test the wheels of democracy sometime within the calendar year.
As such, any party that decides to bring down the government better have a compelling reason to go to the electorate with. This is particularly something to consider when accounting for the various incentives and spending commitments that the Conservatives have showered the country with in recent months.
Ultimately, if voters get fed up with the revolving ballot box syndrome, it is the incumbent government that benefits from people sitting on their hands and boycotting the process.
Go big or...
They say that the devil is in the details. However, with the preamble to an election so far devoid of an overarching theme or priority, I would argue that this time around, the details aren't going to be the answer for the Liberals. Providing empirical evidence demonstrating why the GST cut isn't beneficial, or presenting the minutiae of the superiority of the Liberal environmental plan over the Conservatives new climate change measures just isn't going to cut it.
As was proven in his surprising victory at the Liberal leadership convention in December, Stéphane Dion is a political force that shouldn't be underestimated.
What Mr. Dion must understand is that neither is Stephen Harper.
Related Tyee stories: