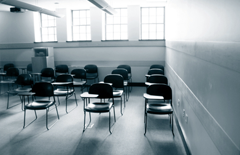 Continued falling enrolment is casting a deep and darkening shadow over B.C.'s K-12 system. Its toll is captured in a near-daily tally of threatened school closures, grade and program reconfigurations and a rising tide of public anger over the loss of services long taken for granted in local communities.
This past year, the number of school-aged students enrolled in our public schools fell by 11,380. Since 2000/01, B.C. public schools have lost close to 50,000 students -- more than nine per cent of the total. There are as many local variations in this scenario as there are school districts. However, the net loss of students is something experts expected to continue for at least eight more years.
Falling enrolment is not a new phenomenon. B.C. student counts fell through much of the 1980s in the face of a sagging economy. However, in the years after Expo '86, with an improving economy and increased population growth, B.C.'s public schools turned an enrolment corner.
Over the course of the following decade, provincial enrolment rose by a third, cresting in 1997/98. After that, provincial student counts plateaued briefly before resuming a downward trend.
Factors behind the drop
Falling numbers of school-aged children is the product of various factors.
Lower fertility rates. Lower overall birth rates are a primary cause of the current situation.
Longer life expectancy. An aging population does not by itself affect school enrolment but it does translate into proportionately fewer children of school-age within society. It also creates pressures for government to direct available budgetary resources to competing areas.
Changes in in-migration to B.C. from elsewhere in the country. When economic conditions are good, workers and their families are attracted to the province and the school system tends to benefit. When the opposite is true and economic prospects here lag other provinces, workers and families are inclined to exit. B.C.'s economy is in comparatively good shape these days, yet the in-migration of workers has not seen commensurate growth in the number of children attending public schools. Many workers coming to this province see the economic good times as a passing phase and are content to leave their families at home in other parts of the country.
Changes in international immigration into Canada. A disproportionately large number of new immigrants settle in Canada's large urban centres. Of this group, a large percentage arrives in BC's Lower Mainland. This works to increase numbers of school-aged children along with the demand for services like ESL.
There are other trends that affect the overall enrolment landscape. One is the volume of students attending independent or private schools. Since 2001, private school enrolments have grown by more than 7,500 students. B.C. currently supports most private schools at 50 per cent of the level of funding provided the public system. However, when tax deductions received by parents are factored in, the overall public subsidy likely approaches the level of 70 per cent. In many cases, students attending private institutions are previous public school attendees.
Another factor -- and one working in the opposite direction -- is the growing volume of "non-resident" students attending B.C. In most cases, these students come from outside the country.
This group of tuition-paying students has doubled in size in the last five years, adding more than 4,000 students to B.C.'s public system. Aside from representing a growing revenue stream for B.C.'s cash-strapped school boards, international students have helped cushion a fall in enrolment that otherwise would have been faster and deeper.
Distributed learning changes
At the same time, changes to Ministry of Education funding rules have created a situation that has exacerbated the extent of the enrolment decline.
B.C. has a growing distance learning network. Increased numbers of students and their parents are exploring options to pursue graduation requirements outside of the bricks and mortar confines of the regular K-12 system. For most, this has translated into a decision to take courses online through distributed learning networks.
Distributed learning programs have been in a state of flux for a number of years, driven by increased public interest on the one side, and improved technology on the other. With the growth of Internet-centred learning, the actual physical location of students has a reduced bearing on where they may elect to take courses. This in turn has led some districts to adopt an aggressive entrepreneurial stance in efforts to recruit distance students and the funding attached to them.
Others have found themselves in the position of losing K-12 students to distance programs, some of which operate from afar.
Last year, the province changed the funding rules. By incorporating distance funding into the main funding formula, all districts were potentially able to draw on available funding. The catch was a more stringent course-by-course tally of distance enrolment that had the effect of reducing overall revenue. Last spring, when districts prepared preliminary budgets for 2006/07, they collectively estimated distance enrolment at more than 9,200 students. This past December, when student counts and budgets were finalized, only 6,500 FTE students qualified under the new distributed learning funding rules.
This change hit a number of districts hard -- Saanich, Comox Valley, Chilliwack, Vancouver and Nechako Lakes saw the greatest evaporation of distributed learning counts and funding. Overall, this loss of over 2,700 students has served to accentuate or even exaggerate the downward trend in official enrolment numbers.
Funding supports for falling enrolment
B.C. currently provides funding support intended to cushion the impact of falling enrolment. Some 51 of 60 districts benefit from this support. Funding support is calculated as follows:
If enrolment falls less than one per cent compared to last year, districts get no funding cushion.
If the decline is over one per cent, the number of FTE students over the one per cent level is multiplied by 50 per cent of the basic per student allocation of $5,830. Districts receive the product of this calculation as a grant supplement.
For any decline over four per cent compared with 2005/06, the cushion rises to 75 per cent of the basic per student allocation multiplied by the number of students above the four per cent level.
There is a further albeit very small allocation designed to compensate districts that have lost over seven per cent of their students in total over the prior three years.
While these measures do offer some support, their overall impact is quite limited. In 2006/07, 51 B.C. districts are sharing a total of $24 million in supplemental payments intended to dampen the impact of falling enrolment. That represents about one half of one per cent of total operating grants from Victoria.
Teaching less?
In its current incarnation, falling enrolment has already been a reality in our public school system for close to a decade. However, its cumulative impact on districts' finances and operations is just starting to be fully experienced.
School boards' abilities to sustain schools across dispersed neighbourhoods or to maintain a broad array of K-12 programs for all students is now under major challenge. While the problem is concentrated in districts facing the steepest enrolment losses, few districts are immune to the ravages caused by the loss of students.
B.C. schools currently face a host of challenges. A major one for the decade ahead will be the need to craft funding and policy solutions to the provincial problem of falling enrolment. Failure to address this issue properly will have devastating consequences for the very nature and presence of public schools in the communities of this province.
Related Tyee stories: